Overview
Overview

Programs

School Resources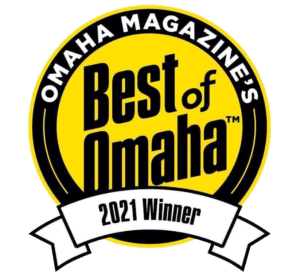 We are very proud to be recognized by the readers of Omaha Magazine as the Best Preschool in Omaha!
Do you want more than a traditional daycare, preschool, or childcare center in Omaha for your child? We offer Montessori programs for children ages 6 weeks to 6 years, and we nurture each child's desire to blossom.
As the best Omaha Montessori Preschool, we are dedicated to developing young children into confident and intelligent future leaders. Our trained staff focuses on following Montessori principles to guide your child to explore their interests and learn at their own pace.
Our Pacific Street campus includes Infant House, Omaha Montessori, Children's House, and Montessori Preschool of Omaha.
MONTESSORI-CERTIFIED TEACHERS EXPERTLY GUIDE YOUR CHILD
Our Omaha Preschool and Daycare instructors are equipped with a Bachelor's degree, as well as two years of Montessori training. Each teacher holds a Montessori AMS accreditation, and our school is an AMS full member site, which means we meet the standards of excellence of Montessori educators worldwide.
Our instructors are well-versed in the Montessori principles and know how to best implement them to help educate the whole child and promote a lifelong love of learning.
A MULTI-AGE CLASSROOM IS IDEAL FOR EARLY LEARNING
Children learn at their own pace! In a multi-age classroom, children can build stronger relationships. The older children can learn leadership skills and become mentors to their younger peers, and the younger children can model the older children. This arrangement mirrors real-life experiences where the reality is that they will be working with and across many chronological ages. This peer collaboration prepares children for Kindergarten, elementary school, and beyond. 
YOUR BABY AS AN INVENTOR AND EXPLORER WITH RIE® EDUCARERS®
With the RIE® Educaring® approach, babies are viewed and spoken to in ways that allow them to be active participants in their daily lives. The deep respect this approach engenders is the start of self-love and self-esteem.
CHILDREN ARE GIVEN THE SPACE TO EXPLORE FREELY
If your child is learning to grasp, they will get more grasping opportunities. They'll have more opportunities to pull up in their space when they start to pull up. Through observations, teachers follow their interests so that they can explore freely and learn what they want.
ARTS AND CRAFTS SPARK YOUR BABY'S CREATIVE ABILITIES
Your baby will be introduced to expression through art because artistic expression begins early! Through a specialized art program, your child will develop motor skills and explore their imagination through creativity. 
ART PRACTICE INCREASES YOUR CHILD'S CREATIVITY
Your child explores a world of expression and creativity at our Omaha Montessori Preschool and Daycare as they choose colors and textures to explore. Art practice also improves fine motor skills, making things like gripping a pencil easier. Our program is designed to help your child prepare for Kindergarten.
EACH CHILD LEARNS AT THEIR OWN PACE
By observing your child, providing the right lesson when they're ready, and letting them practice until mastered, your child excels at every level. Our Montessori teachers emphasize process rather than product.
RESPONDING RESPECTFULLY WITH RIE© EDUCARING©
The RIE® Educaring® approach encourages responding to your child respectfully. We are the only Omaha Montessori Preschool and Daycare that boasts this additional education level and training for the teaching team that guides your child every day.
MONTESSORI MATERIALS THAT TEACH THROUGH EXPLORATION
Your child is free to choose activities guided by their curiosity and interests, to develop their strengths and talents. Montessori materials also have built-in challenges, so your child develops critical thinking, creativity, and problem-solving skills.
MULTI-AGE CLASSROOMS HELP YOUR CHILD LEARN FROM PEERS
In a multi-age classroom, your child gains inspiration from older students and becomes a leader for younger students. A diverse mini-community helps your child learn by seeing empathy and kindness in action. This prepares your child for adulthood where they will encounter working with people of all ages.
SELF-LED LEARNING BUILDS CRITICAL THINKING SKILLS
Montessori-educated teachers give equal parts guidance, structure, flexibility, and freedom. Your child practices reasoning as they question, probe, and make connections, growing into enthusiastic, self-directed learners.
Contact Us Today About Enrollment!
Our Omaha Montessori Preschool and Daycare gives your child a top-quality education in a loving and nurturing environment. Our staff would love to hear from you. Give us a call or stop by to learn more about enrolling your child.