Overview
Overview

Programs

School Resources

Reviews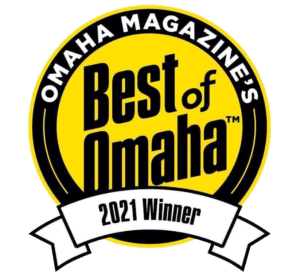 We are very proud to be recognized by the readers of Omaha Magazine as the Best Preschool in Omaha!
Do you want more than a traditional daycare, preschool, or childcare center in Omaha for your child? We offer Montessori programs for children ages 6 weeks to 6 years, and we nurture each child's desire to blossom. 
MONTESSORI-CERTIFIED TEACHERS EXPERTLY GUIDE YOUR CHILD
Instructors are equipped with a Bachelor's degree, as well as two years of Montessori training. Each teacher holds a Montessori AMS accreditation, and our school is an AMS full member site, which means we meet the standards of excellence of Montessori educators worldwide.
A MULTI-AGE CLASSROOM IS IDEAL FOR EARLY LEARNING
Children learn at their own pace! Children can build stronger relationships, the older children can show leadership and become mentors to their younger peers, and the younger children can model the older children. This arrangement mirrors real-life experiences where the reality is that they will be working with and across many chronological ages. 
YOUR BABY AS AN INVENTOR AND EXPLORER WITH RIE® EDUCARERS®
With the RIE® Educaring® Approach, babies are viewed and spoken to in ways that allow them to be active participants in their daily lives. The deep respect this approach engenders is the start of self-love and self-esteem.
CHILDREN ARE GIVEN THE SPACE TO EXPLORE FREELY
If your child is learning to grasp, they get more grasping opportunities. When they start to pull up, they'll have more opportunities to pull up in their space. Through observations, teachers follow their interests so that they can explore freely.
ARTS AND CRAFTS SPARK YOUR BABY'S CREATIVE ABILITIES
Your baby will be introduced to expression through art because artistic expression begins early! Through a specialized art program, your child will develop motor skills and explore their imagination through creativity. 
ART PRACTICE INCREASES YOUR CHILD'S CREATIVITY
Your child explores a world of expression and creativity as they choose colors and textures to explore. Art practice also improves fine motor skills, making things like gripping a pencil easier.  
EACH CHILD LEARNS AT THEIR OWN PACE
By observing your child, providing the right lesson when they're ready, and letting them practice until mastered, your child excels at every level. Montessori teachers emphasize process rather than product.
RESPONDING RESPECTFULLY WITH RIE© EDUCARING©
The RIE® Educaring® approach encourages responding to your child respectfully. We are the only school that boasts this additional education level and training for the teaching team that guides your child every day. 
MONTESSORI MATERIALS THAT TEACH THROUGH EXPLORATION
Your child is free to choose activities guided by their curiosity, to develop their strengths and talents. Montessori materials also have built-in challenges, so your child develops critical thinking, creativity, and problem-solving skills. 
MULTI-AGE CLASSROOMS HELP YOUR CHILD LEARN FROM PEERS
In a multi-age classroom, your child gains inspiration from older students and becomes a leader for younger students. A diverse mini-community helps your child learn through seeing empathy and kindness in action.
SELF-LED LEARNING BUILDS CRITICAL THINKING SKILLS
Montessori-educated teachers give equal parts guidance, structure, flexibility, and freedom. Your child practices reasoning as they question, probe, and make connections, growing into enthusiastic, self-directed learners.
Reviews from Parents
July 11, 2021





My husband and I are new to Montessori but already we believe we have chosen a perfect fit for our daughter. The staff has made an enormous effort to get to know our family as well as make accommodations for our daughter's medical needs. However, what struck me most during our short time here was how these individuals go above and beyond to care for the children and their families. I had provided a bag of 40 ounces of frozen breastmilk just in case our daughter needed extra throughout the day. Anyway, with the recent storms in Omaha, one of our daughter's teachers went out of her way to check on the breastmilk that morning after the storms had passed and found that the power was out and my breastmilk had begun to thaw. Once I was informed about the situation by the lead instructor, the same wonderful teacher made another special trip out to our center so that we could attempt to save/utilize the breastmilk. All of this occurred on a Saturday. Fortunately, thanks to their efforts, my breastmilk was able to be refrozen per CDC's guidelines and will be able to be utilized in the future. So, in short, we are very impressed with the care our family receives here and by our daughter's teachers. We are incredibly excited to watch her grow and develop under the care of these wonderful instructors.

January 20, 2021





I love working for MEC. I am currently a lead teacher at Curious Child Montessori Preschool- Gretna. When I started at MEC in August of 2019, I start as an assistant, not knowing anything about Montessori. I was brand new to the state of Nebraska and did not know anyone. After the first week I knew more about Montessori than I could imagine and felt right at home with all of the other teachers and staff. They made me feel welcomed and made me feel like they wanted me there! Fast forward to 2021, I am now a lead teacher and I am getting my Montessori Teaching certificate. The school has so generously offered to help me with my education and in turn I get to teach for them and gain a wealth of knowledge. I love the community at my school, our director, Jordan, is amazing and goes above and beyond for all of us who work at our school! I was her right hand man for a year before moving into my lead position and it was the best year! When she believes in you, she will make sure you know it, and she will encourage you every day to be and to do your best. She is one of the best people I have ever worked under and with! I have found my family here in Nebraska and it's all thanks to MEC and my home away from home! The administration expects that the staff show up everyday ready to work and serve the families who have chose us to take care of and teach their children! That is a huge responsibility that should never be taken lightly. They expect that we show up and give our BEST each and every day. When we give our best, they give us their best. The owners want us to be a family, a community, and that's exactly what we are. I have been so blessed to work for Julie and Beau and I don't know what I would do without this job or community! Especially during the times of unknown.

May 14, 2019





Owner Julie is a generous, caring and passionate leader. She is always looking for ways to improve the schools and the lives of her staff and the families that she serves!

April 11, 2019





Our son has attended MEC's House of Montessori (HOM) since he was 6 months old. As an educator, early childhood education and socialization is a priority in our household. The Montessori educational philosophy and MEC's personal philosophy are a perfect fit for us. The classroom teachers at HOM are amazing. Our son has benefitted so much from the individualized educational opportunities provided as well as the warm, nurturing environment created by all staff members. It is a place where we feel safe and secure knowing our son is not only getting the best education, but the best care as well. Teachers are the single greatest factor in student success, and we have seen the fruit of HOM's fabulous educators in our son's social, emotional, and academic development over the last three years. While I would love to take credit for this, I would be remiss not to credit the HOM's amazing teachers who have facilitated and supported his growth. One of the most impressive and appealing things about MEC is the administrative/ownership team. Teachers are the most important factor in student success, but administration and leadership is the most important factor in teacher effectiveness, and MEC has an amazing leader. Julie Roy is nothing short of incredible. Upon taking ownership of MEC, she immediately began investing in the schools. She purchased all new equipment, work for students, and initiated much needed updates to all the buildings— cosmetic updates, security updates, new outdoor nature and play areas...you name it, she improved it). My very favorite thing about Julie, though, is her dedication to her teaching staff. As a parent I love seeing all the wonderful things MEC administration regularly does to support the teachers' health and well-being holistically! You can't pour from an empty vessel, and Julie's dedication to taking care of her teachers helps them teach to the best their abilities!

Leave a Review
We want to learn more about your experience with Cadence Education. Please leave us a review below and let us know how we are doing.