Overview
Overview

Programs

Our Team

Accreditation

School Resources

Reviews
About Creative Expressions Imperial
Early education experiences play a vital role in the social, emotional, physical, and academic development of young children. At Creative Expressions Learning Center, Imperial, we take that responsibility to heart and give each child loving attention and a strong educational foundation that will serve them for many years to come.
Our preschool's mission is to partner with families in the care and education of their children, and we do everything in our power to create a safe and stimulating learning environment.
Programs Offered:
Our Educators
We take great pride in hiring the most highly qualified teachers. Our Lead Teachers have degrees in early childhood education, elementary education, or childhood development, or they have suitable experience and formal training through continuing education courses.
All of our team members are required to attend in-service training each year to continue their education in early childhood development. Every employee is required to maintain a current certification in Infant & Child CPR and First Aid.
Accreditations
We have worked diligently to earn and maintain our accreditation through the National Association for the Education of Young Children (NAEYC). Preschools seeking accreditation through NAEYC must meet or exceed standards in 10 key areas: Relationships, Curriculum, Teaching, Assessment of Child Progress, Health, Teachers, Families, Community Relationships, Physical Environment, Leadership, and Management.
Our Location
Creative Expressions Learning Centers has two preschools in Missouri. Our Imperial location is located at the corner of Seckman Rd and Old Lemay Ferry Rd and our address is 2862 Seckman Rd, Imperial, MO 63052.
Our Team
Shannon Ponzar
Director
I'm proud to be the Director here at Creative Expressions Imperial. I've worked for the company for over 8 years and have a bachelor's degree in child development and over 25 years of experience working with children. I live in Arnold, Missouri with my husband and 3 children. I believe that every child grows and learns differently and it is our job to help them to be successful.
Natalie Sullivan
Hi everyone, my name is Natalie Sullivan and I am so excited to join the Creative Expressions team! I began my career in early childhood education in March, 2012, and have worked with a variety of educational programs over the past 7 years. I grew up in Salem, Missouri and moved to the Arnold area during my high school years. After graduating from Fox High School, I attended Webster University where I completed a double major in Educational Studies and Business Management. My husband Brian and I have two children. We enjoy family outings and finding fun things to do in the St. Louis area.
Accreditations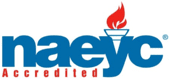 NAEYC Accreditation
Every child deserves access to high-quality early learning experiences. NAEYC (National Association for the Education of Young Children) has set 10 standards for early childhood programs that can help families make the right choice when they are looking for a child care center, preschool, or kindergarten. The standards and criteria are also the foundation of the NAEYC Accreditation system for early childhood programs. To earn NAEYC Accreditation, schools must go through an extensive self-study and quality-improvement process, followed by an on-site visit by NAEYC Assessors to verify and ensure that the program meets each of the ten program standards, and hundreds of corresponding individual criteria. NAEYC-accredited programs are always prepared for unannounced quality-assurance visits during their accreditation term, which lasts for five years. In the 30 years since NAEYC Accreditation was established, it has become a widely recognized sign of high-quality early childhood education. More than 7,000 programs are currently accredited by NAEYC—less than 10 percent of all child care centers, preschools, and kindergartens nationally achieve this recognition.
Reviews from Parents
July 23, 2021





My son was enrolled at Creative for almost 3 years. The staff there took care of him like family, always quick to respond to any concerns no matter how small and always greeting us with a smile. Thanks to Ms Shannon,Ms Natalie, Julie, Stacie,Stephanie and Ms Bailey he is well prepared for kindergarden. You can surely trust these fine people to care for your most precious children.

July 20, 2021





My wife and I have had a wonderful experience with Creative Expressions! Our daughter has attended for about six months now. The teachers are genuinely caring and the directors are excellent about sending out news/communication. Would highly recommend!

July 03, 2021





Both of our kids went there and loved it! We would've stayed had we not moved further north with a daycare 5 min from our new house. Highly recommend!

June 10, 2021





We absolutely LOVE Creative Expressions Imperial! They are licensed and follow the Cadence Ascend Curriculum, which gives me peace of mind as a parent that they are learning a ton and preparing for school. My two little boys (1.5 and 3.5) look forward to going to "school" everyday, and mom and dad are fully at ease knowing the teachers, directors, and staff love and care for our children as if they were their own. They are the BEST!!!

Leave a Review
We want to learn more about your experience with Cadence Education. Please leave us a review below and let us know how we are doing.