Overview
Overview

Programs

Accreditation

School Resources

Reviews
Creative Expressions Learning Center is now Cadence Academy Preschool!
Early education experiences play a vital role in the social, emotional, physical, and academic development of young children. At Cadence Academy Preschool (formerly Creative Expressions Learning Center), Imperial, we take that responsibility to heart and give each child loving attention and a strong educational foundation that will serve them for many years to come.
Our preschool's mission is to partner with families in the care and education of their children, and we do everything in our power to create a safe and stimulating learning environment.
Programs Offered:
Our Educators
We take great pride in hiring the most highly qualified teachers. Our Lead Teachers have degrees in early childhood education, elementary education, or childhood development, or they have suitable experience and formal training through continuing education courses.
All of our team members are required to attend in-service training each year to continue their education in early childhood development. Every employee is required to maintain a current certification in Infant & Child CPR and First Aid.
Accreditations
We have worked diligently to earn and maintain our accreditation through the National Association for the Education of Young Children (NAEYC). Preschools seeking accreditation through NAEYC must meet or exceed standards in 10 key areas: Relationships, Curriculum, Teaching, Assessment of Child Progress, Health, Teachers, Families, Community Relationships, Physical Environment, Leadership, and Management.
Our Location
Our Imperial location is located at the corner of Seckman Rd and Old Lemay Ferry Rd and our address is 2862 Seckman Rd, Imperial, MO 63052.
Accreditations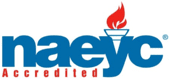 NAEYC Accreditation
Every child deserves access to high-quality early learning experiences. NAEYC (National Association for the Education of Young Children) has set 10 standards for early childhood programs that can help families make the right choice when they are looking for a child care center, preschool, or kindergarten. The standards and criteria are also the foundation of the NAEYC Accreditation system for early childhood programs. To earn NAEYC Accreditation, schools must go through an extensive self-study and quality-improvement process, followed by an on-site visit by NAEYC Assessors to verify and ensure that the program meets each of the ten program standards, and hundreds of corresponding individual criteria. NAEYC-accredited programs are always prepared for unannounced quality-assurance visits during their accreditation term, which lasts for five years. In the 30 years since NAEYC Accreditation was established, it has become a widely recognized sign of high-quality early childhood education. More than 7,000 programs are currently accredited by NAEYC—less than 10 percent of all child care centers, preschools, and kindergartens nationally achieve this recognition.
Reviews from Parents
January 17, 2023






December 07, 2022





As first time parents, finding a daycare we could trust was one of the first things we started thinking about, even before our baby was born. We had many people recommend Cadence Academy and I'm so glad they did! Our little boy is 3 months old now and has been going for about a month! We have had nothing short of a great experience so far! The teachers are so sweet and plan age/developmentally appropriate activities for them! We get pictures and updates throughout the day which is so nice for this working momma! Highly recommend sending your child here!

October 12, 2022





We have been with Cadence Academy for about two months now and absolutely love it! Our son has excelled intellectually leaps and bounds at 16 months and we are so impressed with the care that he receives daily. We love that the teachers genuinely care for him and his development. The staff is constantly sending us updates on activities that are done in the classroom in order for us to better carry that over and apply it to our home life. We look forward to watching him grow in such a wonderful environment!

July 23, 2022





Started sending my daughter here when she was about 20 months old. I'm constantly impressed by the communication, professionalism and care of the teachers, staff and directors! Also love the curriculum they do with even the Pre- PreK ages!