Reviews
Overview

Programs

Our Team

Accreditation

Reviews
Infants, toddlers, preschoolers, and pre-kindergarteners all have a special place at our preschool and we love working with the families of Clive and Waukee to provide children the very best daycare and early educational experiences. Previously known locally as Apple Tree Children's Center, the preschool center at Cadence Academy Preschool, Clive has six classrooms and we constantly customize each room to address the development needs of every age group.
Our Programs
NAEYC Accreditation
Our staff is committed to best practices in the care and education of children and we're proud to hold accreditation from the National Association for the Education of Young Children (NAEYC). NAEYC accredited child care centers must promote positive relationships for all children, teach from a curriculum that fosters all areas of a child's development, and provide ongoing assessments of each child's learning and development so that families know how their child is progressing.
Our Preschool's Philosophy

We believe children learn best when they feel safe and secure in their learning environment and genuinely excited about the activities they're engaging in. Our caring teachers all utilize the Ascend Curriculum, which develops your child's intellectual, social-emotional, and creative abilities through an engaging skill-based approach.
We progressively introduce important skills in nine different subjects through fun educational activities, but what makes these activities special is that they are designed to be modified to fit the interests and current skill level of each child, which makes learning more engaging and fun!
Family Involvement
We believe that children thrive when families partner with us in their child's care. We're always available to talk about your child's progress and offer a variety of communication pieces to keep you informed about your child's day and academic progress. We also work closely with Waukee Community School District to understand elementary school expectations to ensure that your child is prepared for the transition to kindergarten.
We have a number of events throughout the year so you can meet other families at our school and to get to know our Cadence Academy family better too! Some of our favorite events are our Family Picnic, Fairy Tale Ball, Thanksgiving Luncheon, Ice Cream Socials, and Iowa vs Iowa State Day.
Getting to our Preschool
Cadence Academy Preschool, Clive is located at 14300 Hickman Road in Clive, Iowa, 50325. We are across from the CVS on the corner of 142nd St and Hickman Rd and share facilities with Heartland Presbyterian Church. We proudly serve families living in Clive, Waukee, Urbandale, and West Des Moines. Contact us to schedule a visit today!
Our Team
Crystal Sebben
School Director
I have been the Director at the Cadence Academy Preschool, Clive since March of 2005 and have been with the company since January of 1998. Cadence Academy Preschool is committed to accreditation from the National Association for the Education of Young Children (NAEYC) as measurement of our program excellence. What does this mean to your family? Its means we are dedicated to going above and beyond to find best practices in educating and caring for your child. Our school has six different classrooms that approach learning, development and education using The Creative Curriculum. The Creative Curriculum identifies goals in four areas of development including: social/emotional, physical, cognitive and language for newborns through pre-kindergarten. We also work closely with Waukee Community School District to understand the expectations to make sure your child is as prepared as possible for the transition to kindergarten. Family involvement and communication are significant to a successful partnership between home and school. Teachers are available for face to face as well as by phone during the day. A multitude of events throughout the year provide opportunities for you to meet other families enrolled in our school and get to know our entire Cadence Academy family. Some of our favorite events are: the family picnic, our fairy tale ball, the Thanksgiving luncheon, ice cream socials and Iowa vs. Iowa State day! Thank you for your interest in Cadence Academy Preschool. I look forward to showing you our outstanding school and introducing you to our extraordinary teachers.
Darci Kuhns
Assistant Director
Welcome to Cadence Academy! I am originally from Northwest Iowa, where I was raised on a small farm. After high school I furthered my education at Buena Vista University. In 2003 I graduated BUV with a Bachelor's Degree in Communication and a minor in Business. I joined the Cadence Academy Team in July of 2004. In 2007 and 2013 I was honored to be chosen as a recipient of the Terri Lynne Lokoff National Child Care Teacher Award. I enjoy working with the little ones as they grow and develop so much in their first year. Outside of Cadence Academy, I enjoy spending time with my husband and our 2 children.
Accreditations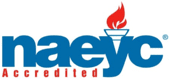 NAEYC Accreditation
Every child deserves access to high-quality early learning experiences. NAEYC (National Association for the Education of Young Children) has set 10 standards for early childhood programs that can help families make the right choice when they are looking for a child care center, preschool, or kindergarten. The standards and criteria are also the foundation of the NAEYC Accreditation system for early childhood programs. To earn NAEYC Accreditation, schools must go through an extensive self-study and quality-improvement process, followed by an on-site visit by NAEYC Assessors to verify and ensure that the program meets each of the ten program standards, and hundreds of corresponding individual criteria. NAEYC-accredited programs are always prepared for unannounced quality-assurance visits during their accreditation term, which lasts for five years. In the 30 years since NAEYC Accreditation was established, it has become a widely recognized sign of high-quality early childhood education. More than 7,000 programs are currently accredited by NAEYC—less than 10 percent of all child care centers, preschools, and kindergartens nationally achieve this recognition.
Reviews from Parents
June 23, 2023





We love Cadence Academy, Clive. The small environment provides a family like feel. The education is top notch & the teachers are excellent especially with potty training. Our 2 & 1 year year old attend there (since they were 6 months) and we cannot wait to how they continue grow over the years there!

February 17, 2023





Never imagined getting so much profits within a short period of time , it happened surprisingly I got it , this is huge for me and super happy and excited for this win , it's a great start for me in line of trade, you been a genius trader Mrs Veronica Adamson. You finally put a smile on my face , despite telling you my problems you didn't take advantage of me , thanks a lot Mrs Veronica Adamson You can reach her Via: Email:
[email protected]
WhatsApp:+1 (814) 523-4065

January 27, 2023





Our family couldn't be more pleased with the care and attention Cadence Academy staff provide our son. The teachers and directors truly partner with us, as parents, and go above and beyond with communicating important updates. So grateful for this community!

December 11, 2022





We are so happy we selected and trusted Cadence for our daughter! The amount of growth we have seen has us confident that she will be academically, socially and emotionally prepared for kindergarten. They have an incredible staff from the support staff to the teachers and their chef has my daughter trying and liking new foods every day! If you are looking for a school with a strong curriculum, great staff and a place that your kid/s will love… Cadence is for you!