Overview
Overview

Programs

Accreditation

Reviews
Infants, toddlers, preschoolers, and pre-kindergarteners all have a special place at our preschool and we love working with the families of Clive and Waukee to provide children the very best daycare and early educational experiences. Previously known locally as Apple Tree Children's Center, the preschool center at Cadence Academy Preschool, Clive has six classrooms and we constantly customize each room to address the development needs of every age group.
Our Programs
NAEYC Accreditation
Our staff is committed to best practices in the care and education of children and we're proud to hold accreditation from the National Association for the Education of Young Children (NAEYC). NAEYC accredited child care centers must promote positive relationships for all children, teach from a curriculum that fosters all areas of a child's development, and provide ongoing assessments of each child's learning and development so that families know how their child is progressing.
Our Preschool's Philosophy

We believe children learn best when they feel safe and secure in their learning environment and genuinely excited about the activities they're engaging in. Our caring teachers all utilize the Ascend Curriculum, which develops your child's intellectual, social-emotional, and creative abilities through an engaging skill-based approach.
We progressively introduce important skills in nine different subjects through fun educational activities, but what makes these activities special is that they are designed to be modified to fit the interests and current skill level of each child, which makes learning more engaging and fun!
Family Involvement
We believe that children thrive when families partner with us in their child's care. We're always available to talk about your child's progress and offer a variety of communication pieces to keep you informed about your child's day and academic progress. We also work closely with Waukee Community School District to understand elementary school expectations to ensure that your child is prepared for the transition to kindergarten.
We have a number of events throughout the year so you can meet other families at our school and to get to know our Cadence Academy family better too! Some of our favorite events are our Family Picnic, Fairy Tale Ball, Thanksgiving Luncheon, Ice Cream Socials, and Iowa vs Iowa State Day.
Getting to our Preschool
Cadence Academy Preschool, Clive is located at 14300 Hickman Road in Clive, Iowa, 50325. We are across from the CVS on the corner of 142nd St and Hickman Rd and share facilities with Heartland Presbyterian Church. We proudly serve families living in Clive, Waukee, Urbandale, and West Des Moines. Contact us to schedule a visit today!
Accreditations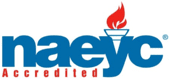 NAEYC Accreditation
Every child deserves access to high-quality early learning experiences. NAEYC (National Association for the Education of Young Children) has set 10 standards for early childhood programs that can help families make the right choice when they are looking for a child care center, preschool, or kindergarten. The standards and criteria are also the foundation of the NAEYC Accreditation system for early childhood programs.
Reviews from Parents
January 11, 2021





Our son has attended here for over a year now. My daughter has also attended for backup care on several occasions. My son has flourished under their care and I have no doubts he will be ready for kindergarten when the time comes. It's great to know he's getting healthy meals served daily by chef Javier. We also really appreciate the updates throughout the day on the class activities and pictures that are sent. Every one of the staff members we've come in contact with has been welcoming and friendly, and is great with kids. They've also really stepped up to the plate this past year with Covid-19 restrictions, taking every kids temperature at the door and running back and forth helping parents with pickup and drop off. They even sent home thanksgiving meals and sugar cookie decorating kits with families since they couldn't do their normal celebrations. Overall a great daycare that we can feel good about sending our kids to while we are working. We love Cadence Academy Clive!

December 17, 2020





Hello, I have a 6 month old daughter named Anastasia that I am looking at schools for in august of 2021. Her birthday is June 9th, She would be 14 month then. I was interested in learning more about the curriculum for toddlers.

November 30, 2020





I feel so blessed that our family found Cadence Academy Preschool, Heartland. The teachers provide a balanced environment of nurturing and educating my one and three year-old. The director and assistant director provide superior communication. During the pandemic, I've felt the kids are not only safe, but still in a fun, loving environment - a tough blend these days. The on-going, open dialogues have made Cadence Academy the perfect extension to our family. It takes a village, and I'm so glad the Cadence is part of our's!

October 26, 2020





Wouldn't trust anywhere else with our kids' care and education!

Leave a Review
We want to learn more about your experience with Cadence Education. Please leave us a review below and let us know how we are doing.