Overview
Overview

Programs

Our Team

Accreditation

Reviews
Joni's Child Care & Preschool currently has four preschool centers in Connecticut and our Farmington location was the first center to be opened back in 1994.
Our directors, teachers, and staff share an unwavering commitment to provide the highest standards of child care and learning in safe, secure facilities. Our staff consists of skilled, educated professionals who are entirely dedicated to the interests of our children and families. Center management is required to undergo a rigorous training process, and like all staff, required to maintain professional certifications and educational credits. Safe, clean, secure facilities complete the picture, providing the ideal environment for children to thrive.
Our children enjoy a large multi-media room with individual computers and large-screen, interactive monitor for group activities and instruction. Our Farmington center also has a bright, fun indoor play area for preschoolers. Extracurricular activities include swimming lessons, dance, martial arts, soccer and piano.
Our Programs
NAEYC Accreditation
The National Association for the Education of Young Children (NAEYC) has set 10 standards for early childhood programs to help families looking for a child care center or preschool. These standards define what NAEYC believes all programs should provide. Maintaining accreditation requires our preschool to meet or exceed criteria in 10 standards including Curriculum, Teaching, Health, Staff Competencies, Families, Physical Environment, and Community Relationships.
Collaborating with Our Families
At Joni's we know that raising children is unique in every family. We work hard to understand the needs, preferences, and goals of each family. Whether it is the timing of potty training or the daily separation process, we work with families to determine the best approach to each situation. Joni's believes that you need to make decisions based upon the needs of your family and we seek to engage parents at every step.
Our Preschool's Location
Joni's Child Care & Preschool, Farmington is located a mile west of I-84 in northwest Farmington, Connecticut. We're just off Route 4/Farmington Ave at 3 Eastview Dr, Farmington, CT 06032. We're next door to Farmington Farms Tennis & Athletic Club and across the street from Dunning Lake.
Need Before or After School Care for your elementary student? We provide transportation to and from Avon District schools, Farmington District schools, and Union School in Unionville.
Our Team
Jessica Schneider
Director
I've been in the early childhood field and working here at Joni's since 2005. I have an Associates Degree in Early Childhood Education and a Bachelors degree in Child Studies. I am also Head Teacher certified by the State of Connecticut and an Early Childhood Educational Consultant.
When I began my career, I quickly learned that helping children develop exceptional early education skills is what I wanted to do. My staff and I take great pride in delivering quality care.
I have three sons, Caleb, Calvin and Wesley, and reside with my husband in Unionville.
Accreditations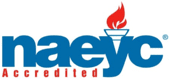 NAEYC Accreditation
Every child deserves access to high-quality early learning experiences. NAEYC (National Association for the Education of Young Children) has set 10 standards for early childhood programs that can help families make the right choice when they are looking for a child care center, preschool, or kindergarten. The standards and criteria are also the foundation of the NAEYC Accreditation system for early childhood programs.
Reviews from Parents
March 17, 2021





We are very happy to have enrolled our two girls at Joni's. Our youngest in Pre-K is blossoming and thanks to the Kindergarten club every Wednesday we can see that she is progressing well in her learning (thanks Miss Crystal!). And for our oldest daughter (1st grade) it is very convenient because we drop her off in the morning at the same time as her sister at Joni's, she can play before taking the bus to elementary school.

February 01, 2021





My son has been with Joni's since August of 2020 and he has loved it there. The staff is so wonderful and friendly. You can tell they really care!! They want to help you anyway they can by working around your schedule! I feel very fortunate to have choose them to be my sons child care! They always send him home with crafts and update their app every day with pictures and a brief description on what they are learning everyday! Highly recommended!

October 06, 2020





Joni's has been an incredible school for both of my two young kids. They are constantly learning, creating and staying active in a safe, clean, compassionate and healthy environment. The director is amazing, flexible, incredibly organized and always available for questions. We are so lucky to have found such amazing childcare!

October 06, 2020





We can't say enough great things about Joni's! The directors and teachers go above and beyond for our children, and we are so glad to have found them.

Leave a Review
We want to learn more about your experience with Cadence Education. Please leave us a review below and let us know how we are doing.