Overview
Overview

Programs

Our Team

Accreditation

Reviews
About Cadence Academy Preschool, Canton
Joni's Child Care & Preschool is now Cadence Academy Preschool! Cadence Academy Preschool believes that all children are loving, inquisitive beings in a constant state of learning. A careful balance of structured activities, free choice, self-expression, and situational teaching provides varied opportunities to learn and develop. Emphasis is placed on process over product and children are encouraged to move toward increasing independence, both socially and academically.
Children are encouraged to observe the environment around them, ask questions, and offer answers. Children are capable of demonstrating manners and respect for themselves and others. Teachers are facilitators, role models, and cheerleaders.
Our Programs
Our Mission
To create a happy and healthy child care environment based upon positive reinforcement and respect.
All programming is designed to meet one or more of the following goals:
Create an environment that encourages the desire for the learning process.
Teach respect for self and others.
Provide developmentally appropriate learning opportunities to stimulate and encourage fine and gross motor skills, cognitive development, socio-emotional development and other learning skills.
NAEYC Accreditation
This is a rigorous set of standards beyond those required by the State of Connecticut. A nationally trained team of inspectors spend several days in each program reviewing all aspects of the curriculum, teacher qualifications, interactions, communications and management. It takes several years to complete the accreditation process and then must be maintained through annual reporting systems, unannounced visits, and emerging standards.
Open Door Policy
Communication is critical to meeting the individualized needs of each family. Starting at the initial tour and continuing throughout our years together, we strive to maintain open, honest, and informative interactions. All Joni's programs maintain an "Open Door Policy", encouraging families to visit and participate in all areas of a day's events.
The Location of Our Preschool
Cadence Academy Preschool, Canton center is conveniently located on Rte 44 at 352 Albany Tpke, Canton, CT 06019. Parents enjoy ample parking and keypad entry into the building. We provide transportation and Before & After Care for school-age children from both Cherry Brook Primary School and Canton Intermediate School.
Our Team
Rosanna Martin
Assistant Director
I have 13 years of experience in the early childhood field. I have a Bachelor's Degree in Early Childhood Education, graduating with honors from Charter Oak State College.
Accreditations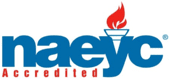 NAEYC Accreditation
Every child deserves access to high-quality early learning experiences. NAEYC (National Association for the Education of Young Children) has set 10 standards for early childhood programs that can help families make the right choice when they are looking for a child care center, preschool, or kindergarten. The standards and criteria are also the foundation of the NAEYC Accreditation system for early childhood programs. To earn NAEYC Accreditation, schools must go through an extensive self-study and quality-improvement process, followed by an on-site visit by NAEYC Assessors to verify and ensure that the program meets each of the ten program standards, and hundreds of corresponding individual criteria. NAEYC-accredited programs are always prepared for unannounced quality-assurance visits during their accreditation term, which lasts for five years. In the 30 years since NAEYC Accreditation was established, it has become a widely recognized sign of high-quality early childhood education. More than 7,000 programs are currently accredited by NAEYC—less than 10 percent of all child care centers, preschools, and kindergartens nationally achieve this recognition.
Reviews from Parents
September 16, 2021





My Grandchildren Love Cadence of Canton!

August 10, 2021





I highly recommend Cadence! Our son had a tough transition in starting daycare and the teachers & staff there made us feel comfortable and supported every step of the way! Absolutely amazing teachers!

July 07, 2021





Joni's is absolutley amazing. My step son participates in the school age programs there and he always has all these amazing projects and really loves the teachers there.

June 04, 2021





Joni's is absolutely incredible to my son. Teachers are friendly and caring. Please keep on the great job!

Leave a Review
We want to learn more about your experience with Cadence Education. Please leave us a review below and let us know how we are doing.