Overview
Overview

Programs

Accreditation
Welcome to Cadence Academy Preschool in DuPont, Washington. We are conveniently located near Palisade Boulevard and Center Drive at 2212 Palisade Boulevard in DuPont, Washington.
At our private preschool in DuPont, Washington, we like to make children feel at home when they walk through our doors. From the family photos on our classroom walls to the live plants, and some classroom pets, students are surrounded by comforting, familiar items representative of their homes.
A member of the Cadence Education Family of Schools, our daycare center provides a developmentally directed curriculum and early childhood education programs for children ages four weeks to 9 years old. Our qualified, trained teachers provide your child with a loving, structured environment filled with learning opportunities appropriate to each child's stage of development.
Our dedicated staff encourages and enables students to discover concepts about themselves and their surrounding world, placing a great emphasis on social and self-help skills. Our daycare center encourages an open door policy where parents and families are always welcome to be a part of their child's day.
Our Philosophy
Our mission is to provide children and families with a "Home Away From Home" in an environment that fosters a sense of self, love of learning, and community culture through care and play. We strive for educational excellence through hands-on learning, implementing a child-centered preschool curriculum that allows each student to shine as an individual.
Daycare, Preschool & After School Programs Offered:
What Makes Our Preschool Unique
Many of our families have kept their children with us from infancy through elementary school. In fact, the relationships we form with our families are so tight-knit that we stay in contact even when they move away.
What sets Cadence Academy Preschool DuPont apart from the rest? Here are some of the offerings that make us truly unique. We:
Are NAEYC accredited, which is equivalent to the highest quality of care standards in the nation
Employ qualified and dedicated staff
Offer hands-on learning inside and outside
Serve nutritious, family-style meals and snacks
Are Baby Signs certified
Offer a modern, security controlled facility in a family-friendly neighborhood
Partner with NACCRRA and Army Child Care in your Neighborhood
Foster Kindergarten readiness through our Pre-K Plus and Kindergarten Club programs
Promote open communication with weekly emails featuring photos, progress reports, and classroom newsletters
Provide before and after school programs
Learn More About Our Preschool & Daycare Center
We are happy to show you our beautiful preschool in DuPont, Washington. Schedule a Visit Today! Call (253) 964-1033 for more information.
Accreditations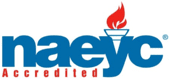 NAEYC Accreditation
Every child deserves access to high-quality early learning experiences. NAEYC (National Association for the Education of Young Children) has set 10 standards for early childhood programs that can help families make the right choice when they are looking for a child care center, preschool, or kindergarten. The standards and criteria are also the foundation of the NAEYC Accreditation system for early childhood programs. To earn NAEYC Accreditation, schools must go through an extensive self-study and quality-improvement process, followed by an on-site visit by NAEYC Assessors to verify and ensure that the program meets each of the ten program standards, and hundreds of corresponding individual criteria. NAEYC-accredited programs are always prepared for unannounced quality-assurance visits during their accreditation term, which lasts for five years. In the 30 years since NAEYC Accreditation was established, it has become a widely recognized sign of high-quality early childhood education. More than 7,000 programs are currently accredited by NAEYC—less than 10 percent of all child care centers, preschools, and kindergartens nationally achieve this recognition.