Overview
Overview

Programs

Our Team

Accreditation

Reviews
About Winwood Children's Center, Gainesville, Virginia
Once a changing point for stagecoach horses and not far from the famous battles of Bull Run, Gainesville, Virginia has a storied history, not to mention the city is just outside the nation's capital, Washington, D.C.
This charming Prince William County city, however, has something equally special to brag about: an excellent school system. When local children are ready to start the journey of blossoming into fine citizens, they come to Winwood Children's Center, Gainesville where kids learn through play every day!
At Winwood Children's Center, Gainesville, we are dedicated to providing children with the foundation they need to excel in an educational environment. Our customized, interactive classrooms ensure children have a secure, stimulating setting in which to grow and thrive.
Experienced teachers guide our preschool students through our unique and exciting curriculum, helping them to build the skills, self-esteem, and confidence needed to navigate the world successfully. We prepare them not just for primary school, high school, and college, but also for a lifelong love of learning and commitment to community.
Our Preschool & Childcare Programs:
*Private Kindergarten is a NAEYC accredited program for children who miss the public school cut-off of September 30th. Our Private Kindergarten students are permitted to enter 1st grade the following year.
NAEYC Accreditation
Our school is proud to have earned accreditation from the National Association for the Education of Young Children (NAEYC). Fewer than 10 percent of America's preschools have earned accreditation from NAEYC. Achieving accreditation is lengthy process and a school must go through a 4-step process and meet NAEYC Accreditation standards in 10 areas:
Relationships
Curriculum
Teaching
Assessment of Child Progress
Health
Teachers
Families
Community Relationships
Physical Environment
Leadership and Management
Our Philosophy
At Winwood Children's Center in Gainesville, Virginia we optimize learning by teaching through play in a warm, secure environment as comfortable as home. Our goals are smiles, laughter, and learning.
What Makes Us Unique
Our early childhood learning center hires only the best of the best to teach the children in our care, requiring the teachers at Winwood to have a CDA, AA, or Bachelor's degree in Education, as well as lots of experience directly working with children. We feel that people who have chosen to make teaching their career are the ones who are the most dedicated to the children and to the educational system.
At Winwood Children's Center, Gainesville, we encourage family participation, and we support an open-door policy that allows parents to drop in anytime to visit their child, read to the class, have lunch with their child, or just come by for a quick hug.
We have created an atmosphere that is inviting and friendly, and that has allowed us to develop trusting relationships with the families whose children are in our care. We are always available to talk with parents and try our best to make sure that when you leave our building each day that the experience for you and your child is a memorable one.
More About Our Preschool & Childcare Center
Winwood Children's Center, Gainesville is located at 7830 Old Linton Hall Road in Gainesville, Virginia, 20155. We are located directly across from Regal Cinemas, on the service road behind local restaurants that runs parallel to Linton Hall Road. We are close to the Waverly Mill condos.
Kids in our Before and After School program receive free transportation to and from the following elementary schools: Glenkirk, Piney Branch, Bristow Run, Buckland Mills, Alvey, Tyler, Mt. View, Cedar Point, and T Clay Woods.
Our Team
Alivia Weaver
Director
Alivia Weaver has been with Cadence Education since 2011 and has worked with children since 2005. She achieved her CDA in 2013 and is currently finishing up her Associate's Degree in Early Childhood Education. She also completed our Leadership Training Program in 2013.
Alivia is recently married, is an animal lover, and is looking forward to starting a family of her own. She is very family and friend oriented and enjoys painting and horseback riding in her spare time.
Erika Foy
Assistant Director
Erika started at Winwood in July of 2010 and has worked in Infants, Toddlers, and Two's. She joined the management team as the Administrative Assistant in 2016 and was promoted to Assistant Director in 2018. She has earned her CDA credential and is currently pursuing her associate's degree in early childhood education. Erika just got married, and enjoys spending quality time with her friends and family.
Accreditations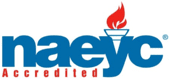 NAEYC Accreditation
Every child deserves access to high-quality early learning experiences. NAEYC (National Association for the Education of Young Children) has set 10 standards for early childhood programs that can help families make the right choice when they are looking for a child care center, preschool, or kindergarten. The standards and criteria are also the foundation of the NAEYC Accreditation system for early childhood programs. To earn NAEYC Accreditation, schools must go through an extensive self-study and quality-improvement process, followed by an on-site visit by NAEYC Assessors to verify and ensure that the program meets each of the ten program standards, and hundreds of corresponding individual criteria. NAEYC-accredited programs are always prepared for unannounced quality-assurance visits during their accreditation term, which lasts for five years. In the 30 years since NAEYC Accreditation was established, it has become a widely recognized sign of high-quality early childhood education. More than 7,000 programs are currently accredited by NAEYC—less than 10 percent of all child care centers, preschools, and kindergartens nationally achieve this recognition.
Reviews from Parents
December 29, 2022





We joined the Winwood family this past September and since then our little boy has learned so much. He has never been this excited to go to school and see his teachers and friends. It's a comforting feeling as a parent to know that your child is in good hands and enjoying themselves while they're away from you. We're so happy to have joined the Winwood family and are excited to have our newest addition join next year as well.

October 04, 2022





When we moved to Gainesville we were impressed with the atmosphere, structure, and curriculum Winwood had to offer. Our son started in the toddler room and has worked his way up to Preschool 3, and our daughter is currently in the Infant 1 room, and we're so happy with the care they receive! The teachers in each classroom treat our kiddos like their own-- they celebrate each milestone and navigate each challenge (from teething to tantrums, and everything in-between!) right along with us. We're so grateful for the nurturing environment and amazing staff at Winwood!

September 12, 2022





We have been extremely pleased with the care that both of our boys have received since coming to Winwood. I was so nervous to move them from their previous daycare when we moved, but I have been nothing but impressed with everyone at Winwood. They are so kind, and really make you feel comfortable. I know both of my boys are very happy there.

September 02, 2022





We really love Winwood and so does our child. We deeply appreciate the staff for being nice and caring, and the Directors really care about the children and work with the parents. Winwood is like a second home for our child where he's happy and flourishing and that makes us happy parents!