Overview
Overview

Programs

Our Team
About Winwood Children's Center in Brambleton, VA
Winwood Children's Center has nine preschools throughout northern Virginia and two of our schools are located in Brambleton, VA. Our Brambleton II location is across the street from Briar Woods High School at 42635 Redeemer Terrace and our Brambleton location is 2 miles south of us at 42780 Creighton Rd. We are proud to offer local families nurturing daycare services for infants and toddlers, preschool programs that effectively prepare young minds for success in elementary school, and before & after care and summer camp for school age children.
Ascend Curriculum
One of the main reasons families choose Winwood is because of the flexibility built into our proprietary Ascend Curriculum, which allows our teachers to individualize curriculum delivery and makes learning interactive. The Ascend Curriculum is process-based and focuses on progressively developing skill sets within nine subjects every month. Our teachers are encouraged to choose activities based on the learning styles and interests of their students.
Our goal is to make your child's first educational experiences fun, engaging, and challenging so they love learning from day one!
Kind Child Program

Kind Child is a proprietary program that focuses on the development of character and social skills. We want every child in our care to feel welcome and valued at our preschool, so our teachers focus on developing social-emotional skills every month and introduce a new character trait every two months. We have found that when we strengthen the emotional well-being of our students, we also strengthen our school.
Partnering with Our Parents
We believe that preschool children thrive when a strong partnership exists between home and school. We love interacting with our families. When in-person visits aren't an option, we provide our parents an app where we upload pictures and provide status updates on their child's progress throughout the day.
Getting to Our School
Winwood Children's Center, Brambleton II is located at the southeast corner of Belmont Ridge Road and Redeemer Terrace. We're across the street from Briar Woods High School at 42635 Redeemer Terrace, Brambleton, VA 20148. We offer transportation to and from Creighton's Corner Elementary School, Mill Run Elementary School, Madison's Trust Elementary School, Hillside Elementary School, and Sycolin Creek Elementary. Moorefield Station Elementary School's bus drops off children at our school.
Looking for a daycare center or preschool your family can call home? Schedule a virtual visit today. We can't wait to show you around our preschool!
Our Team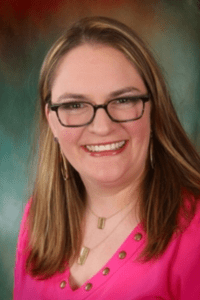 Tish Spaulding
School Director
Hello! My name is Tish Spaulding and I am so excited to be here at Winwood Brambleton II. I have been part of the management team since 2011 at Winwood in Reston and South Riding. I hold a Bachelor's degree in Child Development and an Associate's degree in Early Childhood Education. I moved to the Northern Virginia area in January 2006, when I married my best friend. We have a dog named Marco, who we rescued over 10 years ago. In my spare time, I enjoy shopping, scrapbooking, crafting, and traveling to new places. I cherish the promise that uphold with Cadence Education – "Cadence Education provides parents with peace of mind by giving children exceptional education every fun-filled day in a place as nurturing as home."
Sharadha Krishnan
Assistant Director
Hello! My name is Sharadha Krishnan. I have been associated with Winwood Children's Center Brambleton ll for about 7 years now. I have been part of the management team since July 2021 as an Assistant Director. I started as a Lead Teacher for Preschoolers in 2016 and have taught Pre-Kindergarten for 4 years before joining management.
I have a Bachelor's Degree in Commerce and Economics from The University of Mumbai, India which translates to an Undergrad in Business Administration in the US. I took my first steps in Early Childhood Education by getting my CDA(Child Development Associate) in 2018. The positive development of young minds and working with the cultural infusion that different families bring to the table has always been a passion of mine.
My family is my husband of over 20 years and our son who's now in college. I love to read and I spend my spare time pursuing hobbies like singing at karaoke, dabbling at painting and taking walks with my hubby.
Carolina Inchaustegui
Teacher
About Me: I have been with Winwood Brambleton since it first opened. This is like a second home to me. I love watching my babies thrive and seeing the rapid growth that occurs during their earliest years. I also enjoy spending time golfing with my husband over the weekends.
Lakshmi Kumar
Teacher
About Me: I am a friendly and loyal person who enjoys teaching and learning with the children. For me, the most important reward is the smiles and hugs from the little ones. In my spare time I like to travel and read. I have a Masters in English Literature and Journalism.