Overview
Overview

Programs

Our Team

Accreditation

Reviews
Overview
Welcome to Cadence Academy Preschool, Westerly! We are conveniently located on Route 1, not far from the beautiful Westerly beaches. Our building includes bright, developmentally appropriate, fun classrooms and large outdoor playgrounds. As you will see our Westerly center is warm, inviting, and designed with young children in mind. We are open from 6:30am to 6:00pm, Monday through Friday, to fit the needs of our busy families.
Our Curriculum

Our teachers create personalized learning experiences for each child in our care thanks to the flexibility built into our Ascend Curriculum. We have found that the best way to support the development of academic skill is to give children an appropriate level of control over their own learning process.
We offer our students a variety of experimental and playful activities and encourage them to select the activities they would like to participate in. These activities allow us to progressively introduce new skills in nine subjects every month and our children reach important milestones in every program.
Parent Communication App
We have an extraordinary Parent Communication App that our teachers use daily to relay information and send pictures to family members, send newsletters, and track developmental progress for each child's portfolio! With this application, parents/guardians are able to opt into email or text alerts and they can receive any information, instantaneously, about their child and their child's school day.
Teachers and staff can tag daily pictures with our Developmental Domains (Social/Emotional, Physical, Artistic, Cognitive, and Language/Literacy) and are then able to communicate with the parents/guardians by adding captions or sending quick little notes. Families LOVE this feature and we're utilizing it more and more each day! We are so excited to be able to communicate with our families throughout the day and to show them what their children are learning each day.
Accreditation
We are VERY proud to be a NAEYC accredited facility and a BrightStars rated program! For more information about NAEYC, the National Association for the Education of Young Children, and the high quality standards they demand of their accredited programs, please Visit the NAEYC website
Chrissy and the entire Westerly staff invite you to visit and take a tour of their beautiful home! For more information or to schedule a visit please call, click or stop in!
Daycare Works
Our Team
Accreditations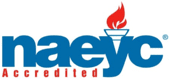 NAEYC Accreditation
Every child deserves access to high-quality early learning experiences. NAEYC (National Association for the Education of Young Children) has set 10 standards for early childhood programs that can help families make the right choice when they are looking for a child care center, preschool, or kindergarten. The standards and criteria are also the foundation of the NAEYC Accreditation system for early childhood programs. To earn NAEYC Accreditation, schools must go through an extensive self-study and quality-improvement process, followed by an on-site visit by NAEYC Assessors to verify and ensure that the program meets each of the ten program standards, and hundreds of corresponding individual criteria. NAEYC-accredited programs are always prepared for unannounced quality-assurance visits during their accreditation term, which lasts for five years. In the 30 years since NAEYC Accreditation was established, it has become a widely recognized sign of high-quality early childhood education. More than 7,000 programs are currently accredited by NAEYC—less than 10 percent of all child care centers, preschools, and kindergartens nationally achieve this recognition.
Reviews from Parents
May 29, 2021





We are LOVING Cadence. We couldn't be happier with not just the school/program but how you all are handling things with Covid. I'm kicking myself for not switching sooner, but we're here now, and that's what matters. I appreciate the notebook/email every day, the fact that she's learning things, and when she gets in the car every day, she exclaims "That was the best day of my life!". I also appreciate the communication with the teacher has with us as well as the director. I love that when we drop off in the morning, she's greeted like she's a life long friend - it's just really wonderful.

May 20, 2021





I can not say enough about this school. My grandchildren all attend here and I love all the teachers and pictures they take. They also made a 4 bed garden outside the school that not only looks adorable but my oldest granddaughter loves going out and watering it everyday! If you want a school to love you children as well as educating them with non-traditional experiences this is your school!

April 15, 2021





Love sending my kids to Cadance... and they love going to school every morning. They do so many activities and learn so many new things day in and out. I love getting a recap of the day of what the kids did, accompanied with pictures. All the teachers and staff are so personable. As a mom, it's hard to have your kids away from you all day... but knowing they are loved and cared for in a great learning environment has made it much easier.

March 31, 2021





We have been so happy with Cadence Academy for our 3 year old son. It was an extremely difficult transition for him when he started in December 2020 due to having some anxiety, being a home body and just loving being with mom, dad and baby sis. We were so apprehensive about sending him anywhere this year and tried other options that just didn't work before deciding on Cadence. He recently had to be home for a week due to a positive case in the class and that week was eye opening. He was a little off the first day with lower affect than normal and by day 2 was actually telling us he wanted to go to school. For a kid who sobbed at drop off for over 2 months, this is huge and a true testament to the safe, happy, engaging environment all of the teachers at Cadence have created. They have given us anxious parents peace of mind and a safe haven for our little boy. The teachers are always kind, welcoming and patient with him no matter what emotions he is going through. We truly couldn't have asked for more.

Leave a Review
We want to learn more about your experience with Cadence Education. Please leave us a review below and let us know how we are doing.