Overview
Overview

Programs

Our Team

Accreditation

Reviews
Overview
Welcome to Cadence Academy Preschool, Westerly! We are conveniently located on Route 1, not far from the beautiful Westerly beaches. Our building includes bright, developmentally appropriate, fun classrooms and large outdoor playgrounds. As you will see our Westerly center is warm, inviting, and designed with young children in mind.
Our Curriculum

Our teachers create personalized learning experiences for each child in our care thanks to the flexibility built into our Ascend Curriculum. We have found that the best way to support the development of academic skill is to give children an appropriate level of control over their own learning process.
We offer our students a variety of experimental and playful activities and encourage them to select the activities they would like to participate in. These activities allow us to progressively introduce new skills in nine subjects every month and our children reach important milestones in every program.
Parent Communication App
We have an extraordinary Parent Communication App that our teachers use daily to relay information and send pictures to family members, send newsletters, and track developmental progress for each child's portfolio! With this application, parents/guardians are able to opt into email or text alerts and they can receive any information, instantaneously, about their child and their child's school day.
Teachers and staff can tag daily pictures with our Developmental Domains (Social/Emotional, Physical, Artistic, Cognitive, and Language/Literacy) and are then able to communicate with the parents/guardians by adding captions or sending quick little notes. Families LOVE this feature and we're utilizing it more and more each day! We are so excited to be able to communicate with our families throughout the day and to show them what their children are learning each day.
Accreditation
We are VERY proud to be a NAEYC accredited facility and a BrightStars rated program! For more information about NAEYC, the National Association for the Education of Young Children, and the high quality standards they demand of their accredited programs, please Visit the NAEYC website.
Daycare Works
Our Team
Meghan Johnson
School Director
I have been in the field of Early Childhood Education since 2006. I have experienced firsthand teaching in infant, toddler, and preschool classrooms. I am an experienced director with a history of working in smaller and larger school settings. I have my Head Teachers Certification through the State of Connecticut as well as a bachelor's degree with a concentration in Early Education and Management through Southern Connecticut State University. I have a beautiful family, two daughters, and a husband, Ryan. I practice what I preach and love seeing my own children learn, grow, and be nurtured here at Cadence Academy.
I am committed to providing a positive culture for teachers, children, and families. My goal is to continue growing as a professional to give the children of Cadence Academy Preschool the best learning experiences possible. Experiences that will help them develop and get ready not only for kindergarten but for life!
Accreditations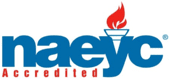 NAEYC Accreditation
Every child deserves access to high-quality early learning experiences. NAEYC (National Association for the Education of Young Children) has set 10 standards for early childhood programs that can help families make the right choice when they are looking for a child care center, preschool, or kindergarten. The standards and criteria are also the foundation of the NAEYC Accreditation system for early childhood programs. To earn NAEYC Accreditation, schools must go through an extensive self-study and quality-improvement process, followed by an on-site visit by NAEYC Assessors to verify and ensure that the program meets each of the ten program standards, and hundreds of corresponding individual criteria. NAEYC-accredited programs are always prepared for unannounced quality-assurance visits during their accreditation term, which lasts for five years. In the 30 years since NAEYC Accreditation was established, it has become a widely recognized sign of high-quality early childhood education. More than 7,000 programs are currently accredited by NAEYC—less than 10 percent of all child care centers, preschools, and kindergartens nationally achieve this recognition.
Reviews from Parents
March 25, 2021






December 19, 2020





My son has been going to Cadence since he was 16 weeks old, and we immediately felt like part of the family even as heightened social distancing measures are in place. I love that we get photos and updates during the day so we can see how much he is learning and growing, and I feel so comfortable dropping him off for the day knowing he will be in a safe, nurturing, and fun environment. I know we made the right choice in sending our son to Cadence and would make the same choice a thousand times over if we had to do it again.

November 02, 2020






October 03, 2020