Overview
Overview

Programs

Accreditation

Reviews
Overview
Welcome to Cadence Academy Preschool, Westerly! We are conveniently located on Route 1, not far from the beautiful Westerly beaches. Our building includes bright, developmentally appropriate, fun classrooms and large outdoor playgrounds. As you will see our Westerly center is warm, inviting, and designed with young children in mind.
Our Curriculum

Our teachers create personalized learning experiences for each child in our care thanks to the flexibility built into our Ascend Curriculum. We have found that the best way to support the development of academic skill is to give children an appropriate level of control over their own learning process.
We offer our students a variety of experimental and playful activities and encourage them to select the activities they would like to participate in. These activities allow us to progressively introduce new skills in nine subjects every month and our children reach important milestones in every program.
Parent Communication App
We have an extraordinary Parent Communication App that our teachers use daily to relay information and send pictures to family members, send newsletters, and track developmental progress for each child's portfolio! With this application, parents/guardians are able to opt into email or text alerts and they can receive any information, instantaneously, about their child and their child's school day.
Teachers and staff can tag daily pictures with our Developmental Domains (Social/Emotional, Physical, Artistic, Cognitive, and Language/Literacy) and are then able to communicate with the parents/guardians by adding captions or sending quick little notes. Families LOVE this feature and we're utilizing it more and more each day! We are so excited to be able to communicate with our families throughout the day and to show them what their children are learning each day.
Accreditation
We are VERY proud to be a NAEYC accredited facility and a BrightStars rated program! For more information about NAEYC, the National Association for the Education of Young Children, and the high quality standards they demand of their accredited programs, please Visit the NAEYC website.
Daycare Works
Accreditations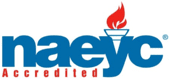 NAEYC Accreditation
Every child deserves access to high-quality early learning experiences. NAEYC (National Association for the Education of Young Children) has set 10 standards for early childhood programs that can help families make the right choice when they are looking for a child care center, preschool, or kindergarten. The standards and criteria are also the foundation of the NAEYC Accreditation system for early childhood programs. To earn NAEYC Accreditation, schools must go through an extensive self-study and quality-improvement process, followed by an on-site visit by NAEYC Assessors to verify and ensure that the program meets each of the ten program standards, and hundreds of corresponding individual criteria. NAEYC-accredited programs are always prepared for unannounced quality-assurance visits during their accreditation term, which lasts for five years. In the 30 years since NAEYC Accreditation was established, it has become a widely recognized sign of high-quality early childhood education. More than 7,000 programs are currently accredited by NAEYC—less than 10 percent of all child care centers, preschools, and kindergartens nationally achieve this recognition.
Reviews from Parents
July 12, 2023





Wonderful, kind, caring teachers and staff. We know that our daughter is being engaged in activities all day long, in a safe and nurturing environment. Thanks Cadence!

May 23, 2023





I was so nervous to send my 3-month old anywhere when I had to return to work, but Cadence was absolutely the right decision. Our daughter loves it there and the atmosphere is incredibly warm and welcoming. She's been there for a year and we're not going anywhere else!

February 28, 2023





Both of my daughters have attended Cadence Academy for the past few years, and I can honestly say that it has been such a great experience for our family. Kate and Justine truly care about the development of my children and ensure that all their needs are met! Management staff is top notch and very organized. Every day when I pick up my daughter in the the preschool 1 classroom Candace and Briana are actively engaged in educational activities with the children. I stopped by early last week and took a few minutes to observe the classroom and I was impressed. Briana was reading my daughter and some of her friends a book, and candace had all the other kids involved in some activities with blocks. I was super impressed with the energy they both had, and the smiles and joy that filled the classroom. No one was left out, and that is so nice to see. These teachers must have superpowers because I can't fathom how they do it! Candace and Briana really are a power duo in the classroom and they are the best teachers I have come across in my experience thus far with childcare! I have had similar experiences with my other daughter in Wendy and Rita's room. My youngest does so many art projects i may need to buy a new fridge just to display them all. Both my kids are happy to go to school every day and I am comfortable dropping them off. I couldn't ask for anything more. Thank you to all the members of cadence academy family for the compassion, patience, and shaping the minds of my children. I appreciate you all!

November 10, 2022





Words can't express how Wonderful Cadence Academy in Westerly truly is! Being an anxious first time mom, the thought of leaving my infant with anyone other than my husband was terrifying however, I am beyond thankful that the stars aligned to allow my son to experience the absolute BEST care around. As a parent, the level of communication is above and beyond what I could ever hope for. His teachers consistently send us pictures, keep us updated with his deedings, diapers and always take the time to tell us how his day was. The entire staff is transparent and I couldn't be more thankful for how often they communicate. They are ALL genuinely kind people who have the children's best interests at the forefront of every decision they make. As an educator myself, I am so impressed with how much the students learn beginning in the infant room. It is truly incredible! It is also evident that my son LOVES being there. He always has a huge smile on his face whenever he is greeted by the staff. Cadence Academy is a giant family and I am so thankful that we are able to be a part of it. I am confident when I leave my son each morning that he will be well taken care of. I can't thank the entire staff, especially the infant room, enough for all that they do. If you are looking for reliable care, I can't recommend Cadence Academy enough. THANK YOU to the entire staff for all that you do.