Overview
Overview

Programs

Our Team

Accreditation

Reviews
Overview
The East Greenwich school is conveniently located on the North Kingstown/East Greenwich line. Our teachers are dedicated to providing the highest quality child care and learning for the young children in our infant, toddler, preschool and pre-kindergarten programs. We offer both a "surround care" program for kindergartners who attend the East Greenwich elementary schools and an exciting summer camp program.
We utilize The Children's Workshop Curriculum, a framework we developed that draws inspiration from Creative Curriculum and the Rhode Island Early Learning Standards which you will see in action in all our centers. Children retain more when they're having fun so our programs emphasize learning through play. Our curriculum provides a strong foundation for children's academic success and our teachers provide a warm, nurturing environment in which every child can be successful.
Our Programs
Daycare Works
Accreditations
We are VERY proud to be a NAEYC accredited facility and a BrightStars rated program! For more information about NAEYC, the National Association for the Education of Young Children, and the high quality standards they demand of their accredited programs, please Visit the NAEYC website.
Parent Communication App
We have an extraordinary Parent Communication App that our teachers use daily to relay information and send pictures to family members, send newsletters, and track developmental progress for each child's portfolio! With this application, parents/guardians are able to opt into email or text alerts and they can receive any information, instantaneously, about their child and their child's school day.
Teachers and staff can tag daily pictures with our Developmental Domains (Social/Emotional, Physical, Artistic, Cognitive, and Language/Literacy) and are then able to communicate with the parents/guardians by adding captions or sending quick little notes.
Families LOVE this feature and we're utilizing it more and more each day! We are so excited to be able to communicate with our families throughout the day and to show them what their children are learning each day.
The center is open from 6:30 am to 6:00 pm and tuition includes breakfast, hot lunch, and daily snacks. Please come by, visit, and see our fantastic school!
Our Team
Krystal Pereira
Director
I have been employed at this school since June of 2011. I started off as a Teacher Assistant float and soon after that moved into an administrative role. In October 2017, I become the School Age coordinator with administrative duties. I enjoyed working in the office and learning more of the day to day operations of our company, as well as still being in the classroom. In December 2018, I took over as Director in East Greenwich and have enjoyed working with such dedicated teachers, who truly love providing such a nurturing environment for their children.
I enjoy spending quality family time with my husband and very adorable son, Grayson. Please feel free to give me a call, so I can tell you about the wonderful programs we offer.
Accreditations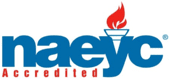 NAEYC Accreditation
Every child deserves access to high-quality early learning experiences. NAEYC (National Association for the Education of Young Children) has set 10 standards for early childhood programs that can help families make the right choice when they are looking for a child care center, preschool, or kindergarten. The standards and criteria are also the foundation of the NAEYC Accreditation system for early childhood programs. To earn NAEYC Accreditation, schools must go through an extensive self-study and quality-improvement process, followed by an on-site visit by NAEYC Assessors to verify and ensure that the program meets each of the ten program standards, and hundreds of corresponding individual criteria. NAEYC-accredited programs are always prepared for unannounced quality-assurance visits during their accreditation term, which lasts for five years. In the 30 years since NAEYC Accreditation was established, it has become a widely recognized sign of high-quality early childhood education. More than 7,000 programs are currently accredited by NAEYC—less than 10 percent of all child care centers, preschools, and kindergartens nationally achieve this recognition.
Reviews from Parents
October 14, 2021





My son loves going there everyday. Always on his feet and super active. Especially playing shaky shaky nonstop! They re amazing!

September 14, 2021





Our kids have been super happy here; all the teachers have been kind and caring and our kids always come home happy and excited to tell us about their day!

August 28, 2021





Good evening, I would like to get your weekly prices for your pre-K program please. Thank you Vanessa Montervil

August 23, 2021





When I found out I was having a baby I knew instantly my child would go to Cadence Academy. My daughter has attended this school since she was 3 months old. She has learned so much from here. She loves to sign the colors of the rainbow, she can count to 10 in Spanish, and she is always singing a new song at home. She likes to calls this her second home. The teachers here are amazing and definitely make her feel safe and VERY loved. She is always excited to attend school everyday!

Leave a Review
We want to learn more about your experience with Cadence Education. Please leave us a review below and let us know how we are doing.