Overview
Overview

Programs

Our Team

Accreditation

Reviews
Overview
The East Greenwich school is conveniently located on the North Kingstown/East Greenwich line. Our teachers are dedicated to providing the highest quality child care and learning for the young children in our infant, toddler, preschool and pre-kindergarten programs. We offer both a "surround care" program for kindergartners who attend the East Greenwich elementary schools and an exciting summer camp program.
We utilize The Children's Workshop Curriculum, a framework we developed that draws inspiration from Creative Curriculum and the Rhode Island Early Learning Standards which you will see in action in all our centers. Children retain more when they're having fun so our programs emphasize learning through play. Our curriculum provides a strong foundation for children's academic success and our teachers provide a warm, nurturing environment in which every child can be successful.
Our Programs
Daycare Works
Accreditations
We are VERY proud to be a NAEYC accredited facility and a BrightStars rated program! For more information about NAEYC, the National Association for the Education of Young Children, and the high quality standards they demand of their accredited programs, please Visit the NAEYC website.
Parent Communication App
We have an extraordinary Parent Communication App that our teachers use daily to relay information and send pictures to family members, send newsletters, and track developmental progress for each child's portfolio! With this application, parents/guardians are able to opt into email or text alerts and they can receive any information, instantaneously, about their child and their child's school day.
Teachers and staff can tag daily pictures with our Developmental Domains (Social/Emotional, Physical, Artistic, Cognitive, and Language/Literacy) and are then able to communicate with the parents/guardians by adding captions or sending quick little notes.
Families LOVE this feature and we're utilizing it more and more each day! We are so excited to be able to communicate with our families throughout the day and to show them what their children are learning each day.
The center is open from 6:30 am to 6:00 pm and tuition includes breakfast, hot lunch, and daily snacks. Please come by, visit, and see our fantastic school!
Our Team
Krystal Pereira
Director
I have been employed at this school since June of 2011. I started off as a Teacher Assistant float and soon after that moved into an administrative role. In October 2017, I become the School Age coordinator with administrative duties. I enjoyed working in the office and learning more of the day to day operations of our company, as well as still being in the classroom. In December 2018, I took over as Director in East Greenwich and have enjoyed working with such dedicated teachers, who truly love providing such a nurturing environment for their children.
I enjoy spending quality family time with my husband and very adorable son, Grayson. Please feel free to give me a call, so I can tell you about the wonderful programs we offer.
Accreditations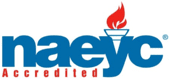 NAEYC Accreditation
Every child deserves access to high-quality early learning experiences. NAEYC (National Association for the Education of Young Children) has set 10 standards for early childhood programs that can help families make the right choice when they are looking for a child care center, preschool, or kindergarten. The standards and criteria are also the foundation of the NAEYC Accreditation system for early childhood programs. To earn NAEYC Accreditation, schools must go through an extensive self-study and quality-improvement process, followed by an on-site visit by NAEYC Assessors to verify and ensure that the program meets each of the ten program standards, and hundreds of corresponding individual criteria. NAEYC-accredited programs are always prepared for unannounced quality-assurance visits during their accreditation term, which lasts for five years. In the 30 years since NAEYC Accreditation was established, it has become a widely recognized sign of high-quality early childhood education. More than 7,000 programs are currently accredited by NAEYC—less than 10 percent of all child care centers, preschools, and kindergartens nationally achieve this recognition.
Reviews from Parents
April 11, 2021





My daughter started attending Cadence Academy when she was 5 months old (with a break due to covid). We love her teachers and how personable they are. She comes home with some type of arts and crafts almost every day and most importantly, she is excited to go every time. I would recommend Cadence Academy in East Greenwich to any parent.

March 10, 2021





Cadence Academy has been a wonderful first academic experience for my toddler. A strong foundation in early childhood education has a huge impact on a child's academic trajectory. Not only did my daughter feel at ease with the teachers, she is also making evident strides. The team ensures that the children learn valuable skills through play- language, fine motor, gross motor, early literacy and math. Our family is very happy with our choice in schools and highly recommend.

March 10, 2021





What an unbelievably wonderful daycare. From the day I called to get more information they've been responsive, helpful, courteous, professional and so friendly. Especially the director, Krystal who was so empathetic with what I was going through. My daughter is a year and a half with GI issues and not walking. She had a rough first few days with crying and keeping to herself and hiding in this one cubby, and within that same week they worked wonders for her. My daughter no longer needs formula (a huge battle we've been dealing with), her GI issues went away almost entirely, and she's now walking while only holding on to one of our hands. Its been a month since she started and for the first few weeks she would cry at drop off and now she lunges forward to go into Allie's arms. When Hollie or Lexi come out with her at the end of the day for pick up, she has a huge smile on and wiggling away. They provide reassurance and security even during a pandemic which I can't thank them enough for. I also absolutely love that I get photos and updates throughout the day through their app which is an added peace of mind when I'm at work. I was out of work from when she was born in 2019, then during the pandemic stayed home, so 2 years out of work I was clearly anxious about returning. Add on leaving my child with supposed strangers was nerve racking to say the least. I trust the wonderful staff and teachers at Cadence Academy with my daughters life and it's because of them I am able to work and maintain my sanity during the most difficult time I could imagine. I work almost an hour away from the school and I can't even think about the idea of moving her somewhere closer to home or work because I have so much love and respect for everyone there and there's no way there's another school that can do what they do as well as they do it. 5 starts 100% every day of the week.

January 12, 2021





We've been with Cadence EG for over a year now and we've had nothing but great experiences. The director, asst director, and every teacher loves their kids. The company and staff are open, transparent and communicative. The teachers and caregivers are smart, kind, and extremely skilled. It took some adjusting as expected when my daughter started but she loves "school" now and is always talking about her teachers and friends. I recommend Cadence to everyone that I know who is looking for childcare.