Overview
Overview

Programs

Our Team

Accreditation

School Resources

Reviews
At Creative Expressions Learning Center, Eureka, we are committed to providing the highest quality early education experiences and care to young children and their families. We update our programs frequently with some of the most innovative thinking in early childhood education, and we are constantly looking for new ways to make learning fun.
While academics play a significant role in early childhood education, we believe in developing the whole child. Our individualized Ascend Curriculum focuses on the social, emotional, intellectual, and physical development of each child. Our stimulating childcare atmosphere encourages children to become confident and self-aware. Our passionate and engaging teachers give children endless opportunities to grow, learn, and imagine.
Programs Offered:
Open Communication
At Creative Expressions Learning Center, Eureka we believe in partnering with families in the care and education of their children. Teachers follow parent instructions for care and are always available to consult with families as needs arise. Our teachers use a mobile app called KidReports to provide you with information about your child's naps, meals, diaper changes, daily activities, and milestones.
Safety & Security
Maintaining a safe and secure childcare environment is one of our preschool's top priorities. We have observation cameras in each classroom, and the front door is secured by door lock and key fob system. Our daycare facility also has a Front Exit System that prevents children from leaving the building without appropriate supervision. Classrooms and playgrounds are designed with the needs of each age group in mind.
Our Location
Our preschool is conveniently located at 76 The Legends Pkwy, Eureka, MO 63025. We are located about 1.5 miles south of where Highway 109 intersects with Interstate 44. Many of our families reside in The Legends, Hilltop Village, the Arbors, Ashton Woods, and Marisol.
Our Team
Tina Bueker
Assistant Director
I have been with Creative Expressions Learning Center since 2004. I always knew I wanted to pursue something in business, which is where I began my professional career. Needing a change, I started my career with Creative Expressions as a Pre-K Teacher Assistant and later became a Lead Teacher. I fell in love with the kids and the company and continued my education. I've recently moved into administration, where I'm able to combine my passion for both business and education. I love being a part of shaping young minds through play as well as providing a nurturing environment.
Accreditations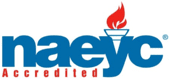 NAEYC Accreditation
Every child deserves access to high-quality early learning experiences. NAEYC (National Association for the Education of Young Children) has set 10 standards for early childhood programs that can help families make the right choice when they are looking for a child care center, preschool, or kindergarten. The standards and criteria are also the foundation of the NAEYC Accreditation system for early childhood programs.
Reviews from Parents
March 17, 2021





We have recently joined the family at Creative Expressions and couldn't be anymore thrilled with the progress. Beau is spelling his name and learning new things that he is truly excited about! The updates are fantastic and the communication from his teachers is detailed and not just a copy/paste answer. Starting a new daycare during Covid wasn't easy but Beau transitioned so quickly because of the caring teachers! I'm grateful for the team that is now part of our "village" of raising our son. He loves the lofts in the pre-school rooms!

March 16, 2021





I have worked here for many years and have absolutely loved having a new adventure everyday. I've made great friends, met great families and children that will forever hold a place in my heart. It's great to have pride in the place that you work

February 21, 2021





Hi, I'm Kamil Rutty (aka Zeus Makes Videos)! I used to go here when I lived in Eureka, and I had a fun time here!

January 25, 2021





Great preschool! Everyone works hard to create a second home for your child and they will be ready for the next stage.

Leave a Review
We want to learn more about your experience with Cadence Education. Please leave us a review below and let us know how we are doing.