Overview
Overview

Programs

Our Team

Accreditation

School Resources

Reviews
At Creative Expressions Learning Center, Eureka, we are committed to providing the highest quality early education experiences and care to young children and their families. We update our programs frequently with some of the most innovative thinking in early childhood education, and we are constantly looking for new ways to make learning fun.
While academics play a significant role in early childhood education, we believe in developing the whole child. Our individualized Ascend Curriculum focuses on the social, emotional, intellectual, and physical development of each child. Our stimulating childcare atmosphere encourages children to become confident and self-aware. Our passionate and engaging teachers give children endless opportunities to grow, learn, and imagine.
Programs Offered:
Open Communication
At Creative Expressions Learning Center, Eureka we believe in partnering with families in the care and education of their children. Teachers follow parent instructions for care and are always available to consult with families as needs arise. Our teachers use a mobile app called KidReports to provide you with information about your child's naps, meals, diaper changes, daily activities, and milestones.
Safety & Security
Maintaining a safe and secure childcare environment is one of our preschool's top priorities. We have observation cameras in each classroom, and the front door is secured by door lock and key fob system. Our daycare facility also has a Front Exit System that prevents children from leaving the building without appropriate supervision. Classrooms and playgrounds are designed with the needs of each age group in mind.
Our Location
Our preschool is conveniently located at 76 The Legends Pkwy, Eureka, MO 63025. We are located about 1.5 miles south of where Highway 109 intersects with Interstate 44. Many of our families reside in The Legends, Hilltop Village, the Arbors, Ashton Woods, and Marisol.
Our Team
Tina Bueker
Assistant Director
I have been with Creative Expressions Learning Center since 2004. I always knew I wanted to pursue something in business, which is where I began my professional career. Needing a change, I started my career with Creative Expressions as a Pre-K Teacher Assistant and later became a Lead Teacher. I fell in love with the kids and the company and continued my education. I've recently moved into administration, where I'm able to combine my passion for both business and education. I love being a part of shaping young minds through play as well as providing a nurturing environment.
Stephanie Yourdan
School Director
I began my career in early childhood education as the Lead Teacher in the preschool room at one of our sister schools in 2009 and moved into administration 2 years later. I hold a Master's Degree in Education from UMSL, where my studies were focused on early childhood education and ESL. I hold my teaching certificate from the state of Missouri to teach birth thru sixth grade. To see a child develop a love for the world around them and new skill development is amazing at this age! I also am honored that parents allow me to be a part of their family while they are away.
Accreditations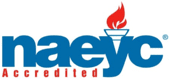 NAEYC Accreditation
Every child deserves access to high-quality early learning experiences. NAEYC (National Association for the Education of Young Children) has set 10 standards for early childhood programs that can help families make the right choice when they are looking for a child care center, preschool, or kindergarten. The standards and criteria are also the foundation of the NAEYC Accreditation system for early childhood programs. To earn NAEYC Accreditation, schools must go through an extensive self-study and quality-improvement process, followed by an on-site visit by NAEYC Assessors to verify and ensure that the program meets each of the ten program standards, and hundreds of corresponding individual criteria. NAEYC-accredited programs are always prepared for unannounced quality-assurance visits during their accreditation term, which lasts for five years. In the 30 years since NAEYC Accreditation was established, it has become a widely recognized sign of high-quality early childhood education. More than 7,000 programs are currently accredited by NAEYC—less than 10 percent of all child care centers, preschools, and kindergartens nationally achieve this recognition.
Reviews from Parents
June 09, 2021





The staff is very friendly and professional, and they always put the safety and care of my child first and foremost.

May 03, 2021





Hello! We will be moving to the area this summer from Ohio and I'd love to learn more about your program. I have a four year old (October birthday) and am looking for a 4-5 day a week program got her. Looking forward to hearing back! Thank you!

April 29, 2021





Over the years I have had multiple children at Creative Expressions. As a family we enjoyed the fun family events they provided. I enjoy hearing all the cute songs and stories the kids came home with. The staff are kind, caring and puts the children's safety first. I just want to say a big thank you to the director and all the loving staff for taking good care of my little ones while I'm away. It means the world to me.

April 29, 2021





Creative Expressions is a wonderful preschool! My children have excelled and are learning so much each and every day. The app keeps me updated on my kids' day and I am amazed at the activities my kiddos complete each day. We are so happy to have found this school!

Leave a Review
We want to learn more about your experience with Cadence Education. Please leave us a review below and let us know how we are doing.