Overview
Overview

Programs

Accreditation

Reviews
At Creative Expressions Learning Center, Eureka, we are committed to providing the highest quality early education experiences and care to young children and their families. We update our programs frequently with some of the most innovative thinking in early childhood education, and we are constantly looking for new ways to make learning fun.
While academics play a significant role in early childhood education, we believe in developing the whole child. Our individualized Ascend Curriculum focuses on the social, emotional, intellectual, and physical development of each child. Our stimulating childcare atmosphere encourages children to become confident and self-aware. Our passionate and engaging teachers give children endless opportunities to grow, learn, and imagine.
Programs Offered:
Open Communication
At Creative Expressions Learning Center, Eureka we believe in partnering with families in the care and education of their children. Teachers follow parent instructions for care and are always available to consult with families as needs arise. Our teachers use a mobile app called KidReports to provide you with information about your child's naps, meals, diaper changes, daily activities, and milestones.
Safety & Security
Maintaining a safe and secure childcare environment is one of our preschool's top priorities. We have observation cameras in each classroom, and the front door is secured by door lock and key fob system. Our daycare facility also has a Front Exit System that prevents children from leaving the building without appropriate supervision. Classrooms and playgrounds are designed with the needs of each age group in mind.
Our Location
Our preschool is conveniently located at 76 The Legends Pkwy, Eureka, MO 63025. We are located about 1.5 miles south of where Highway 109 intersects with Interstate 44. Many of our families reside in The Legends, Hilltop Village, the Arbors, Ashton Woods, and Marisol.
Accreditations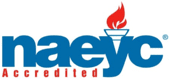 NAEYC Accreditation
Every child deserves access to high-quality early learning experiences. NAEYC (National Association for the Education of Young Children) has set 10 standards for early childhood programs that can help families make the right choice when they are looking for a child care center, preschool, or kindergarten. The standards and criteria are also the foundation of the NAEYC Accreditation system for early childhood programs.
Reviews from Parents
December 22, 2020





Great place for children to learn and grow!

November 23, 2020





Everyone at the school truly loves the children. They focus on teaching them social skills and academic skills to create a life long love of learning!

October 27, 2020





The staff are knowledgeable and attentive, forming close bonds with children and parents alike. The teachers work hard to ensure children have ample opportunities to learn and grow academically, socially and emotionally while also having fun each and every day. Their dedication really shines through and makes the school an obvious first choice for childcare in Eureka.

August 31, 2020





I've worked here since 2009 full time and part time. Extremely professional with excellent curriculum. The director and assistant director are warm and welcoming. There are families that have been there since 2009 and are still bringing their little ones. It's also been a smooth transition with the covid and online learning that's in effect. They have classrooms that are set up to accommodate all learning stages.

Leave a Review
We want to learn more about your experience with Cadence Education. Please leave us a review below and let us know how we are doing.