Overview
Overview

Programs

Accreditation

Reviews
Beginnings School and Child Development Center takes a distinctive and evidence-based approach to early childhood education and learning for children 3 months – 5 years old in a nurturing and supportive environment. Beginnings is far more than a daycare for young children from Weston, Wellesley, Newton, Waltham, Wayland, and many other Greater Boston communities. Beginnings is a school and child development center for infants, toddlers, pre-K and transitional kindergarten students.
At Beginnings, we understand that when a child has positive feelings of self-worth and is able to recognize, express, and cope with their own emotions and those of others, they are better able to explore new areas of learning and engage more fully with the world around them. The philosophy is designed to help develop a strong sense of self by fostering the skills of emotional intelligence, which are critical for promoting academic, social, and personal success.
Beginnings School is proud to be accredited by the National Association for the Education of Young Children (NAEYC), an organization that is devoted to promoting high-quality early learning for all young children. And, we are proud to provide an exceptional preschool education every fun-filled day in a place as nurturing as home.
Children at Beginnings School enjoy the benefits of approximately two acres of wonderful outdoor spaces to express their enthusiasm and release their energy. Our facilities are designed to stimulate children's curiosity and cultivate a healthy appetite for learning and discovery. There is a treehouse and a stage, and the outdoor space was landscaped with children in mind.
Children's Garden
Gardening allows children to experience responsibility and patience, learn about life cycles, and begin to understand the interdependence of living things.
Teachers are able to schedule time in the garden throughout spring and summer, and children can document seasonal changes and make observations through sketches, photographs, and words.
Each spring the garden fills with plants and flowers that attract butterflies and hummingbirds for observation.
Children can also take the lead in garden activities like planting seeds and then nurturing them to grow into strong plants with vegetables and herbs they can later enjoy together.
Playground
A multi-purpose play structure offers a variety of choices to match skill development and interests.
Children can enjoy tricycle riding, ball playing, and hula-hoop rolling.
A sand-filled area is perfect for filling and emptying pails and creating sandcastles – enhancing the child's time for imaginative and creative play.
Our infants and toddlers enjoy a separate grassy play area and enclosed sandbox, separate from older children.
Accreditations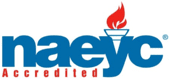 NAEYC Accreditation
Every child deserves access to high-quality early learning experiences. NAEYC (National Association for the Education of Young Children) has set 10 standards for early childhood programs that can help families make the right choice when they are looking for a child care center, preschool, or kindergarten. The standards and criteria are also the foundation of the NAEYC Accreditation system for early childhood programs.
Reviews from Parents
January 18, 2021





We have nothing but the best things to say about Beginnings. Our son started at Beginnings when he was about 6 months old, and despite it being our first time leaving him with someone other than family, the teachers and staff immediately put us at ease and made us feel confident that he was in great hands. It is clear that the teachers there truly love their jobs--they are so caring, warm, and knowledgeable, and they were just as excited at our son's developmental milestones as we were.  They also did tons of different activities--every day it seemed like something new--and we received frequent updates and pictures. We had to take a hiatus from the school due to COVID, but we plan on going back as soon as our circumstances allow, and we have no doubts whatsoever that our son will be in the best possible environment.

December 01, 2020





Our family joined the Beginnings community in Fall 2020, during the midst of the pandemic and right after we moved locally. I could not imagine a more warm welcome to a new place for our son, who runs into school every morning and talks about how much he loves his teachers and friends every night. From really creative classroom curriculum to outstanding communication between administration, teachers, and parents, we have confidence that our son is in the place that is best for him. We also have confidence that the Beginnings team is doing everything the right way in regards to keeping the whole community safe and healthy. I highly recommend Beginnings School to other families looking for an engaging and fun place dedicated to thoughtfully educating your children.

November 29, 2020





Our family joined Beginnings after we moved close by during the height of the pandemic. We have three young children, the world was turned upside down, and we were new to town. Despite all this, Beginnings made us feel like our son was safe, loved, inspired and in a place that was best for him. He runs up the ramp every morning, and talks nonstop about school when he's home. We've been impressed with every part of the organization - admissions, administration, and especially our son's teachers. They are attentive, professional, personable, smart, kind, and deeply committed to thoughtful approaches to early childhood education. We recommend Beginnings highly to parents looking for an environment for their children that is loving, fun, and engaging - even during the most challenging times!

October 15, 2020





Great staff and good COVID measures. My child's room teachers make effort to incorporate different languages that kids use and are open to different food recipes for kid's cooking lessons.  My child loves going to Beginnings and has been happy since day 1 of these 2.5 years. Kids have STEM learning in classrooms. I appreciate that my child has educational play time. There is a small community vibe that I like and teachers know the parents. No COVID incidents in the past 3 months as great measures are taken to keep kids safe.

Leave a Review
We want to learn more about your experience with Cadence Education. Please leave us a review below and let us know how we are doing.