We have recently announced that all employees will be required to be vaccinated against the COVID-19 virus or undergo weekly testing in order to protect the families in our care. Learn More >
Overview
Overview

Programs

Accreditation

Reviews
Beginnings School and Child Development Center takes a distinctive and evidence-based approach to early childhood education and learning for children 3 months – 5 years old in a nurturing and supportive environment. Beginnings is far more than a daycare for young children from Weston, Wellesley, Newton, Waltham, Wayland, and many other Greater Boston communities. Beginnings is a school and child development center for infants, toddlers, pre-K and transitional kindergarten students.
At Beginnings, we understand that when a child has positive feelings of self-worth and is able to recognize, express, and cope with their own emotions and those of others, they are better able to explore new areas of learning and engage more fully with the world around them. The philosophy is designed to help develop a strong sense of self by fostering the skills of emotional intelligence, which are critical for promoting academic, social, and personal success.
Beginnings School is proud to be accredited by the National Association for the Education of Young Children (NAEYC), an organization that is devoted to promoting high-quality early learning for all young children. And, we are proud to provide an exceptional preschool education every fun-filled day in a place as nurturing as home.
Children at Beginnings School enjoy the benefits of approximately two acres of wonderful outdoor spaces to express their enthusiasm and release their energy. Our facilities are designed to stimulate children's curiosity and cultivate a healthy appetite for learning and discovery. There is a treehouse and a stage, and the outdoor space was landscaped with children in mind.
Children's Garden
Gardening allows children to experience responsibility and patience, learn about life cycles, and begin to understand the interdependence of living things.
Teachers are able to schedule time in the garden throughout spring and summer, and children can document seasonal changes and make observations through sketches, photographs, and words.
Each spring the garden fills with plants and flowers that attract butterflies and hummingbirds for observation.
Children can also take the lead in garden activities like planting seeds and then nurturing them to grow into strong plants with vegetables and herbs they can later enjoy together.
Playground
A multi-purpose play structure offers a variety of choices to match skill development and interests.
Children can enjoy tricycle riding, ball playing, and hula-hoop rolling.
A sand-filled area is perfect for filling and emptying pails and creating sandcastles – enhancing the child's time for imaginative and creative play.
Our infants and toddlers enjoy a separate grassy play area and enclosed sandbox, separate from older children.
Accreditations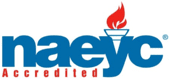 NAEYC Accreditation
Every child deserves access to high-quality early learning experiences. NAEYC (National Association for the Education of Young Children) has set 10 standards for early childhood programs that can help families make the right choice when they are looking for a child care center, preschool, or kindergarten. The standards and criteria are also the foundation of the NAEYC Accreditation system for early childhood programs. To earn NAEYC Accreditation, schools must go through an extensive self-study and quality-improvement process, followed by an on-site visit by NAEYC Assessors to verify and ensure that the program meets each of the ten program standards, and hundreds of corresponding individual criteria. NAEYC-accredited programs are always prepared for unannounced quality-assurance visits during their accreditation term, which lasts for five years. In the 30 years since NAEYC Accreditation was established, it has become a widely recognized sign of high-quality early childhood education. More than 7,000 programs are currently accredited by NAEYC—less than 10 percent of all child care centers, preschools, and kindergartens nationally achieve this recognition.
Reviews from Parents
October 13, 2021





Our daughter has been in Beginnings for the past 3 years and our 19 month old son started his journey this March. It has been a wonderful and enriching experience for our family. Our daughter benefits a lot from its ECSEL program which promotes self-regulation, empathy, and other critical social-emotional skills foundational to emotional intelligence for little and young kids. Ms. Angela and Ms. Linda are nice but professional. All the teachers we have met are patient, caring and responsible. Beginnings has a very good teacher student ratio to make sure all the kids get enough attention at school. The teachers work on curriculums for infant to preK programs covering all kind of topics and send out daily summary to the families. We are so satisfied with our experience at Beginnings!

September 23, 2021





I have both of my kids at Beginnings. Everyone here is so friendly and we feel it like a home. My kids have a fantastic time here. Compared to other childcares, teachers in Beginnings pays extra attention on social emotional support. I like that each classroom has a calm-down station where kids can spend some private time when they are angry or upset. Teachers encourage the kids to express their feelings in an appropriate and efficient way. Both of my children are so calm and well behaved and I've never experienced terrible 2 or horrible 3. If I have a third child, I will send him/her to Beginnings without a hesitation.

August 03, 2021





We have truly enjoyed the past 3 years at Beginnings! The team has been an emotional rock for our child and for us as learning parents, especially through the pandemic. Our child is safe, loved and learning and we are grateful to have Beginnings as part of our 'village'.

July 29, 2021





I have been teaching at Beginnings School since January 2015 and I still come to work happy every day. Our unique program about children's social and emotional needs has been a game changer for me as an early educator. Not only have I seen a difference in many young children's ability to express their emotions, but it has also made me a far better teacher that I ever imagined to be because, I too, am able to use the same social and emotional skills that I have taught to young children. I have been a part of and heard about other childcare programs and I can honestly say that Beginnings is not a daycare. It is the most professional, dedicated, and caring school out there. The director and assistant director are easy to talk to, always there to guide you, and are great role models for not only me, but for everyone who decides to be a part of this great teaching team.

Leave a Review
We want to learn more about your experience with Cadence Education. Please leave us a review below and let us know how we are doing.