Overview
Overview

Programs

Our Team

Accreditation

Reviews
Exceptional Preschool in Seekonk, MA
Cadence Academy Preschool in Seekonk, MA is located conveniently on Route 6. We offer high-quality child care and education for infants, toddlers, preschool, and pre-kindergarten.
Our programs have affordable rates, convenient hours, and a great location with easy access to Route 195. In addition, our Seekonk preschool and daycare center utilizes a nationally recognized curriculum and an approach to education that you will see in action in all Cadence Academy centers.
The developmentally appropriate classrooms at our Seekonk preschool are warm and inviting. Within each classroom, you will find distinct learning centers such as blocks, sand and water, dramatic play, library, and computers.
These well-defined areas present clear activity choices to children and give them control over their time during center time. Learning materials are offered on low shelves and in labeled containers so they are easily accessible to children, helping them gain a sense of independence.
Our highly qualified teaching and care staff are dedicated to providing a loving and caring environment while ensuring each child's individual needs are met. Our Seekonk preschool and daycare center provides a safe, nurturing, and stimulating environment that will help your child grow and learn. At Cadence Academy Preschool in Seekonk, MA, we take great pride in providing an excellent foundation for your child's education.
Our Programs
Daycare Works Parent Login
NAEYC Accreditation
We are VERY proud to be an NAEYC accredited center. The National Association for the Education of Young Children (NAEYC) is the nation's leading organization working to improve the quality of early childhood education for all young children, from birth through age eight.
An accredited program must meet all 10 of the NAEYC Early Childhood Program Standards and undergo an on-site visit by a NAEYC Accreditation Reviewer every five years. The standards focus on program quality, including curriculum, teacher qualifications and training, assessment of child progress, health and safety, and family involvement.
For more information about NAEYC, the National Association for the Education of Young Children, and the high quality standards they demand of their accredited programs, please visit the NAEYC website.
Our Curriculum
The curriculum at our Seekonk, MA school — and all schools in the Cadence Academy network — provides a strong foundation for children's academic success. Our teachers provide a warm, nurturing environment in which every child can be successful.
The Academy's curriculum is designed to meet the needs of each child. Our teachings are based on current research and help children develop physically, emotionally, socially, and intellectually.
The curriculum is also based on the principles of developmentally appropriate practice, which means that our programs are designed to work according to every child's learning level and pace. It is made to foster children's natural curiosity and to help them develop a lifelong love of learning. Children retain more when they are having fun, so our programs emphasize learning through play.
Loving and Nurturing Program for Infants and Toddlers
We believe that the first three years of life are the most important for a child's emotional, social, and intellectual development. That is why our infant and toddler programs emphasize love and nurturing — in a comforting place that feels a lot like home. Our teachers provide individual attention and get to know children's unique personalities and interests.
The infant program includes age-appropriate activities such as tummy time, crawling, pulling up to standing, cruising, walking, and talking. The toddler program features discovery opportunities such as pouring liquids and solids, using safety scissors, stacking blocks, making towers with straws, scribbling with crayons, stringing beads, and sweeping.
Both programs include plenty of time for exploration in our developmentally appropriate classrooms as well as outdoor playtime in our secure playground.
Academic Excellence for Preschoolers
The preschool program is designed to prepare children for kindergarten. The curriculum at our Seekonk preschool center includes language, math, arts, science, and social studies. Our teachers use a variety of teaching methods including whole group instruction, small groups, and individual instruction.
We also use the constructivist approach to teaching, which is based on the idea that children learn best through exploring and constructing their own understanding of the world. We believe that children are natural learners and that they should be given opportunities to explore a variety of topics in depth.
The Academy's Preschool curriculum is aligned with the Massachusetts State Standards for Preschool.
Parent Communication App
We have an extraordinary Parent Communication App that our teachers use daily to relay information and send pictures to family members, send newsletters, and track developmental progress for each child's portfolio. With this application, parents and guardians are able to opt into email or text alerts, and they can receive any information, instantaneously, about their child and their child's school day.
Teachers and staff can tag daily pictures with our Developmental Domains (Social/Emotional, Physical, Artistic, Cognitive, and Language/Literacy) and are then able to communicate with the parents and guardians by adding captions or sending quick little notes.
Families LOVE this feature, and we're utilizing it more and more each day! We are so excited to be able to communicate with our families throughout the day and to show them what their children are learning each day.
We invite you to visit our preschool and daycare center in Seekonk, MA! Please stop by or contact us to schedule an appointment. We would love to meet you and your family!
Our Team
Sabrina McKenna
Director
I have been working with children and families since 2005 in the childcare setting. I have worked in each group as a teacher. I'm Director II certified through the Massachusetts Department of Early Education and Care, and I earned my Teacher Certifications through Becker College in Worcester.  I've had two children attend Cadence Education schools as well:  my Daughter Zoey graduated Cadence Academy in 2020 and my son, Thomas is currently in our Toddler Program and has been attending since he was 6 weeks old.
My favorite part about working with children is watching them learn new skills and knowing that my team and I had a part in helping to shape the future. I enjoy making connections with each family, and love to see children excited to tell their parents about the fun days they experience. Cadence Education is near and dear to my heart and I'm so grateful to be working for a school that embodies my own personal philosophies about Early Education and Care.
Accreditations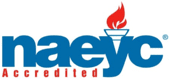 NAEYC Accreditation
Every child deserves access to high-quality early learning experiences. NAEYC (National Association for the Education of Young Children) has set 10 standards for early childhood programs that can help families make the right choice when they are looking for a child care center, preschool, or kindergarten. The standards and criteria are also the foundation of the NAEYC Accreditation system for early childhood programs. To earn NAEYC Accreditation, schools must go through an extensive self-study and quality-improvement process, followed by an on-site visit by NAEYC Assessors to verify and ensure that the program meets each of the ten program standards, and hundreds of corresponding individual criteria. NAEYC-accredited programs are always prepared for unannounced quality-assurance visits during their accreditation term, which lasts for five years. In the 30 years since NAEYC Accreditation was established, it has become a widely recognized sign of high-quality early childhood education. More than 7,000 programs are currently accredited by NAEYC—less than 10 percent of all child care centers, preschools, and kindergartens nationally achieve this recognition.
Reviews from Parents
March 17, 2023





Cadence Academy Preschool in Seekonk, MA is AMAZING and top notch! The teachers are beyond wonderful. They treat all the kids like they were their own and take the time with you as parents to discuss how your child's day was. They go the extra mile to ensure your child is well cared for and happy. I have 2 kids there, they are both thriving and so super happy. Having both my kids at this preschool and knowing their getting a great early education and being treated so well gives me total peace of mind while I'm at work. The Director and Assistant Director are so helpful, understanding and the communication is outstanding. You'd have to pay me to take my kids out of this preschool! There is no other place I'd ever want my kids to go and highly recommend you go for a tour and if you can secure a spot, DO IT! :)

July 27, 2022





We are so thrilled with Seekonk Cadence Academy!! Everyone from the Director, Sabrina, Assistant Director Tanya, ours sons lead teachers Ms. Denise and Ms. Tiffany and everyone else is OUTSTANDING. We appreciate the attention to details with the cleanliness, organization and curriculums that the staff puts together. It takes a team effort to pull all of this off and they do it! So proud to send our son to Cadence Academy. We are greeted everyday with smiles and a positive attitude. You can tell the staff and teachers actually love to work with kids and see them learn, grow and be the best versions of themselves!

April 12, 2022





Cadence Academy is the best child care center in Southeastern Mass bar none! The staff is exceptional — they provide a well rounded educational experience and ensure the safety and well-being of your child. The offer online daily updates, maintain a clean environment and they accommodate each individual child's needs! I wouldn't want my daughter going anywhere else.

February 23, 2022





Such an amazing place. Good workers are so friendly and nice to everyone and very happy environment for kids. Director and assistant are very helpful. Love my job.