Overview
Overview

Programs

Our Team

Accreditation

Reviews
Overview
Cadence Academy Preschool, Seekonk is located conveniently on Route 6. We offer high quality child care and education for infants, toddlers, preschool, and pre-kindergarten.
Our programs offer affordable rates, convenient hours and a great location with easy access to Route 195. In addition we utilize a nationally recognized curriculum and an approach to education that you will see in action in all our centers. Our developmentally appropriate classrooms are warm and inviting. Within each classroom you will find distinct learning centers such as blocks, sand and water, dramatic play, library, and computers. These well defined areas present clear activity choices to children and give them control over their time during center time. Learning materials are offered on low shelves and in labeled containers so they are easily accessible to children and they can gain a sense of independence.
Our Programs
Daycare Works
NAEYC Accreditation
We are VERY proud to be a NAEYC accredited center! For more information about NAEYC, the National Association for the Education of Young Children, and the high quality standards they demand of their accredited programs, please Visit the NAEYC website
Our Curriculum
Our curriculum provides a strong foundation for children's academic success and our teachers provide a warm, nurturing environment in which every child can be successful. Children retain more when they are having fun, so our programs emphasize learning through play.
Parent Communication App
We have an extraordinary Parent Communication App that our teachers use daily to relay information and send pictures to family members, send newsletters, and track developmental progress for each child's portfolio! With this application, parents/guardians are able to opt into email or text alerts and they can receive any information, instantaneously, about their child and their child's school day.
Teachers and staff can tag daily pictures with our Developmental Domains (Social/Emotional, Physical, Artistic, Cognitive, and Language/Literacy) and are then able to communicate with the parents/guardians by adding captions or sending quick little notes.
Families LOVE this feature and we're utilizing it more and more each day! We are so excited to be able to communicate with our families throughout the day and to show them what their children are learning each day.
We invite you to visit our center! Please stop by or call to schedule an appointment at 508-336-2677. We would love to meet you and your family.
Our Team
Tara Foster
School Director
Tara has more than 20 years of experience in early childhood education – starting as a preschool teacher and working her way up to the director position. She is a graduate of Salve Regina University with a BS in elementary education, and holds multiple certifications, including:  prek-2 (RI), and infant/toddler, preschool, director I and director II (MA). Tara also has completed graduate classes towards a master's degree from Cambridge college.
She loves to give children the input and direction they need to grow with the social and emotional capabilities to tackle everyday life. Tara is a mother of three boys ages 13, 20 and 21.  As a family they enjoy camping, sports, and spending as much time together as possible.
Accreditations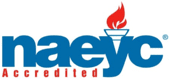 NAEYC Accreditation
Every child deserves access to high-quality early learning experiences. NAEYC (National Association for the Education of Young Children) has set 10 standards for early childhood programs that can help families make the right choice when they are looking for a child care center, preschool, or kindergarten. The standards and criteria are also the foundation of the NAEYC Accreditation system for early childhood programs. To earn NAEYC Accreditation, schools must go through an extensive self-study and quality-improvement process, followed by an on-site visit by NAEYC Assessors to verify and ensure that the program meets each of the ten program standards, and hundreds of corresponding individual criteria. NAEYC-accredited programs are always prepared for unannounced quality-assurance visits during their accreditation term, which lasts for five years. In the 30 years since NAEYC Accreditation was established, it has become a widely recognized sign of high-quality early childhood education. More than 7,000 programs are currently accredited by NAEYC—less than 10 percent of all child care centers, preschools, and kindergartens nationally achieve this recognition.
Reviews from Parents
August 09, 2021





We have been very pleased at the level of care our son is receiving and the cleanliness of Cadence Academy in Seekonk. Ms.Lauren and Ms.Taela are beyond exceptional and are so loving towards our son and we couldn't be more grateful.

July 15, 2021





My 3 year old started Cadence Academy at around 18 months and we absolutely love it. The staff is extremely friendly and my daughter loves her teachers. I think it is great how they have weekly learning themes and do different activities based on each topic. Miss Alra and Mr. Lucas always keep me informed about my daughters activities each day and have been great help with her potty training. I definitely recommend Cadance Academy.

July 07, 2021






June 11, 2021





Cadence team helped my son who is 2 year and half to get onboard quickly. He enjoy the food, activity and loves the staff. We are so lucky that we've found a place good for him.

Leave a Review
We want to learn more about your experience with Cadence Education. Please leave us a review below and let us know how we are doing.