Overview
Overview

Programs

Our Team

Accreditation

Reviews
Cadence Academy Preschool in North Attleborough is located on Route 152 and provides easy access to Route 95. We offer high-quality child care and education services for infants, toddlers, preschoolers, and pre-kindergarteners.
Our Curriculum
Our NAEYC accredited program utilizes the "Creative Curriculum," a nationally-recognized curriculum and approach to education that is implemented in all of our schools. Because children retain more when they're having fun, our programs emphasize learning through play. We provide a strong foundation for children's academic success, and our teachers provide a warm, nurturing environment in which every child can be successful.
Accredited by the National Association for the Education of Young Children (NAEYC), Cadence Academy North Attleborough is dedicated to providing your child with a top-notch education and an enjoyable learning experience.
Our Programs
Daycare Works
Dedicated Learning Areas
Within each classroom, we have distinct interest areas consisting of blocks, table toys, art, cooking, computers, a library, and a house corner, as well as an outdoor play section. These well-defined areas present clear activity choices to children, giving them control over their time throughout the day. Play materials are on low shelves, in containers, and on hooks. This allows materials to be easily reachable, which helps children gain a sense of independence.
Parent Communication App
We have an extraordinary Parent Communication App that our teachers use daily to relay information and send pictures to family members, send newsletters, and track developmental progress for each child's portfolio! With this application, parents/guardians are able to opt into email or text alerts and they can receive any information, instantaneously, about their child and their child's school day.
Teachers and staff can tag daily pictures with our Developmental Domains (Social/Emotional, Physical, Artistic, Cognitive, and Language/Literacy) and are then able to communicate with the parents/guardians by adding captions or sending quick little notes.
Families LOVE this feature and we're utilizing it more and more each day! We are so excited to be able to communicate with our families throughout the day and to show them what their children are learning each day.
Our Team
Chelsea Reilly
School Director
My name is Chelsea Reilly, and I am the Director at our North Attleboro location! I started my journey with Cadence Education in July of 2016 as a Preschool teacher. I went back to school and became Infant/Toddler certified. In August of 2017, I left our Preschool Program and became the Lead Toddler teacher. In June of 2018 I became Infant/Toddler Program Coordinator with administrative duties. After getting a management position, I wanted to grow more! I returned to school and became Director I and II certified through the Dept. of Early Education and Care in Massachusetts.. In November of 2018, I was promoted to Assistant Director. I loved this position and getting to know all the families and children while working behind the scenes was a dream come true! I officially made Cadence Academy Preschool in North Attleboro my home in December of 2019, when I was promoted to School Director. With our promise, I can guarantee you will not be disappointed in the care your whole family receives!
I am a graduate from Quinsigamond Community College in Early Childhood Education. My passion is not only working with children, but also working behind the scenes, sharing my knowledge with families and staff to provide high quality early learning experiences and care. I am also a member of the National Association for the Education of Young Children. In my spare time, I enjoy running, going camping or to the beach and spending time with my family.
I can't wait to get to know all of you as you enter our wonderful Cadence Education school community!
Accreditations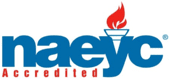 NAEYC Accreditation
Every child deserves access to high-quality early learning experiences. NAEYC (National Association for the Education of Young Children) has set 10 standards for early childhood programs that can help families make the right choice when they are looking for a child care center, preschool, or kindergarten. The standards and criteria are also the foundation of the NAEYC Accreditation system for early childhood programs. To earn NAEYC Accreditation, schools must go through an extensive self-study and quality-improvement process, followed by an on-site visit by NAEYC Assessors to verify and ensure that the program meets each of the ten program standards, and hundreds of corresponding individual criteria. NAEYC-accredited programs are always prepared for unannounced quality-assurance visits during their accreditation term, which lasts for five years. In the 30 years since NAEYC Accreditation was established, it has become a widely recognized sign of high-quality early childhood education. More than 7,000 programs are currently accredited by NAEYC—less than 10 percent of all child care centers, preschools, and kindergartens nationally achieve this recognition.
Reviews from Parents
August 18, 2021





As a new mom with whom her son was at home for 7 months 24/7 it was tough finding a daycare where I was 100% confident both myself and my child were going to be comfortable and OK. After visiting Cadence and getting to know the teachers the first few weeks there, I am SO happy we chose this daycare! My son and I both went from having tears at drop offs to now having big smiles. I leave my son at Cadence knowing he is taken care of and all his needs are met. Looking at pictures while he's there, I see how happy he is!! I cannot say enough great things about Ms. Melissa and Ms. Hasina. They have accepted my son as a child of their own and I owe them the world for this. Nothing matters more to me than a happy, healthy baby, and I think my son is just that while attending Cadence.

July 19, 2021






July 13, 2021





One of the most amazing places for a very thorough Pre-K program. My daughter is so excited and beyond prepared for kindergarten this coming year thanks to the AMAZING teachers. I would recommend Cadence North Attleborough to all!!

June 15, 2021





Finding childcare for my 3 month old was hard enough without adding a pandemic to the mix. After meeting and talking with Chelsea and seeing Cadence we were hoping this would be our sons home away from home. Every classroom is so clean and organized and the staff has been great every step of the way. Their safety procedures eased my worries and after his first week I knew we picked the right place. They update you all day on an app with what is going on and I look forward to getting the pictures they send me of his smiling face. The infant staff- Miss Melissa and Miss Hasina are incredible and even though it's only been a month of him going my son gets excited when he sees them. They were so flexible with us when our schedule changed unexpectedly and we needed him to go more days than originally planned. We are looking forward to continuing our time here and can't wait to see how much he grows and thrives.

Leave a Review
We want to learn more about your experience with Cadence Education. Please leave us a review below and let us know how we are doing.