Overview
Overview

Programs

Accreditation

Reviews
Cadence Academy Preschool in North Attleborough is located on Route 152 and provides easy access to Route 95. We offer high-quality child care and education services for infants, toddlers, preschoolers, and pre-kindergarteners as well as new programs for kindergarten and school-age children.
Our Curriculum
Our NAEYC accredited program utilizes the "Creative Curriculum," a nationally-recognized curriculum and approach to education that is implemented in all of our schools. Because children retain more when they're having fun, our programs emphasize learning through play. We provide a strong foundation for children's academic success, and our teachers provide a warm, nurturing environment in which every child can be successful.
Accredited by the National Association for the Education of Young Children (NAEYC), Cadence Academy North Attleborough is dedicated to providing your child with a top-notch education and an enjoyable learning experience.
Our Programs
Daycare Works
Dedicated Learning Areas
Within each classroom, we have distinct interest areas consisting of blocks, table toys, art, cooking, computers, a library, and a house corner, as well as an outdoor play section. These well-defined areas present clear activity choices to children, giving them control over their time throughout the day. Play materials are on low shelves, in containers, and on hooks. This allows materials to be easily reachable, which helps children gain a sense of independence.
Parent Communication App
We have an extraordinary Parent Communication App that our teachers use daily to relay information and send pictures to family members, send newsletters, and track developmental progress for each child's portfolio! With this application, parents/guardians are able to opt into email or text alerts and they can receive any information, instantaneously, about their child and their child's school day.
Teachers and staff can tag daily pictures with our Developmental Domains (Social/Emotional, Physical, Artistic, Cognitive, and Language/Literacy) and are then able to communicate with the parents/guardians by adding captions or sending quick little notes.
Families LOVE this feature and we're utilizing it more and more each day! We are so excited to be able to communicate with our families throughout the day and to show them what their children are learning each day.
Accreditations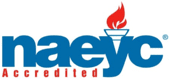 NAEYC Accreditation
Every child deserves access to high-quality early learning experiences. NAEYC (National Association for the Education of Young Children) has set 10 standards for early childhood programs that can help families make the right choice when they are looking for a child care center, preschool, or kindergarten. The standards and criteria are also the foundation of the NAEYC Accreditation system for early childhood programs.
Reviews from Parents
March 04, 2021





Cadence has welcomed my son with open arms. They greet him every day with the warmest smiles. He is so happy and learning so much. His writing has improved, he's practicing sight words in the school's weekly "K (kindergarten) Club", and learning a little Spanish! I have no doubt that he'll be super prepared for Kindergarten next year!

February 24, 2021





Our son loves going there. The staff is very friendly and we can truly see how much they care for our son. They have a great curriculum which is age appropriate and diverse. The safety of everyone during this pandemic is absolute priority for them.

February 02, 2021





Cadence Academy is hands down the best and most reliable daycare center for my now 2 year old. As a first time mother, my husband and I had thoroughly researched many of the local daycare centers as the idea of leaving our then 12 week old daughter was nerve wracking. However, with the kind and welcoming environment and experienced staff members we were confident we were making the right decision to choose Cadence. Almost 2 years later we are now even more confident that it was the best decision we have ever made to enroll our daughter at Cadence! Not only do they offer an amazing and broad curriculum (i.e. music and movement, sensory, fine motor, gross motor, etc), but the staff is absolutely incredible. My daughter looks forward every morning to going to school and they have become her second family!

January 26, 2021






Leave a Review
We want to learn more about your experience with Cadence Education. Please leave us a review below and let us know how we are doing.