Overview
Overview

Programs

Accreditation

Reviews
Finding quality childcare with an emphasis on education isn't hard when your children are enrolled in Cadence Academy Preschool. We believe children retain more when they're having fun, so our programs emphasize learning through play.
Daycare Works
Our Effective Curriculum
Our nationally accredited, specially developed curriculum focuses on working with children to explore and strengthen their skills in five separate areas, including social and emotional, physical, cognitive, and language and literacy development. Dedicated and caring teachers make the difference in creating a classroom that is enjoyed by all.
We also offer an extraordinary Parent Communication App that our teachers use daily to relay information and send pictures to family members, send newsletters, and track developmental progress for each child's portfolio.
Parent Communication App
We have an extraordinary Parent Communication App that our teachers use daily to relay information and send pictures to family members, send newsletters, and track developmental progress for each child's portfolio! With this application, parents/guardians are able to opt into email or text alerts and they can receive any information, instantaneously, about their child and their child's school day.
Teachers and staff can tag daily pictures with our Developmental Domains (Social/Emotional, Physical, Artistic, Cognitive, and Language/Literacy) and are then able to communicate with the parents/guardians by adding captions or sending quick little notes.
Families LOVE this feature and we're utilizing it more and more each day! We are so excited to be able to communicate with our families throughout the day and to show them what their children are learning each day.
Accreditations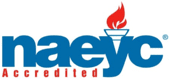 NAEYC Accreditation
Every child deserves access to high-quality early learning experiences. NAEYC (National Association for the Education of Young Children) has set 10 standards for early childhood programs that can help families make the right choice when they are looking for a child care center, preschool, or kindergarten. The standards and criteria are also the foundation of the NAEYC Accreditation system for early childhood programs. To earn NAEYC Accreditation, schools must go through an extensive self-study and quality-improvement process, followed by an on-site visit by NAEYC Assessors to verify and ensure that the program meets each of the ten program standards, and hundreds of corresponding individual criteria. NAEYC-accredited programs are always prepared for unannounced quality-assurance visits during their accreditation term, which lasts for five years. In the 30 years since NAEYC Accreditation was established, it has become a widely recognized sign of high-quality early childhood education. More than 7,000 programs are currently accredited by NAEYC—less than 10 percent of all child care centers, preschools, and kindergartens nationally achieve this recognition.
Reviews from Parents
August 04, 2021





My kids have a great time everyday. They are very professional and accommodating and do great with all 3 of my children.

July 27, 2021





Cadence Academy is a great school! Both of my children have been going here for the past 4 years. They always have a great time and learn so much. I always feel comfortable knowing my kids are getting the best care in the town!

June 25, 2021





My children have been attending Cadence Academy for several years. My children love going to CA! Their teachers are friendly, creative, knowledgeable, and wonderful with the children. The director, Karrie, and assistant director, Sophie, are amazing assets to Cadence Academy! They have always gone above and beyond in their roles and for my family. I feel great knowing that my children are well cared for, safe, respected, learning, and having fun. I highly recommend Cadence Academy for anyone looking for high quality, affordable child care!

May 21, 2021





My 3 children have been going to Cadence for 5 years now. I love that they have a before and after care for the children that are enrolled in public school. I do not have to worry about getting my children to school and also trying to get to work on time. All I have to do is drop my children off first thing in the morning and Cadence will put my children on the bus for school and the school bus will also drop my children back off at Cadence once school has ended for the after care so I do not have to worry about making it to the bus stop on time. The staff is great and friendly my kids always enjoyed telling me about their day they had at Cadence and I love that we get reports on what they have done thru out the day and also pictures of them playing and learning.

Leave a Review
We want to learn more about your experience with Cadence Education. Please leave us a review below and let us know how we are doing.