Overview
Overview

Programs

Accreditation

Reviews
Finding quality Bourne daycare and preschools with an emphasis on education isn't hard when your children are enrolled in Cadence Academy Preschool. We believe children retain more when they're having fun, so our programs are all tailored toward learning through play.
Our Effective Curriculum
Our nationally accredited, specially developed curriculum in our Bourne, MA schools focuses on working with children to explore and strengthen their skills in five separate areas: social and emotional, physical, cognitive, language, and literacy development. The dedicated and caring teachers at our school make the difference in creating a classroom that is enjoyed by all.
As an accredited preschool, Cadence Academy upholds the highest standards in early childhood education. Whether you live in Bourne, Sagamore, Monument Beach, Amrita, Buzzards Bay, Pocasset, Cataumet, or nearby locations, your family can find a safe and nurturing space at Cadence Academy for your child. You can be confident that your child is receiving a well-rounded education that prepares them for kindergarten and beyond.
Ideal Environment for Toddlers and Preschoolers
Our Bourne, MA schools' classrooms are set up specifically for toddlers and preschoolers with developmentally appropriate activities and materials that encourage creativity, exploration, and hands-on learning. With low teacher-student ratios, we're able to give each child the attention they need and deserve. We provide plenty of options for indoor and outdoor fun, so your child will be engaged in learning all day long.
Parent Communication App
We also offer an extraordinary Parent Communication App that our teachers use daily to relay information and send pictures to family members, send newsletters, and track developmental progress for each child's portfolio. With this application, parents and guardians are able to opt into email or text alerts, and they can receive any information instantaneously about their child and their child's school day.
Parents of our students at our Bourne, MA schools appreciate this hands-on approach to children's education and school experience, which gives them real-time, first-hand information about their little ones' progress. Teachers and staff can tag daily pictures with our Developmental Domains and are then able to communicate with families and primary caregivers by adding captions or sending quick little notes.
We apply this practice to all Cadence Academy preschools and daycare centers across the country. Families love this feature, and we're utilizing it more and more each day. We are very excited to be able to communicate with families enrolled at our Bourne MA schools throughout the day and to show them what their children are learning.
Programs Offered at Our Bourne Preschool and Daycare
Infant Care
Toddler Care
Preschool
Pre-K & Kindergarten Club
Private Kindergarten
School-Age Program
Summer Programs
Finding the Right Daycare and Preschool Provider in Bourne, MA
When looking for a daycare and preschool provider in Bourne, MA, consider Cadence Academy Preschool. Our nationally accredited curriculum is developmentally appropriate, and our teachers are dedicated to making each child's experience enjoyable and educational.
We believe children learn best when they're in a loving and nurturing environment that feels just like home, and we're sure you'll find that when you visit our campus. Contact Cadence Academy Preschool in Bourne today to schedule a tour, and see why we're the best option for your child's early education!
Accreditations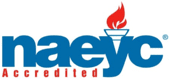 NAEYC Accreditation
Every child deserves access to high-quality early learning experiences. NAEYC (National Association for the Education of Young Children) has set 10 standards for early childhood programs that can help families make the right choice when they are looking for a child care center, preschool, or kindergarten. The standards and criteria are also the foundation of the NAEYC Accreditation system for early childhood programs. To earn NAEYC Accreditation, schools must go through an extensive self-study and quality-improvement process, followed by an on-site visit by NAEYC Assessors to verify and ensure that the program meets each of the ten program standards, and hundreds of corresponding individual criteria. NAEYC-accredited programs are always prepared for unannounced quality-assurance visits during their accreditation term, which lasts for five years. In the 30 years since NAEYC Accreditation was established, it has become a widely recognized sign of high-quality early childhood education. More than 7,000 programs are currently accredited by NAEYC—less than 10 percent of all child care centers, preschools, and kindergartens nationally achieve this recognition.
Reviews from Parents
March 19, 2021





The facility is bright, clean, and fun. The staff are amazing, loving and nurturing. The people we have met at cadence have become good friends, both staff and other parents. They have taken care of both of my children, and my middleschooler still wants to go back and see her preschool teachers any chance she gets. They really do love your children.

January 25, 2021






November 17, 2020





My son, 8, has been attending Cadence Academy this school year for his "remote learning" days. The staff there have been great with making sure that he is in attendance to all of his live online classes as well as keeping him accountable for his independent work. It amazes me every day that the educators at Cadence Academy can remain so organized while assisting several children in all different grades to complete their online learning!

October 19, 2020





My son had been attending cadence academy sense he was three (he is now 5). He loved his pre-k and his school age class and asks to come to school on the weekends to see his teachers. The teachers are wonderful and remain close with the children even as they move up though the school. My son comes home everyday and shares with me the new knowledge he has acquired throughout his day. The teachers challenge the kids and help them though their tasks, to help them become ready for the next step. I am so happy we found Cadence academy my son is loved, happy and more than ready for kindergarten. Thanks Cadence Academy for everything!