Overview
Overview

Programs

Accreditation

Reviews
Cadence Academy Preschool, Grand offers exciting early learning environments for children ages 6 weeks through 5 years old. Our preschool center is accredited by the National Association for the Education of Young Children (NAEYC) and we specialize in creating engaging educational experiences that help young children develop academic, social-emotional, and physical skill.
Our preschool programs are built upon the Ascend Curriculum, which takes a skill-targeted approach to early education. Our children are constantly developing valuable skill sets in nine subject areas. We personalize educational activities to match the interests and current skill level of our students, which helps them feel engaged, supported, and challenged.
Our Preschool's Programs
We offer a Before and After School Care Program for children ages five to seven on a limited basis. Please note, we typically restrict enrollment to students who have younger siblings at the school. There is a school bus stop next to our campus for Fair Meadows, Hillside, and Jordan Creek Elementary.
Kind Child


A child's first social experiences shape their attitude and aptitude for the rest of their lives, so we make sure to fill each day with adventure, learning, and laughter. We encourage our students and staff to celebrate and value diversity and our Kind Child program helps us strengthen the character and social skills of every child in our care. Kind Child is a core subject in our monthly curriculum and we regularly host Kind Child events that help everyone feel welcome and valued at our preschool.
School-to-Home Connection
We understand how important communication is to a child's success, so we like to connect with our parents every day. Our daycare center has an open-door policy and we welcome you to visit at any time and stay for as long as you like. We offer a variety of communications to keep you up-to-date on your child's overall developmental progress and have formal parent-teacher conferences twice a year so you can join us in setting goals for your child.
Accreditations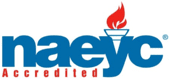 NAEYC Accreditation
Every child deserves access to high-quality early learning experiences. NAEYC (National Association for the Education of Young Children) has set 10 standards for early childhood programs that can help families make the right choice when they are looking for a child care center, preschool, or kindergarten. The standards and criteria are also the foundation of the NAEYC Accreditation system for early childhood programs.
Reviews from Parents
January 19, 2021





Hands down the best daycare in the Des Moines metro! Our 2 year old has been attending this location for about a year and she is thriving from the love and education she receives from all the teachers. She loved Ms. Cori and Ms. Hellen when she was in the toddler room and now that she is in the two's room, she loves Ms. Chelsey! Even though it is a daycare center, the love and attention each child receives makes it feel like a small home daycare. This daycare has gone above and beyond with cleaning procedures and safety measures during covid. We have never been worried about our child's health during this time. Ms. Anya and Ms. Erica are wonderful leaders of this daycare. They are very communicative. Our 2 year old literally loves going to daycare every day and we are so thankful that we have found a safe and happy place for her to be while we work. I highly recommend this daycare! If you want your child to thrive socially and academically, this is the daycare for you!

November 30, 2020





We love this wonderful team of daycare providers! Our eighteen month old son truly enjoys going- he's been going since he was a baby! Even with all the cleaning and the crazy adjustments the teachers have had to make, they still make it welcoming and fun for the kids. Very thankful for the extra efforts for everyone's safety. Communication from directors and teachers has really helped during these stressful times too! I appreciate them all as I am a healthcare worker and unable to stay home during these crazy times.

October 07, 2020





I have been part of the Cadence family since 2016, but school boundaries led me to switch to Cadence Academy Preschool, Grand (Cadence, Grand). From the moment I inquired about availability, I felt I was part of their family, and I knew they would go above and beyond to ensure my children were cared for and achieved their educational goals. I am very impressed with the qualifications of all their teachers, and their loyalty to the center and children. Most teachers have been awarded the Terri Lynne Lokoff National Child Care Award, which is a prestigious honor. In uncertain times, it is important a parent knows the facility is safe. Cadence, Grand goes above and beyond to ensure the facility and playground equipment and mitigation procedures are followed to ensure the children and staff remain healthy. The Director, Assistant Director and teachers keep parents informed through email, telephone, and conversations at drop-off and pick-up. Their responsiveness and attention to detail goes above and beyond. I am a parent who asks a lot of questions, and the staff was always more than willing to assist me. I highly recommend Cadence, Grand to anyone looking for care for their children whether it is full- or part-time, preschool, or before-and after-care. As a single, working parent I could not stay home with my children, but Cadence, Grand is the next best option when you want to ensure your children feel loved and safe, and simultaneously have fun and learn. I feel very fortunate to be part of the Cadence family.

March 06, 2020





We loved being a part of the Grand Cadence family. We felt like we had a true partnership in caring for our child with the people that spent the week days with her. I would recommend Anya and her team to anyone and everyone. ❤️

Leave a Review
We want to learn more about your experience with Cadence Education. Please leave us a review below and let us know how we are doing.