Overview
Overview

Programs

Our Team

Accreditation

Reviews
About Cadence Academy Preschool in West Des Moines
Cadence Academy Preschool, Ashworth in West Des Moines is proud to play a role in our local community by educating young minds and providing enriching educational experiences for infants, toddlers, and preschoolers. We offer stimulating daycare and preschool programs for ages 6 weeks to 5 years old and before and after school programs for kindergarten and school age children.
Preschool Programs
NAEYC Accreditation
Cadence Academy Preschool, Ashworth is accredited through the National Association for the Education of Young Children (NAEYC). NAEYC has a series of 10 standards in areas such as Curriculum, Teaching, Health, and Physical Environment that daycare centers and preschools must meet to earn accreditation. NAEYC Accreditation ensures that childcare programs are safe, well-prepared, and moving with intention towards successful educational outcomes.
We are also proud to be a Community Partner with the West Des Moines School District and offer two sections of the Statewide Voluntary Preschool Program at our school.
Partnering with Our Parents
We utilize a variety of communication pieces to keep parents informed about their child's day and their overall developmental progress. We want to make the most of these valuable early years and we work with our families to help their children reach important developmental milestones in every program.
Our preschool also hosts events for the whole family throughout the year. Families love participating in our Family Picnic in August and a staff favorite is our annual Trike-A-Thon, which supports St. Jude's Children's Research Hospital. These fun gatherings provide great opportunities for children to show their families what they are learning in school!
Our Team
Kaitlyn Sheesly
School Director
My name is Kaitlyn and I'm very excited to join the Cadence Academy family! I have more than 10 years of childcare experience working in many different positions from Preschool Teacher to Director. My passion for working with children started in high school, when I took an Early Childhood Careers class that allowed me to get into the classroom and work hands on with the children! After high school, I attended Iowa State University where my love for early childhood grew. I graduated from Iowa State with my Bachelor's Degree in Child, Adult, and Family Services.  My favorite part of working in early childhood is building strong, meaningful connections with children and families. I am excited to meet all of you!
Courtney Shea
Assistant Director
Hello! I am from a small town in western Iowa called Manilla. My husband and I got married in September of 2022. Before joining Cadence, I worked in the healthcare industry. Prior to working in healthcare, I worked at an early childhood education school in Ames. I decided to return to early childhood education because I missed working with children! When I have free time, I enjoy going to the lake and spending time with friends and family. I look forward to getting to know the children, the parents, and the staff!
Carrie Hotchkiss
Teacher
Ms. Carrie has been a teacher with us since 1999. Ms. Carrie is an enthusiastic teacher of the Statewide Voluntary Preschool program. She has a bachelor's degree in elementary education with endorsements in k-8 mathematics, P K-3 teacher, regular education, and special education classroom. She puts a lot of emphasis on incorporating the development of kindergarten readiness skills into the routine of the children's day. She proudly leads the K-Club and demonstrates a great understanding of the development of preschool age children.
Crystal Major
Teacher
I joined this school in the Fall of 2011 in the toddler classroom. I graduated from Upper Iowa University in 2007 with a degree in Elementary Education and endorsements in Special Education, Reading, and Language Arts. I currently live in Des Moines with my husband, Duran, and our 3 children: Leila, Da'Sean, and Jaylen. In my spare time, I love to spend time with my family and friends. I also enjoy reading and crossword puzzles. I love to watch the children learn and grow and look forward to getting to know your child.
Accreditations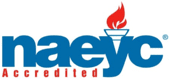 NAEYC Accreditation
Every child deserves access to high-quality early learning experiences. NAEYC (National Association for the Education of Young Children) has set 10 standards for early childhood programs that can help families make the right choice when they are looking for a child care center, preschool, or kindergarten. The standards and criteria are also the foundation of the NAEYC Accreditation system for early childhood programs. To earn NAEYC Accreditation, schools must go through an extensive self-study and quality-improvement process, followed by an on-site visit by NAEYC Assessors to verify and ensure that the program meets each of the ten program standards, and hundreds of corresponding individual criteria. NAEYC-accredited programs are always prepared for unannounced quality-assurance visits during their accreditation term, which lasts for five years. In the 30 years since NAEYC Accreditation was established, it has become a widely recognized sign of high-quality early childhood education. More than 7,000 programs are currently accredited by NAEYC—less than 10 percent of all child care centers, preschools, and kindergartens nationally achieve this recognition.
Reviews from Parents
April 13, 2023





We have been at Cadence just over a month now and I cannot say enough good things about the staff, and center. Experiencing dropping my first child off at daycare at 12 weeks old was the hardest thing I've ever done and I wouldn't have been able to do it without Cadence. There is always a smiling face to greet you, the teachers all genuinely love children, they keep it extremely clean, and constantly send updates throughout the day regarding diaper changes, naps, bottles, photos, etc. My daughters main teachers, Sarah, Emily and Amanda genuinely feel like my daughters aunts. I can call at anytime and talk to one of my daughters teachers or the director Kaitlyn (also awesome to work with), and my anxiety is immediately at ease. It has been the best blessing to feel like I'm dropping my child with a family member. I trust them with my most precious gift and I would recommend anyone to Cadence! We constantly do now! :)

March 08, 2023





Absolutely amazing work they are doing. My 1 year old adjusted very well with them and has been having fun and has been doing great learning to play with other kids. I definitely recommend them to anyone looking for a wonderful place to send your kids. They are definitely worth it.

September 28, 2022





We love cadence. Amid staffing shortages experienced by every single center during this pandemic, we still felt strongly that it was worth sticking with them because of the love they show our children. Between the accredited program and curriculum and staff communication, I feel my kids are going to start school ahead of their peers academically and socially.

June 20, 2022





My sister kids go here and they have an amazing time. Wonderful staff.