Overview
Overview

Programs

Our Team

Accreditation
Cadence Academy Preschool, Ashworth in West Des Moines is proud to play a role in our local community by educating young minds and providing enriching educational experiences for infants, toddlers, and preschoolers. We offer stimulating daycare and preschool programs for ages 6 weeks to 5 years old and before and after school programs for kindergarten and school age children.
Preschool Programs
NAEYC Accreditation
Cadence Academy Preschool, Ashworth is accredited through the National Association for the Education of Young Children (NAEYC). NAEYC has a series of 10 standards in areas such as Curriculum, Teaching, Health, and Physical Environment that daycare centers and preschools must meet to earn accreditation. NAEYC Accreditation ensures that childcare programs are safe, well-prepared, and moving with intention towards successful educational outcomes.
We are also proud to be a Community Partner with the West Des Moines School District and offer two sections of the Statewide Voluntary Preschool Program at our school.
Partnering with Our Parents
We utilize a variety of communication pieces to keep parents informed about their child's day and their overall developmental progress. We want to make the most of these valuable early years and we work with our families to help their children reach important developmental milestones in every program.
Our preschool also hosts events for the whole family throughout the year. Families love participating in our Family Picnic in August and a staff favorite is our annual Trike-A-Thon, which supports St. Jude's Children's Research Hospital. These fun gatherings provide great opportunities for children to show their families what they are learning in school!
Our Team
Kellee Baker
School Director
Hi! I am Kellee Baker and I am excited to join the team at Cadence Academy. The last two years, I have been the director of Pius Pals at SPX and I've been in a managerial role in child care for 7 years. I have been in childcare for almost 20 years starting out teaching preschool. My oldest son Khole is out of college, my middle son Jakob is a junior in college, and my daughter Kaylee is in 8th grade. I have been with my husband for 17 years. Our puppy Buckwheat is about to celebrate his 3rd birthday. When I have free time, I enjoy reading and exploring new recipes. My passion is early childhood and bridging the gap between home and school. My favorite part of being a director is mentoring and coaching teachers to bring out the best in themselves and passing on my devotion and love of teaching. I look forward to meeting the children, families, and staff and getting to know all of you.
Carrie Hotchkiss
Teacher
Ms. Carrie has been a teacher with us since 1999. Ms. Carrie is an enthusiastic teacher of the Statewide Voluntary Preschool program. She has a bachelor's degree in elementary education with endorsements in k-8 mathematics, P K-3 teacher, regular education, and special education classroom. She puts a lot of emphasis on incorporating the development of kindergarten readiness skills into the routine of the children's day. She proudly leads the K-Club and demonstrates a great understanding of the development of preschool age children.
Crystal Major
Teacher
I joined this school in the Fall of 2011 in the toddler classroom. I graduated from Upper Iowa University in 2007 with a degree in Elementary Education and endorsements in Special Education, Reading, and Language Arts. I currently live in Des Moines with my husband, Duran, and our 3 children: Leila, Da'Sean, and Jaylen. In my spare time, I love to spend time with my family and friends. I also enjoy reading and crossword puzzles. I love to watch the children learn and grow and look forward to getting to know your child.
Accreditations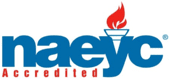 NAEYC Accreditation
Every child deserves access to high-quality early learning experiences. NAEYC (National Association for the Education of Young Children) has set 10 standards for early childhood programs that can help families make the right choice when they are looking for a child care center, preschool, or kindergarten. The standards and criteria are also the foundation of the NAEYC Accreditation system for early childhood programs. To earn NAEYC Accreditation, schools must go through an extensive self-study and quality-improvement process, followed by an on-site visit by NAEYC Assessors to verify and ensure that the program meets each of the ten program standards, and hundreds of corresponding individual criteria. NAEYC-accredited programs are always prepared for unannounced quality-assurance visits during their accreditation term, which lasts for five years. In the 30 years since NAEYC Accreditation was established, it has become a widely recognized sign of high-quality early childhood education. More than 7,000 programs are currently accredited by NAEYC—less than 10 percent of all child care centers, preschools, and kindergartens nationally achieve this recognition.