Reviews
Overview

Programs

Our Team

Accreditation

Reviews
The first five years of life are an extremely important period of development for children and Cadence Academy Preschool, Urbandale is proud to offer NAEYC Accredited daycare services and preschool programs as well as kindergarten and school-age programs.
Our dedicated teachers and proprietary curriculum work hand-in-hand to help children reach their full potential during each developmental stage. We take an individualized approach to early childhood education and modify classroom activities so they fit the needs, interests, and current skill level of each child in our care.
Childcare & Preschool Programs
Partnering with Parents
We believe in creating a learning environment that extends beyond the classroom and we partner with our parents so that we can further encourage their child's growth and development. We provide parents regular feedback on how their child is progressing towards important developmental milestones and we send out a monthly Reflections piece to provide guidance on how they can support our Ascend Curriculum at home. We have an open-door policy at our daycare center and we encourage parents to visit at any time and stay for any length of time they feel is necessary.
Our Teachers & Directors
With 100s of years of combined teaching experience in the field of early childhood education, the staff at Cadence Academy Preschool, Urbandale understands what quality child care means. This location was previously called Apple Tree Children's Center and a number of our teachers have been with us since the Apple Tree days.
Many of our teachers and directors hold degrees in education and continually participate in training to stay abreast of developments in the field. Our teachers know how to anticipate developmental needs and continually create preschool centers and activities that encourage emerging skills.
Getting to Our Preschool
Cadence Academy Preschool, Urbandale is located at 3054 86th St in Urbandale, Iowa, 50322. We're between Hickman Rd and Douglas Ave, just north of U.S. Route 6. Many of our families live in Windsor Heights, West Des Moines, and Clive. We would love to show you around our preschool. Schedule a visit today!
Our Team
Theresa Anderson
School Director
My name is Theresa Anderson and I am the School Director, I graduated from the University of Minnesota with an Associates in Applied Science Degree in Child Care Services. I started working for Cadence Academy Preschool in January 1997. I enjoy spending time with my family in Minnesota and quilting in my free time.
Alecia Pardekooper
Assistant Director
My name is Alecia Pardekooper and I am the new Assistant Director at Cadence Academy-Urbandale!
I have worked in childcare for over 8 years. I got married in 2014 and moved to California to be with him during his time in the military. In the time we were there, I nannied for a few military families with children of all ages. When I moved back to Iowa I started at my first center and fell in love with the atmosphere/routine of a center. I've gone all the way from Assistant Teacher, to Lead Teacher, to On-site Supervisor, and now Assistant Director. I have a passion for what I do and love that I can make a career out of it! I am currently pursuing a bachelor's degree in Early Childhood Administration. We are expecting a little girl in October and have two fur babies.  In my free time I love being with my family.
I am so thankful for the opportunity I have been given to be here! I am really looking forward to meeting each and every one of you and to get to know your children.
Mary Seago
Teacher
Welcome! My name is Mary and I started here when the school opened in 1985. I have a double endorsement in Early Childhood and Elementary Education from the University of Northern Iowa. I have two sons, Jonathan and Matthew. When I am not at work, I enjoy reading, walking, and visiting with family.
Tonya Casey
Teacher
My name is Tonya and I am the Lead Teacher in the Nursery Room. I started working here when the school opened in 1985. I have completed my Child Development Associate (CDA) Degree through DMCAA. My husband Todd and I have two children: Cole and Kael. We enjoy riding horses, four-wheelers, and I love to shop. I truly love working with newborns,so I look forward to getting to know all of you.
Accreditations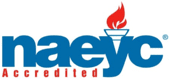 NAEYC Accreditation
Every child deserves access to high-quality early learning experiences. NAEYC (National Association for the Education of Young Children) has set 10 standards for early childhood programs that can help families make the right choice when they are looking for a child care center, preschool, or kindergarten. The standards and criteria are also the foundation of the NAEYC Accreditation system for early childhood programs. To earn NAEYC Accreditation, schools must go through an extensive self-study and quality-improvement process, followed by an on-site visit by NAEYC Assessors to verify and ensure that the program meets each of the ten program standards, and hundreds of corresponding individual criteria. NAEYC-accredited programs are always prepared for unannounced quality-assurance visits during their accreditation term, which lasts for five years. In the 30 years since NAEYC Accreditation was established, it has become a widely recognized sign of high-quality early childhood education. More than 7,000 programs are currently accredited by NAEYC—less than 10 percent of all child care centers, preschools, and kindergartens nationally achieve this recognition.
Reviews from Parents
January 20, 2023





Our son has had a wonderful experience at Cadence Academy. The staff have all been so helpful in answering our questions, and providing a caring and productive atmosphere where our child has thrived and learned so much. Although we have moved out of state, we will all miss Cadence and have enjoyed seeing our little guy make so many friends and form strong bonds with his teachers! Thanks to Theresa and Alecia for helping us with everything, and his teachers Ericia, Bailey and Courtni!

October 26, 2022





We couldn't be happier with Cadence in Urbandale! Our daughter smiles when we pick her up and when we drop her off. Staff are always holding babies and interacting with them. Tonya is our daughter's teacher and she is so organized! She also gives helpful recommendations for us when needed. We came from a different daycare where we had lots of issues, so we can see the difference Cadence makes! Thank you, Cadence, for taking care of our little girl and giving us peace of mind!

July 21, 2022





Cadence has been wonderful. I am very thankful we were allowed to come visit a few days the week before my daughter started, to get her acclimated. Drop-off was rough the first few days, but on the 5th day there were no tears, and she reached for her teacher! She seems to have established a bond with Christine, which I am very thankful for. Kylie is also wonderful. I love how she sings to the kids and they stop and just gaze at her. Theresa and Alecia have been great at making us feel comfortable, and they seem to really understand how hard it is to send your whole heart off to somewhere new. We wouldn't want to go anywhere else. Thank you, Cadence!

April 22, 2022





We were recommended Cadence Academy in the early stages of researching daycares, and we are very happy with our decision to enroll. The staff has been great to work with and we really appreciate his caregivers Tonya and Amy. Our son is in the infant room and it's very reassuring knowing when we drop him off when he's in good hands. Highly recommend to any parent / caretaker.