Overview
Overview

Programs

Our Team

Accreditation

Reviews
The first five years of life are an extremely important period of development for children and Cadence Academy Preschool, Urbandale is proud to offer NAEYC Accredited daycare services and preschool programs as well as kindergarten and school-age programs.
Our dedicated teachers and proprietary curriculum work hand-in-hand to help children reach their full potential during each developmental stage. We take an individualized approach to early childhood education and modify classroom activities so they fit the needs, interests, and current skill level of each child in our care.
Childcare & Preschool Programs
Partnering with Parents
We believe in creating a learning environment that extends beyond the classroom and we partner with our parents so that we can further encourage their child's growth and development. We provide parents regular feedback on how their child is progressing towards important developmental milestones and we send out a monthly Reflections piece to provide guidance on how they can support our Ascend Curriculum at home. We have an open-door policy at our daycare center and we encourage parents to visit at any time and stay for any length of time they feel is necessary.
Our Teachers & Directors
With 100s of years of combined teaching experience in the field of early childhood education, the staff at Cadence Academy Preschool, Urbandale understands what quality child care means. This location was previously called Apple Tree Children's Center and a number of our teachers have been with us since the Apple Tree days.
Many of our teachers and directors hold degrees in education and continually participate in training to stay abreast of developments in the field. Our teachers know how to anticipate developmental needs and continually create preschool centers and activities that encourage emerging skills.
Getting to Our Preschool
Cadence Academy Preschool, Urbandale is located at 3054 86th St in Urbandale, Iowa, 50322. We're between Hickman Rd and Douglas Ave, just north of U.S. Route 6. Many of our families live in Windsor Heights, West Des Moines, and Clive. We would love to show you around our preschool. Schedule a visit today!
Our Team
Mary Seago
Teacher
Welcome! My name is Mary and I started here when the school opened in 1985. I have a double endorsement in Early Childhood and Elementary Education from the University of Northern Iowa. I have two sons, Jonathan and Matthew. When I am not at work, I enjoy reading, walking, and visiting with family.
Tonya Casey
Teacher
My name is Tonya and I am the Lead Teacher in the Nursery Room. I started working here when the school opened in 1985. I have completed my Child Development Associate (CDA) Degree through DMCAA. My husband Todd and I have two children: Cole and Kael. We enjoy riding horses, four-wheelers, and I love to shop. I truly love working with newborns,so I look forward to getting to know all of you.
Accreditations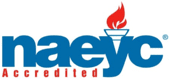 NAEYC Accreditation
Every child deserves access to high-quality early learning experiences. NAEYC (National Association for the Education of Young Children) has set 10 standards for early childhood programs that can help families make the right choice when they are looking for a child care center, preschool, or kindergarten. The standards and criteria are also the foundation of the NAEYC Accreditation system for early childhood programs. To earn NAEYC Accreditation, schools must go through an extensive self-study and quality-improvement process, followed by an on-site visit by NAEYC Assessors to verify and ensure that the program meets each of the ten program standards, and hundreds of corresponding individual criteria. NAEYC-accredited programs are always prepared for unannounced quality-assurance visits during their accreditation term, which lasts for five years. In the 30 years since NAEYC Accreditation was established, it has become a widely recognized sign of high-quality early childhood education. More than 7,000 programs are currently accredited by NAEYC—less than 10 percent of all child care centers, preschools, and kindergartens nationally achieve this recognition.
Reviews from Parents
April 28, 2021





My son started here not too long ago after being home with me for a long time during the beginning of COVID. And I cannot express how happy he is. He wakes up in the morning and immediately asks when he can go to school, talks about his amazing teacher, Miss Mary all of the time, and does such fun things! So thankful to have found them and will be sticking with them until he starts actual school.

March 31, 2021





I was very uneasy brining my kids to preschool for the first time, Cadence was the only school that gave me the warm and fuzzy about dropping my kids off, they have loved it so far and have learned so much in such a short time! The COVID procedures make me feel like my child will be in a safe and clean environment. I would highly recommend Cadence in a urbandale to anyone who asked!

February 17, 2021





My son loves coming to Cadence everyday! It is the only place he leaves me happily.

January 29, 2021





I have 3 grandchildren attending Cadence. When my 3 year old twin granddaughters come home talking about nocturnal animals and planet earth, I am truly amazed. My infant grandson is learning about interacting with other infants. They are so excited to tell me about their day, what they learned, and what Mr. Sean made them for lunch and snacks. I highly recommend Cadence.

Leave a Review
We want to learn more about your experience with Cadence Education. Please leave us a review below and let us know how we are doing.