Overview
Overview

Programs

Our Team

Accreditation

Reviews
The preschool programs at Cadence Academy Preschool, Iowa City are designed to help young children reach important milestones at every stage of development. We take a skill-based approach to early education that balances intellectual, physical, and emotional development and our curriculum is designed to progressively build valuable skill sets each month! Our students graduate from our Pre-Kindergarten program confident and ready for kindergarten!
Ascend Curriculum

Our Ascend Curriculum takes a unique skill-based approach to early education and our teachers introduce new skills within subjects like Mathematics, Literacy, Technology, and Physical Fitness every month.
Skills are taught at a challenging pace and our goal is to recognize where each child is on a particular skill and then take them to the next step without comparing their learning pace to others. We encourage our teachers to modify activities to match the interests and current skill level of each student so that everyone is supported, engaged, and having fun!
NAEYC Accreditation
Cadence Academy Preschool, Iowa City is accredited through The National Association for the Education of Young Children (NAEYC). Our staff is dedicated to going above and beyond accreditation standards to find the practices that best educate and care for young children. We have found that accreditation fosters a culture of reflection and continuous improvement.
School-to-Home Connection
We believe that children thrive when there is a strong partnership between preschool and home. We have an open-door policy with our families and we encourage you to visit at any time. We also offer a variety of communication pieces so that you're constantly up-to-date with your child's day and their developmental progress.
Our preschool also hosts a variety of family-friendly events throughout the year. Some of our favorites include our annual Winter Wonderland in January, Family Picnic in August, and the University of Iowa Homecoming Parade!
Our Team
Jean Grauer
Director
I graduated from the University of Northern Iowa with my Bachelor's Degree in Elementary Education and a minor in Reading and Language Arts Education K-6. I started working for Cadence Academy Preschool in October 2006. I enjoy reading books, watching movies, and spending time with my family and friends.
Accreditations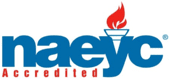 NAEYC Accreditation
Every child deserves access to high-quality early learning experiences. NAEYC (National Association for the Education of Young Children) has set 10 standards for early childhood programs that can help families make the right choice when they are looking for a child care center, preschool, or kindergarten. The standards and criteria are also the foundation of the NAEYC Accreditation system for early childhood programs. To earn NAEYC Accreditation, schools must go through an extensive self-study and quality-improvement process, followed by an on-site visit by NAEYC Assessors to verify and ensure that the program meets each of the ten program standards, and hundreds of corresponding individual criteria. NAEYC-accredited programs are always prepared for unannounced quality-assurance visits during their accreditation term, which lasts for five years. In the 30 years since NAEYC Accreditation was established, it has become a widely recognized sign of high-quality early childhood education. More than 7,000 programs are currently accredited by NAEYC—less than 10 percent of all child care centers, preschools, and kindergartens nationally achieve this recognition.
Reviews from Parents
September 03, 2021





The staff truly cares about the kids. My son has been going here for 4 years, and every teacher and the directors have been wonderful. His former teachers all remember his name and chat with him and us in the hall even years after he's left their room.

September 03, 2021





Our son has attended Cadence since he was 6 months old. He is now 4 years old, and his baby brother will be joining him in a few months. We depend on Cadence and know some of the staff/teachers as almost family members.

August 24, 2021





I am very thankful that we choose Cadence for childcare. The teachers are caring and make our children excited to go to school. I appreciate both the verbal and electronic communication about what our children are doing during the day. I have been very impressed with the education they have received. The director went above and beyond to make sure our oldest was able to have an in-person Kindergarten education during a global pandemic, which illustrates just how much the staff care about the children. I highly recommend Cadence Academy!

August 23, 2021

Only if you are desperate for childcare should you even think about considering this 'school' There is little to no curriculum. No crafts or activities with the children. Staff yell at the children and are not engaged nor happy themselves with the workplace environment. I regret ever leaving my child in their care for the short time that I did.  My child was too young too talk but I was tuned in to her behavior and paid attention tothe many red flags.  She was instantly a happier child once we switched daycare providers.

Leave a Review
We want to learn more about your experience with Cadence Education. Please leave us a review below and let us know how we are doing.