Overview
Overview

Programs

Our Team

Accreditation

Reviews
The preschool programs at Cadence Academy Preschool, Iowa City are designed to help young children reach important milestones at every stage of development. We take a skill-based approach to early education that balances intellectual, physical, and emotional development and our curriculum is designed to progressively build valuable skill sets each month! Our students graduate from our Pre-Kindergarten program confident and ready for kindergarten!
Ascend Curriculum

Our Ascend Curriculum takes a unique skill-based approach to early education and our teachers introduce new skills within subjects like Mathematics, Literacy, Technology, and Physical Fitness every month.
Skills are taught at a challenging pace and our goal is to recognize where each child is on a particular skill and then take them to the next step without comparing their learning pace to others. We encourage our teachers to modify activities to match the interests and current skill level of each student so that everyone is supported, engaged, and having fun!
NAEYC Accreditation
Cadence Academy Preschool, Iowa City is accredited through The National Association for the Education of Young Children (NAEYC). Our staff is dedicated to going above and beyond accreditation standards to find the practices that best educate and care for young children. We have found that accreditation fosters a culture of reflection and continuous improvement.
School-to-Home Connection
We believe that children thrive when there is a strong partnership between preschool and home. We have an open-door policy with our families and we encourage you to visit at any time. We also offer a variety of communication pieces so that you're constantly up-to-date with your child's day and their developmental progress.
Our preschool also hosts a variety of family-friendly events throughout the year. Some of our favorites include our annual Winter Wonderland in January, Family Picnic in August, and the University of Iowa Homecoming Parade!
Our Team
Jean Grauer
Director
I graduated from the University of Northern Iowa with my Bachelor's Degree in Elementary Education and a minor in Reading and Language Arts Education K-6. I started working for Cadence Academy Preschool in October 2006. I enjoy reading books, watching movies, and spending time with my family and friends.
Accreditations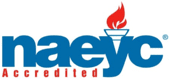 NAEYC Accreditation
Every child deserves access to high-quality early learning experiences. NAEYC (National Association for the Education of Young Children) has set 10 standards for early childhood programs that can help families make the right choice when they are looking for a child care center, preschool, or kindergarten. The standards and criteria are also the foundation of the NAEYC Accreditation system for early childhood programs. To earn NAEYC Accreditation, schools must go through an extensive self-study and quality-improvement process, followed by an on-site visit by NAEYC Assessors to verify and ensure that the program meets each of the ten program standards, and hundreds of corresponding individual criteria. NAEYC-accredited programs are always prepared for unannounced quality-assurance visits during their accreditation term, which lasts for five years. In the 30 years since NAEYC Accreditation was established, it has become a widely recognized sign of high-quality early childhood education. More than 7,000 programs are currently accredited by NAEYC—less than 10 percent of all child care centers, preschools, and kindergartens nationally achieve this recognition.
Reviews from Parents
May 12, 2021





My family loves Cadence and their staff. My two children have attended cadence for over two years and we are more than satisfied with the level of care! The teachers and staff are wonderful and the facilities are maintained to high standards. My children are excited to go to school every day!

April 14, 2021





We have been so pleased with the quality of care that Cadence Academy has provided for our toddler over the past two years! The teachers are kind and attentive, and we always receive frequent and detailed feedback about his day. When we sent him back after COVID, we felt secure in how seriously the staff and Ms. Jean were taking issues of safety, which was an important component of our decision to send him back. Our son is thriving in the Cadence environment, and he loves it so much that even after spending all day at "school," he comes home and makes us pretend to be "Ms. Jean" and his teachers all evening. :-) Highly recommend.

March 16, 2021





My four-month-old started at Cadence about a month ago. We have friends who were very happy with it and we liked how they kept in touch about our plans over the months leading up to my daughter's birth. Other daycare centers seemed to act like it's a "seller's market" and were not really in touch after the initial tour. As a first time parent I was looking for a daycare center because I feel they prioritize safety. The curriculum seemed like a bonus. But now that I see how active her little mind is I am very glad she is getting exposed to a variety of activities every week. She is working on motor and communication skills while learning about fun things like dinosaurs and farm animals. She is now rolling like a champ, pretending to crawl and can transfer bottle tops between compartments of a muffin tin (a game I read about on the internet). The daycare is also willing to use cloth diapers, which is great. Every day my daughter gives Jean a big smile when we come to the door--I know she is happy at "school" and feels cared for by the people who watch her.

February 04, 2021





Our daughter has been attending Cadence for only a few months, but we've been nothing but pleased with our experience so far. The teachers and director seem to genuinely care about our child, which makes me feel confident about the quality of care she receives. I also like the fact that I can "check in" on the app throughout the day for updates and pictures!

Leave a Review
We want to learn more about your experience with Cadence Education. Please leave us a review below and let us know how we are doing.