Overview
Overview

Programs

Accreditation

Reviews
Foundations School in Kennesaw, GA started as an interest-based, nationally accredited childcare and learning center for infants, toddlers, & preschoolers in 2004. Demand for Pre-K and elementary-age groups led to the addition of the elementary & middle school gym building in 2011. Our progressive teaching style for all ages means we have low ratios, and focus on integrated STEM subject matter, brain-based learning, and child-initiated project work.
Our Kennesaw, GA Preschool Curriculum
At our daycare center at Kennesaw, GA, the curriculum balances care and nurturing with engaging activities built around the children's interests. As children progress into the upper school, the elementary school interest-based curriculum adds a balance of technology, movement, creativity, and focused topic times to meet academic goals through in-depth projects and hands-on exploration.
More About the Kennesaw, GA Preschool
We prioritize the children above all else, and from our facility, curriculum, research, and teacher requirements, we focus on child safety and development.
Facility
The Foundations School in Kennesaw, GA facility is spread across a beautiful four-acre campus and includes two buildings designed from the ground up to enhance learning and promote the school's "Move to Learn" philosophy. Its classrooms are spacious with natural lighting and comfortable furniture.
There are multiple interesting activity areas throughout the campus, such as:
Full kitchens in each building — one used for student cooking lessons.
A natural exploration nature area with a climbing tree house for a bird's eye viewpoint.
An indoor gym outfitted with an in-ground trampoline, foam pit, rock wall, and multi-sport court used during classes and after for extracurricular activities.
Several outdoor playgrounds, two covered, and one even heated for daily outdoor time.
Libraries in each building — students can choose for class and home (Volunteer readers too!).
Research-Based Practices at the Daycare in Kennesaw, GA
Research concludes that when children are motivated naturally through their own interests, their learning is more comprehensive and concrete. Everything we do at Foundations, as a childcare facility in Kennesaw, GA, and as a progressive elementary school, is geared to develop each child's internal curiosity and motivation to learn. These are the foundational platforms we are losing in traditional school systems. Traits necessary to propel your child toward future success. We believe it's never too early to begin the process. Thus we begin with infants & continue to middle school, providing a solid foundation for learning for the rest of their lives.
Experience the Kennesaw, GA Preschool Difference
Foundations is proud of its outstanding contribution as a childcare center and elementary school in our community. Please call today to schedule a tour. We are located in Kennesaw, near Acworth & Marietta, GA.
Parent Forms
Accreditations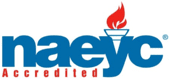 NAEYC Accreditation
Every child deserves access to high-quality early learning experiences. NAEYC (National Association for the Education of Young Children) has set 10 standards for early childhood programs that can help families make the right choice when they are looking for a child care center, preschool, or kindergarten. The standards and criteria are also the foundation of the NAEYC Accreditation system for early childhood programs. To earn NAEYC Accreditation, schools must go through an extensive self-study and quality-improvement process, followed by an on-site visit by NAEYC Assessors to verify and ensure that the program meets each of the ten program standards, and hundreds of corresponding individual criteria. NAEYC-accredited programs are always prepared for unannounced quality-assurance visits during their accreditation term, which lasts for five years. In the 30 years since NAEYC Accreditation was established, it has become a widely recognized sign of high-quality early childhood education. More than 7,000 programs are currently accredited by NAEYC—less than 10 percent of all child care centers, preschools, and kindergartens nationally achieve this recognition.
Cognia
Based on a set of rigorous research-based standards and evidence-based criteria, the accreditation process examines the whole institution–its policies, programs, practices, learning conditions, and cultural context–to determine how well the parts work together to carry out the institution's vision and meet the needs of every learner. Accreditation isn't about passing a one-time inspection. Rather, accreditation recognizes education providers that demonstrate and sustain their commitments to continuous improvement and better learner outcomes.
Reviews from Parents
September 19, 2022





I love love love Foundations. We recently just moved to Georgia from Florida and finding the right daycare was hard. Ms. Val and Ms. Rebecca made it so much easier for us. On my children first week of school they didn't cry and were so happy with their teachers and their class. My son is in Ms. Kim and Ms. Ana class and they're such amazing teachers. They made him feel so welcomed. My daughter is in Ms. Victoria and Ms. Mary class and they love her as much as she loves them. I was so nervous about them starting a new daycare but they fit right in. Every single teacher at foundations are amazing and very very loving. I made the best choice but it honestly feel like a blessing we found foundations.

November 10, 2021





Our daughter is in the pre-k program at Foundations and loves it! She loves all of the teachers and has learned so much already in the first couple months of school. As parents, we were nervous on how our daughter would adjust as she was at a private sitter prior to starting at Foundations. We have been extremely pleased with how well the teachers and the rest of the staff have helped her acclimate to her new surroundings. She goes to school excited every day to learn and sometimes isn't ready to come home in the afternoons because she is having so much fun at school. A big plus for our family's busy schedule are the extracurricular activity offerings that get built into the school day (dance, cooking, gymnastics, etc). It has been very exciting to watch our daughter's knowledge grow by leaps and bounds in this short time. We look forward to continuing her education at Foundations!

September 10, 2021





Just wanted to take the time to highlight how wonderful an experience it is having my child enrolled here!!! We've been here little more than a year and haven't had one discouraging situation. Prior to this school my child was at one school for 2 years and the amount of incidents was mind boggling. My wife and I are over the moon with this school and pretty amazing to see the seemingly overnight growth in my child's development!!! Great school, great staff, and great experience at inside n out!!!

September 03, 2021





Like most parents it was a very tough choice to decide where we would send our twins to school. Foundations came highly recommended from a couple of families in our circle and even though we live in East Cobb, we were willing to make the commute to Kennesaw if it was the right fit. During our visit to Foundations I was very impressed with look and feel of the school. I liked that it was very organized, beautiful, and clean. Ms. Val took her time to answer all my questions during my visit and you could tell by her detailed tour that she was passionate about her position at Foundations and that I could expect the teachers to share the same passion for their students. I really enjoyed virtually sitting in on class during our orientation. I could see that the students were really engaging and eager to learn which also said a lot about the teachers in the class. We've been with foundations for over 6 months now and my twins are obsessed with their teachers, I've seen many positive changes developmentally. I am overall very impressed with their curriculum, the teachers passion for teaching, overall how the school is ran, as well as the diversity of the staff and students. From someone with childcare experience, I highly recommend Foundations for The Future!!