Overview
Overview

Programs

Accreditation

Reviews
About Joni's Child Care & Preschool
Joni's Child Care & Preschool centers combine NAEYC approved practices with a proprietary academic curriculum that prepares young children for success in kindergarten. Children are challenged daily in writing, science, math and cognitive growth. They are also encouraged to explore and express themselves through various art media, dramatic play, and music.
Children at our downtown Hartford location enjoy a unique patio playground that overlooks the sights and sounds of Constitution Plaza. We also enjoy buggy rides through the area! We stay connected and encourage classroom visits from community organizations such as the Hartford Police Department, the Hartford Fire Department, Hispanic Health Council, the Hartford Public Library, and local dentists.
Our Programs
Kind Child
Kind Child is a special part of our preschool's curriculum that allows us to focus on the social and emotional development of each child in our care. We introduce a character trait such Responsibility, Thankfulness, and a Positive Self-Image every two months and new social-emotional skills every month. Kind Child allows us to build nurturing relationships and elevate the emotional-well being of our entire school!
Our Curriculum
Joni's prides itself on an academic curriculum that challenges children to reach their highest potential. Each age group targets key developmental milestones in learning domains such as Literacy, Math, Technology, and Creative Expression. Since we take an individualized approach to early childhood education, skills are acquired in a natural progression.
Children graduate from Joni's with confidence in their academic abilities and an excitement for the learning process. The experience is topped off by a series of extracurricular programs that include martial arts, soccer, swimming, dance, foreign language, computers and much more.
Our Preschool's Location
Joni's Childcare & Preschool, Hartford is in a downtown office building at 1 State St, Hartford, CT 06103. We're near many of the state's major insurance companies and other corporations. This makes it possible for families to visit throughout the day and share activities, a meal, or just a quick snuggle.
Accessing the center is easy. We're just a couple of blocks off of either I-91 or I-84. Our parents enter the center through a secure parking garage and keypad entry.
Accreditations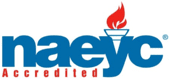 NAEYC Accreditation
Every child deserves access to high-quality early learning experiences. NAEYC (National Association for the Education of Young Children) has set 10 standards for early childhood programs that can help families make the right choice when they are looking for a child care center, preschool, or kindergarten. The standards and criteria are also the foundation of the NAEYC Accreditation system for early childhood programs.
Reviews from Parents
January 08, 2021






January 08, 2021





I love Joni's they're supportive and family friendly! They are highly recommended!

December 10, 2020





Joni's is wonderful center for anyone looking for a preschool for their child/ren to attend. From my observation and experience the teachers, and director are extremely welcoming and caring towards the parents and children. From what I see through the glass windows inside the classroom looks extremely safe and clean. My daughter Samantha school is closed , because of the pandemic. she talks about her teacher Ms. Ann Marie a lot and the different activities and experiences she engage in while at Joni's. Awesome place to bring your child  take my words for it , because I also work in preschool.Ann Marie P.

December 07, 2020





Excellent daycare service. The ladies give me peace of mind while I am at work.

Leave a Review
We want to learn more about your experience with Cadence Education. Please leave us a review below and let us know how we are doing.