Overview
Overview

Programs

Our Team

Accreditation

Reviews
About Cadence Academy Preschool, Burlington
Joni's Child Care & Preschool is now Cadence Academy Preschool! Families choose Cadence Academy Preschool because of our NAEYC Accreditation, academic curriculum, flexible scheduling, open door policy, and friendly, responsive staff. If you're looking for a daycare or preschool the whole family will love, you've come to the right place!
Our Burlington center boasts a 2000 square foot indoor playground for preschoolers and a second more intimate playground for infants and toddlers. Our children enjoy a spacious technology room featuring individual computers and a large-screen, interactive monitor for group instruction. Extracurricular activities include organized soccer, piano, dance, and martial arts.
Our Programs
NAEYC Accreditation
NAEYC Accreditation requires us to meet or exceed a rigorous set of standards beyond those required by the State of Connecticut. A nationally trained team of inspectors spent several days in each program reviewing all aspects of the curriculum, teacher qualifications, teacher-child interactions, parent communications, and management. It takes at least a year to earn accreditation, which must be maintained through annual reporting, unannounced visits, and emerging standards.
A Supportive Educational Environment
At Cadence Academy Preschool, we work each day to create a healthy, happy, and safe childcare environment based upon positive reinforcement and respect. We provide:
A physically and emotionally safe environment
Exposure to varied learning styles and opportunities
Encouragement for observation, questions and answers
Opportunities for self-expression
Responsive, receptive, and positive adult interactions
Our Child Care Center's Location
Cadence Academy Preschool, Burlington is located just to the west of the intersection of Milford Street and Spielman Highway. We're next to the Burlington Commons Shopping Center on the north side of the street at 304 Spielman Hwy, Burlington CT, 06013. We're in the center of town and on school bus routes for both Lake Garda Elementary School and Harwinton Consolidated School. We offer safe and convenient parking and parents have access to the school through keypad entry.
Our Team
Tracy Cravanzola
Co-Director
I have 20 years' experience working with young children from infant through school age and have a degree in Early Childhood Education and a Head Teacher Certificate. I knew early on that working with children was my calling and I can say without a doubt that early child education is my passion. I truly love working with children, families, and staff to provide the highest quality care and watching each child blossom and grow into their own self.
In my spare time, I love watching my son play baseball, basketball, soccer, and ice hockey. When not cheering from the sidelines, I also enjoy hiking, reading, and spending time with friends and family. I reside in Torrington with my husband Mark, son Nathan, puppy Kaiser and crazy cat Daisy.
Kaylee Cerruto
Co-Director
I have been a dedicated part of the Joni's family since 2015, when I started as an Assistant Director. I graduated from Mitchell College in 2013 after earning a Bachelor's Degree in Sports Management with a concentration in Physical Education. After spending some time working with adolescent females and teaching life skills, I decided I needed a change. As soon as I walked through the doors for an interview at Joni's, I knew this is the path I wanted to follow.
Being a part of a child's life every day is an honor and so rewarding. I enjoy getting to know each and every family and watching the children grow and learn is priceless. What I love most about my job is that you can be having a really tough day and as soon as you walk into a classroom, you are greeted with hugs and kisses. The children are so happy to see you!
Besides working at Joni's, I coach a 7th/8th grade girl's basketball team for the Police Athletic League in Torrington. I also enjoy spending time with my family and friends.
Please feel free to contact me at any time. My door is always open.
Accreditations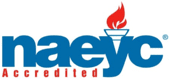 NAEYC Accreditation
Every child deserves access to high-quality early learning experiences. NAEYC (National Association for the Education of Young Children) has set 10 standards for early childhood programs that can help families make the right choice when they are looking for a child care center, preschool, or kindergarten. The standards and criteria are also the foundation of the NAEYC Accreditation system for early childhood programs. To earn NAEYC Accreditation, schools must go through an extensive self-study and quality-improvement process, followed by an on-site visit by NAEYC Assessors to verify and ensure that the program meets each of the ten program standards, and hundreds of corresponding individual criteria. NAEYC-accredited programs are always prepared for unannounced quality-assurance visits during their accreditation term, which lasts for five years. In the 30 years since NAEYC Accreditation was established, it has become a widely recognized sign of high-quality early childhood education. More than 7,000 programs are currently accredited by NAEYC—less than 10 percent of all child care centers, preschools, and kindergartens nationally achieve this recognition.
Reviews from Parents
June 14, 2021





I would highly recommend Joni's in Burlington. As a first time mom, who works FT it was extremely important to find a reliable daycare that could help us go through all the "firsts" every step of the way and Joni's did just that. You can tell the staff loves each of the children as their own and have taken the time to create that special bond with each of them. The app they use helps you stay in the loop with what is going on and how your child's day is going and they are very good at capturing special moments to share throughout the day as well! Whether you are looking for part time or full time, they have it all. Please check them out and refer your friends and family!

June 08, 2021





Where do I even begin? Jonis in Burlington is FAMILY (and always will be)! As a former employee I can say whole heartedly no matter who you are… a student, a parent/family, a teacher, a visitor you will feel like family 100%. Whether you're a new parent/guardian and need a spot for your infant (trust us we know it's hard but the teachers will care for them like their own, I give you my word!), or a working busy bee who needs the help of Jonis staff to get your little off the bus after school and keep them busy for few AND EVERYTHING in between Jonis in Burlington IS the place! As an employee, friend of many of the staff there, nanny/babysitter for some of the parents/kids still active or past attendees I can promise the best care, fun atmosphere, and an environment your kiddos will want to learn in!

May 09, 2021





As a employee of jonis, I love the staff ( my coworkers) for their personality's and how we get each other through the days sharing our same passion for each child but also how hard they work and care for each child as well it's amazing to see how us teachers really make an impact, as how this job has impacted me with so much joy and more learning . Highly also recommend because we are very serious about safety and keeping up with state laws, proper and kept up cleanliness and frequent sanitation. This is a place to definitely find your happiness in and go above and beyond for ! I've never felt so appreciated and cared for at a company in general but In also doing something I absolutely love and it's to teach and look after each and every one of your children !

May 06, 2021





Our daughter has been attending the Burlington Joni's since September 2020, when she was 18 months old. Since then, her language has blossomed, as well as her social skills. She loves all of the teachers and staff at Joni's, and barely gives me a look when she arrives for the day, as she is so excited to go see her friends and the staff! We love that Joni's not only focuses on helping children learn vocabulary, shapes, colors, etc., but they also work on kind child skills, as well as knowledge about other cultures. Our family has had nothing but positive experiences with the Burlington Joni's!!

Leave a Review
We want to learn more about your experience with Cadence Education. Please leave us a review below and let us know how we are doing.