Overview
Overview

Programs

Our Team

Accreditation

Reviews
About Cadence Academy Preschool in Valencia

We're parents too. We understand that choosing the best educational child care for your child is one of the hardest decisions you have to make. By providing an environment for your child where they can grow and thrive, we are confident that Cadence Academy Preschool in Valencia, California is the best preschool you can choose.
At Cadence Academy Preschool we integrate the most important elements in any child care or preschool – giving your child a fun educational experience and care from an amazing team of teachers. Combined, the value our preschool offers is unparalleled. We extend our school's value by including enrichment classes such as Spanish, Sports, and Technology without additional fees.
And, we are proud to have been selected as the Best Childcare Center in Santa Clarita Valley year after year!
Cadence Philosophy
At Cadence Academy Preschool, we believe that each child is a special gift, entrusted to our care by their parents. Each day, opportunities for exploratory learning are built into the preschool program schedule. Enthusiastic and dynamic teachers open a world of learning that children love to explore. We provide a positive, loving, controlled environment where children beg to come back… not an atmosphere of negativity where "don't" and "stop" are prevalent words.
Our childcare center is designed to champion children to grow intellectually, emotionally, socially, and physically, by cultivating a lifetime love of learning. Our philosophy emphasizes honoring God and our country, cultivating the importance of family and the community, instilling core values that make a difference in your child's life.
We maintain no more than 9:1 student/teacher ratios, most schools operate at 12:1.
Communication with Families
Our teachers and staff are passionate about forming a strong partnership with you to ensure the best possible experience for your child. Teachers provide daily communication with families and seek to understand your unique needs. Parental involvement is the key to a successful program, and parental concerns are both respected and supported by the Cadence staff. We are here to help and support the work you are doing with your children at home.
Our Team
Jackie Major
Director
Hi there! My name is Miss Jackie. I have a Bachelor's in Liberal Studies from Cal State Bakersfield. In 2012, I started in the After School program and shortly after, became a Preschool Assistant Teacher and made the transition to Preschool Teacher. I taught preschool for 5 years before stepping into the role of Assistant Director and eventually became School Director. I absolutely love welcoming new families into our family!
Accreditations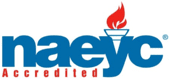 NAEYC Accreditation
Every child deserves access to high-quality early learning experiences. NAEYC (National Association for the Education of Young Children) has set 10 standards for early childhood programs that can help families make the right choice when they are looking for a child care center, preschool, or kindergarten. The standards and criteria are also the foundation of the NAEYC Accreditation system for early childhood programs. To earn NAEYC Accreditation, schools must go through an extensive self-study and quality-improvement process, followed by an on-site visit by NAEYC Assessors to verify and ensure that the program meets each of the ten program standards, and hundreds of corresponding individual criteria. NAEYC-accredited programs are always prepared for unannounced quality-assurance visits during their accreditation term, which lasts for five years. In the 30 years since NAEYC Accreditation was established, it has become a widely recognized sign of high-quality early childhood education. More than 7,000 programs are currently accredited by NAEYC—less than 10 percent of all child care centers, preschools, and kindergartens nationally achieve this recognition.
Reviews from Parents
June 28, 2023





To say the least, looking for a preschool/pre-k can be nerve-racking. I was fortunate to find a school that not only provided outstanding academic advancement for my children, but also laid the groundwork for future academic success. Trusting people to care for and protect your child is difficult, but we continually rave about Cadence Academy. The instructors and administration are both excellent, loving and supportive of each child's growth. The safety protocols in place allow me to walk away with confidence, knowing that my children are safe at all times. Having your child attend Cadence will be beneficial and you will never be disappointed.

March 06, 2023





Our family feels blessed to have found Cadence. The teachers and staff are truly concerned for the health, safety, happiness, and overall success of the children. Our daughter has made incredible friendships while at Cadence, and has developed a wonderful relationship with her teachers and the staff. If you are looking for a school where your child will flourish and be surrounded by love, look no further. 10000% recommend to any parent considering Cadence as a school for their child.

January 28, 2023





My daughter has been coming here since she was two! She is about to turn 4 and she is always excited and happy to come to school. She loves her friends and teachers and every time I pick her up she is happy so this is a great sign for me that they are doing a great job. Also, she is very well taken care of and has learned so much. All staff are friendly and caring. We feel safe in this preschool. They also focus on character building in addition to academic side. And lastly, they always have fun events for the school community to gather and have some fun! My daughter enjoyed Ice-cream social day so much!

January 11, 2023





Both our son and daughter have attended Cadence and have had the most wonderful experience. The teachers are kind, loving, and attentive and the rest of the staff is so supportive and helpful as well. The curriculum is fun and engaging and and we love the extra events too. It is truly a blessing to have such an amazing school right here in Valencia, local to us. We highly recommend Cadence Academy Preschool!