Overview
Overview

Programs

Accreditation

Reviews
Welcome to Pusch Ridge Preschool located in Oro Valley, Arizona, where little kids play with big ideas and have fun learning every day! We offer a unique, research-directed curriculum for infants, toddlers, and preschoolers, as well as special programs for school-age kids.
About Pusch Ridge Preschool
Parents and children love the warm, homey environment at Pusch Ridge Preschool. Smiling teachers and staff greet families each morning, even comforting little ones who aren't ready to part from their mommies and daddies for the day.
Classrooms are cozy and inviting, offering colorful, appealing, and age-appropriate toys and equipment. Perhaps kids love the playground the most because the world around them is often as vivid as their burgeoning imaginations.
Our Philosophy
At Pusch Ridge Preschool, we focus on developing the whole child. Our Ascend Curriculum is designed to foster cognitive, emotional, social, and physical growth all while keeping kids having a great time every day.
What Makes Us Unique
Pusch Ridge Preschool has been preparing children for success in primary school and beyond for over 20 years. Many of our teachers and staff have been with us for more than 10 years—a fact that reflects their commitment to the education and well being of the children of Oro Valley. Since so many families opt to enroll all of their kids in our early learning center, we even offer a sibling discount to show our appreciation of their loyalty to us. With a loving and caring staff ready to embrace you and your child, we look forward to you becoming a part of our family.
Parents receive peace of mind by using Watch Me Grow, our web-based camera system. Parents also receive on-going, daily communication about their child's day using KidReports, our web-based communication system.
More About Our School
We're located between El Conquistador Way and Pusch View Lane in Oro Valley. Our exact address is 10361 North Oracle Road, Oro Valley, AZ 85737.
Breakfast and a hot, nutritious lunch are made on-premises by our full-time cook and served each day, along with regularly scheduled snacks.
For families taking advantage of our excellent Before and After School Program, we provide free transportation to and from neighborhood elementary schools.
Accreditations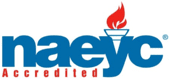 NAEYC Accreditation
Every child deserves access to high-quality early learning experiences. NAEYC (National Association for the Education of Young Children) has set 10 standards for early childhood programs that can help families make the right choice when they are looking for a child care center, preschool, or kindergarten. The standards and criteria are also the foundation of the NAEYC Accreditation system for early childhood programs.
Reviews from Parents
December 18, 2020





This is the best preschool in Tucson. I spent months looking for preschool for my little kid. I was very cautious especially with this pandemic and finally I'm very lucky that I found this great school. The whole staff are so kind and professional. They are doing great job by keeping the kids working , exploring and learning. I watch the camera frequently and I see how the teacher sanitize the tables and chairs. Thank you so much teacher Anna, you are doing great job. God bless you all

March 07, 2020





This school is amazing! They keep my son active and happy all day. The camera system is great so I can pop in and check on him when I want. Also they send you updates throughout the day about your child. Everyone is so caring and always welcoming and nice. It is truly a second family. We love Pusch Ridge !!

February 24, 2020





The teachers are always so amazing and last week the ladies in the front office offered a dinner to go for the families !!!! I could not believe it ! Thank you !

February 05, 2020





Our son loved his teachers in the clownfish class. Beth and Amber prepare educational and fun activities for them everyday. I love that they share pictures throughout the day. It helps me feel like I'm missing less. We are torn knowing he has moved up but happy he will be with Debbie and Wendy. Our daughter loved their class! Now being in the Orca class, our daughter loves her teacher Donnarey. She looks forward to seeing her every morning and always says how much she enjoys being around her. She even picks going to class with Donnarey over being with Grandma!

Leave a Review
We want to learn more about your experience with Cadence Education. Please leave us a review below and let us know how we are doing.