In September 2021 we announced that all employees are required to be vaccinated against the COVID-19 virus or undergo weekly testing in order to protect the families in our care. Learn More >
Overview
Overview

Programs

Our Team

Accreditation

Reviews
About Cadence Academy Preschool, Austin
We're parents too. We understand that choosing the best educational child care for your child is one of the hardest decisions you have to make. By providing an environment for your child where they can grow and thrive, we are confident that Cadence Academy in Austin, Texas is the best preschool you can choose.
At Cadence Academy, we integrate the most important elements in any child care or preschool – giving your child a fun educational experience and care from an amazing team of teachers. Combined, the value our preschool offers is unparalleled. We extend our school's value by including nutritious meals and enrichment classes such as Spanish, Sports, and Technology without additional fees.
Our Preschool Programs
Our Approach to Early Education

Our teachers create personalized learning experiences for each child in our care thanks to the flexibility built into our Ascend Curriculum. We have found that the best way to support the development of academic skill is to give children an appropriate level of control over their own learning process.
We offer our students a variety of experimental and playful activities and encourage them to select the activities they would like to participate in. These activities allow us to progressively introduce new skills in nine subjects every month and our children reach important milestones in every program.
School-to-Home Connection
We believe that children thrive when there is a strong partnership between preschool and home. We have an open-door policy and we encourage our families to visit their children at any time. We keep our parents involved through day-to-day feedback, regular parent conferences, and events like book fairs, dances, and our annual Trike-A-Thon, which raises funds to support St. Jude's Children's Research Hospital.
Our Team
Shavannah Campbell
Director
Hello, my name is Shavannah Campbell. I am a native from Raymond, MS, a small town outside of Jackson, MS. I am the youngest of three girls. I am married to my wonderful husband Marcus Campbell and we have a 20 year old daughter Erica; and a 6 year son Kilahn. I graduated from Raymond High School and later went to pursue my degree in nursing at Hinds Community College Nursing Allied Health. I graduated with my LPN vocational degree in 2005, but I soon realized that was not where my heart was. I always wanted to be a teacher so in April 2009, I began working at Hinds County Human Resource Agency (Head Start). I then decided to go back to school for my education degree and I graduated in 2011 with a Bachelors degree in Childcare & Family Education. After receiving my degree I wanted to advance with the company so I applied for the center administrator position and was promoted. I returned to school in 2012 and received my Masters degree in Early Childhood May 2015. I love working with children because you get to share your knowledge and love with them. There is never a dull moment working with children. Working in this field has taught me how to be more patient and to listen to children when they talk because they will tell you everything you need to know to better understand some of their decisions. When I am not working I enjoy reading and spending time with my family. I recently moved to Round Rock, TX due to a change of job for my husband. I have only been at this school for a short period of time, but I consider this my home and I love working with the children, families, staff, and my colleagues. I plan on growing here and to continue being supportive in any way needed.
Accreditations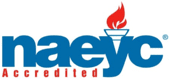 NAEYC Accreditation
Every child deserves access to high-quality early learning experiences. NAEYC (National Association for the Education of Young Children) has set 10 standards for early childhood programs that can help families make the right choice when they are looking for a child care center, preschool, or kindergarten. The standards and criteria are also the foundation of the NAEYC Accreditation system for early childhood programs. To earn NAEYC Accreditation, schools must go through an extensive self-study and quality-improvement process, followed by an on-site visit by NAEYC Assessors to verify and ensure that the program meets each of the ten program standards, and hundreds of corresponding individual criteria. NAEYC-accredited programs are always prepared for unannounced quality-assurance visits during their accreditation term, which lasts for five years. In the 30 years since NAEYC Accreditation was established, it has become a widely recognized sign of high-quality early childhood education. More than 7,000 programs are currently accredited by NAEYC—less than 10 percent of all child care centers, preschools, and kindergartens nationally achieve this recognition.
Reviews from Parents
April 12, 2021





My daughter has been attending Cadence for a couple of years now and we love it. Ms. Bre is absolutely amazing! She is so patient, compassionate, and giving. She brings out the creativity in my daughter and everyday she is excited to see Ms. Bre. I commend Ms. Bre and all of the staff for the dedicated work they have put into all the children through the hardships of a pandemic and snow storm. I am very grateful that my daughter is loved and taken care of by these wonderful humans!

March 17, 2021





I am currently a teacher at Cadence and my girls have been attending for a little over a year now. The teachers are great with my girls! My youngest daughter Arianna started off in room 9 with Ms. D'onna and Mrs. Samia who she loves. She then transitioned from there to room 8 when she turned 1 which is my room, where I work alongside Mrs. Fatima who is amazing! Once Arianna turned 2 she moved to room 11, with Ms. Shelby. Arianna is doing great with her, we are currently potty training and Shelby has made the transition a breeze! My oldest daughter Caidence is currently in the after school program with Ms. Bre and she never wants to leave! Bre does so many fun activities with the children and she teaches them so many different things, I love it. When Caidence isn't at Cadence Academy, she's talking my ear off about how she wants to go back 😂 As a parent and a teacher here at Cadence, I would highly recommend.

December 10, 2020





I put my 2 daughters to the cadence academy preschool since January of this year, they aged 4 years old and 1 years old. At first my oldest one was crying everyday but miss Lauren made her feel like she is at home she gave her all attention and loved her like she is her own, miss Lauren is beyond the expectations, she is amazing, caring and loving teacher I definitely would stay with her and her wonderful energy. My little one is with miss Ashley and Fatima both are a very loving mothers before being a teachers, they really do an excellent job . I would definitely recommend this school without hesitation. Thank you to all cadence academy preschool team, You guys are perfect 😍😍 Allison's and Ava' mother.

November 30, 2020





Both of my daughters are attending at Cadence Academy and they love it! The teachers are great and really enjoy what they do. I would definitely recommend this center to anyone.