We are temporarily closed due to weather-related impacts to the school.  Please fill out our contact form and we will be in touch.
Overview
Overview

Programs

Our Team

Accreditation

Reviews
About Cadence Academy Preschool, Austin
We're parents too. We understand that choosing the best educational child care for your child is one of the hardest decisions you have to make. By providing an environment for your child where they can grow and thrive, we are confident that Cadence Academy in Austin, Texas is the best preschool you can choose.
At Cadence Academy, we integrate the most important elements in any child care or preschool – giving your child a fun educational experience and care from an amazing team of teachers. Combined, the value our preschool offers is unparalleled. We extend our school's value by including nutritious meals and enrichment classes such as Spanish, Sports, and Technology without additional fees.
Our Preschool Programs
Our Approach to Early Education

Our teachers create personalized learning experiences for each child in our care thanks to the flexibility built into our Ascend Curriculum. We have found that the best way to support the development of academic skill is to give children an appropriate level of control over their own learning process.
We offer our students a variety of experimental and playful activities and encourage them to select the activities they would like to participate in. These activities allow us to progressively introduce new skills in nine subjects every month and our children reach important milestones in every program.
School-to-Home Connection
We believe that children thrive when there is a strong partnership between preschool and home. We have an open-door policy and we encourage our families to visit their children at any time. We keep our parents involved through day-to-day feedback, regular parent conferences, and events like book fairs, dances, and our annual Trike-A-Thon, which raises funds to support St. Jude's Children's Research Hospital.
Our Team
Shavannah Campbell
Director
Hello, my name is Shavannah Campbell. I am a native from Raymond, MS, a small town outside of Jackson, MS. I am the youngest of three girls. I am married to my wonderful husband Marcus Campbell and we have a 20 year old daughter Erica; and a 6 year son Kilahn. I graduated from Raymond High School and later went to pursue my degree in nursing at Hinds Community College Nursing Allied Health. I graduated with my LPN vocational degree in 2005, but I soon realized that was not where my heart was. I always wanted to be a teacher so in April 2009, I began working at Hinds County Human Resource Agency (Head Start). I then decided to go back to school for my education degree and I graduated in 2011 with a Bachelors degree in Childcare & Family Education. After receiving my degree I wanted to advance with the company so I applied for the center administrator position and was promoted. I returned to school in 2012 and received my Masters degree in Early Childhood May 2015. I love working with children because you get to share your knowledge and love with them. There is never a dull moment working with children. Working in this field has taught me how to be more patient and to listen to children when they talk because they will tell you everything you need to know to better understand some of their decisions. When I am not working I enjoy reading and spending time with my family. I recently moved to Round Rock, TX due to a change of job for my husband. I have only been at this school for a short period of time, but I consider this my home and I love working with the children, families, staff, and my colleagues. I plan on growing here and to continue being supportive in any way needed.
Accreditations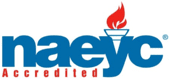 NAEYC Accreditation
Every child deserves access to high-quality early learning experiences. NAEYC (National Association for the Education of Young Children) has set 10 standards for early childhood programs that can help families make the right choice when they are looking for a child care center, preschool, or kindergarten. The standards and criteria are also the foundation of the NAEYC Accreditation system for early childhood programs. To earn NAEYC Accreditation, schools must go through an extensive self-study and quality-improvement process, followed by an on-site visit by NAEYC Assessors to verify and ensure that the program meets each of the ten program standards, and hundreds of corresponding individual criteria. NAEYC-accredited programs are always prepared for unannounced quality-assurance visits during their accreditation term, which lasts for five years. In the 30 years since NAEYC Accreditation was established, it has become a widely recognized sign of high-quality early childhood education. More than 7,000 programs are currently accredited by NAEYC—less than 10 percent of all child care centers, preschools, and kindergartens nationally achieve this recognition.
Reviews from Parents
September 13, 2021





My children attended Summer Camp at Cadence this past Summer before we moved, even though they were not in their original building the director and staff did a wonderful job of making sure the students had a great camp. I'm sure their renovations are going to be awesome and I recommend them for anyone looking for a great school.

August 31, 2021





My 2 years old son has been attending Cadence Academy since last year and he loves it! So we do :-) The teachers and staff are awesome!

August 30, 2021





We love Ms Tanya in the infant room! she has made the transition to daycare much easier than it could have gone. The school is also very accommodating to our schedule, allowing us to go part time for part of the week while we are getting used to having our daughter at daycare. The only downside of this place is the app that they use to notify parents what is going on throughout the day is not the best, but I don't think that is the schools fault necessarily

July 13, 2021





My daughter has been at Cadence for 4 months now (in the baby room), and we have been very happy. They seem to take the right precautions to keep everyone safe and healthy during the pandemic. I fully trust the teachers in her room. They love her, treat her with care, and are great at communicating with me.  She always seems happy when I pick her up. Can't say enough good things about Ms. Tanya and Ms. D'onna!!

Leave a Review
We want to learn more about your experience with Cadence Education. Please leave us a review below and let us know how we are doing.