Overview
Overview

Programs

Accreditation
The History of Bala Cynwyd School for Young Children
Bala Cynwyd lies in the Welsh Tract of Pennsylvania and was settled in the 1680s by Welsh Quakers, who purchased the land from William Penn shortly after he landed in Pennsylvania. Our area was originally founded as two separate villages, named for the towns of Bala and Cynwyd in Wales.
In 1884, the Schuylkill Valley Division of the Pennsylvania Railroad Company was established and 3 train stations were built in our neighborhood. The construction of better roads and the rail service made residential development of the area possible and our stately brick buildings were initially constructed as residential homes in 1895. We were part of a wave of expansion that ran from 1880-1920 and among the first 500 buildings built in Bala Cynwyd.
Bala Cynwyd School for Young Children was founded in 1991. Our campus rests on 1.43 acres and we have 3 classroom buildings, 3 playgrounds, a rain day gym, a fully furnished kitchen, and an in-ground swimming pool that was designed specifically for young children. Our school loves being part of the Bala Cynwyd community.
Programs Offered:
Classroom Staff
We have worked diligently to assemble a team of nurturing professionals. Our teachers and directors are certified early childhood educators who undergo extensive training prior to assuming their roles and our assistant teachers and aides are either studying for their credentials or have substantial experience with young children.
Every class at Bala Cynwyd School for Young Children has two full-time teachers. We also have two floating teachers that substitute or assist in all of the classrooms as needed.
Our faculty, curriculum, daily programs, and teacher/child ratios all meet or exceed the standards required for:
Licensing as a Private Academic School for Nursery and Kindergarten Education by the Pennsylvania Department of Education
Licensing by the Department of Human Services as a Child Care Center
Accreditation by NAEYC (National Association for the Education of Young Children)
Safety
All buildings are fully air-conditioned and have commercial sprinkler systems throughout. The fire and emergency alarm systems go directly to a central alarm station and the Township fire and police stations. All buildings are locked from the outside with a computer controlled, electronic lock system. Enrolled families are given access chips for their child's building.
Parent Involvement
Children show the greatest gains when a strong partnership exists between their parents and their school. We want to work with you through these early years to facilitate every aspect of your child's emotional, social, intellectual, and physical development.
We have an open-door policy at Bala Cynwyd School for Young Children. You are welcome to visit at any time and we encourage you to participate in any and all of the activities. You can take part in existing activities like field trips, events, and parties or you can coordinate with the staff and do something on your own like read the class a story, teach a dance, or talk about your career, hobby, or passion.
Our Location
Bala Cynwyd School for Young Children is conveniently located at 11 Saint Asaphs Rd, Bala Cynwyd, PA 19004. You can reach us by calling (610) 668-2233. We offer programs for infants, toddlers, preschool, and kindergarten. Our school is at the nexus of City Line Ave and Route 23 and we're close to both the I-75 and Route 30.
Accreditations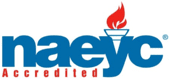 NAEYC Accreditation
Every child deserves access to high-quality early learning experiences. NAEYC (National Association for the Education of Young Children) has set 10 standards for early childhood programs that can help families make the right choice when they are looking for a child care center, preschool, or kindergarten. The standards and criteria are also the foundation of the NAEYC Accreditation system for early childhood programs. To earn NAEYC Accreditation, schools must go through an extensive self-study and quality-improvement process, followed by an on-site visit by NAEYC Assessors to verify and ensure that the program meets each of the ten program standards, and hundreds of corresponding individual criteria. NAEYC-accredited programs are always prepared for unannounced quality-assurance visits during their accreditation term, which lasts for five years. In the 30 years since NAEYC Accreditation was established, it has become a widely recognized sign of high-quality early childhood education. More than 7,000 programs are currently accredited by NAEYC—less than 10 percent of all child care centers, preschools, and kindergartens nationally achieve this recognition.