Overview
Overview

Programs

Our Team

Accreditation

Reviews
Previously known as Apple Tree Children's Center, our preschool changed its name to Cadence Academy Preschool, Johnston in May 2018 to reflect a new direction in our preschool's programs. Cadence Academy is known for its Ascend Curriculum, which takes a skill-based approach to early childhood education that's proven to prepare children for kindergarten.
Preschool children are at an age where they need to develop much more than academic skill, so we focus on physical, social, emotional, and creative development as well. Our NAEYC Accredited preschool and daycare center helps children reach important developmental milestones in nine subject areas every month, but we respond to the needs of each student and move at their pace.
Our Programs
Our Preschool's Philosophy

At Cadence Academy Preschool, Johnston, we believe children learn best when they're having fun. Each month, our teachers work on developing new skills within nine different learning domains through fun activities. Our Ascend Curriculum was created with flexibility in mind, so our activities can be modified to accommodate the current skill level and interests of each child. We want your child's first educational experiences to be joyful so they naturally develop a love of learning!
School-To-Home Connection
We have found that children thrive when there is a strong partnership between school and home. Our teachers are always here to provide feedback on your child's day and we have conferences twice annually so that we can provide you updates on your child's developmental progress. We have an open door policy at our preschool center and you are welcome to visit and participate as often as you would like. We also hold events for the whole family throughout the year so that you can connect with other Cadence Academy families and our staff too.
Our School Location
Cadence Academy Preschool, Johnston is located at 5623 NW 86th Street, Suite 100, in Johnston, Iowa, 50131. We're at the corner of 86th Street and Chambery Boulevard behind Mercy Clinic. Our location off the I-35/I-80 interchange allows for convenient access to John Deere, Pioneer, Camp Dodge, and many other area businesses. We proudly serve the communities of Johnston, Urbandale, Grimes, Des Moines, and West Des Moines. Call us today. We can't wait to meet you and show you around our school!
Our Team
Amber Stites
School Director
Hello! My name is Amber and I have worked in childcare for more than 10 years. Along with my Bachelors Degree in Elementary Education, I also have a Reading and Special Education endorsement. After graduation, I worked at Principal Child Development Center as a 3-Year-Old preschool teacher. This is when I fell in love with working with young children and development. Throughout my years working in Early Childhood, I've worked with school agers and 3-year-olds. My most recent positions have been On-Site Supervisor/ Assistant Director for 2 years and Director for the last 4.5 years. I love learning new things and helping build a successful team of wonderful teachers!
I'm a mother of two little boys and I love meeting new people. My husband and I met while I was attending William Penn University pursuing my Bachelors Degree in Elementary Education. Some of my favorite hobbies include travel, boating, arts & crafts and spending time with friends and family.
Brandy Melton
Teacher
My name is Brandy and I'm the Lead Universal Preschool (UPK) Teacher. I have been employed here since the summer of 2004 and have found it to be a welcoming and family environment. I attended Graceland University where I received my BA Degree in Elementary Education with focuses in Early Childhood Education and Reading. As long as I can remember I have always wanted to teach and work with young children. They have such a passion and curiosity for learning and life. I only hope that my presence in their life can help foster a lifelong love of learning.
When I have free time, I enjoy being outdoors whether it's going on a long walk, being near water or helping my parents in their backyard. I also enjoy being curled up with a good book at the end of the day as a way to relax. My family is very close and I spend as much time with them as I can. We often go camping and fishing on the weekends when the weather allows. My parents instilled in me the value of family and what it means. I take that knowledge and bring it into my classroom to help make the students feel comfortable and valued. I look forward to getting to know you and your family!
Accreditations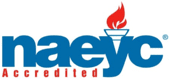 NAEYC Accreditation
Every child deserves access to high-quality early learning experiences. NAEYC (National Association for the Education of Young Children) has set 10 standards for early childhood programs that can help families make the right choice when they are looking for a child care center, preschool, or kindergarten. The standards and criteria are also the foundation of the NAEYC Accreditation system for early childhood programs. To earn NAEYC Accreditation, schools must go through an extensive self-study and quality-improvement process, followed by an on-site visit by NAEYC Assessors to verify and ensure that the program meets each of the ten program standards, and hundreds of corresponding individual criteria. NAEYC-accredited programs are always prepared for unannounced quality-assurance visits during their accreditation term, which lasts for five years. In the 30 years since NAEYC Accreditation was established, it has become a widely recognized sign of high-quality early childhood education. More than 7,000 programs are currently accredited by NAEYC—less than 10 percent of all child care centers, preschools, and kindergartens nationally achieve this recognition.
Reviews from Parents
January 13, 2023





Words can't describe the wonderful work you did on my trading account, I am delighted I trusted you and gave you a chance to help grow my $1000 into $12,000 in just a week, Mrs. Rebecca Wayne my family and I are forever indebted to you for the financial stability you brought to our home, I advise the entire public to invest with Rebecca Wayne, contact via WhatsApp: +18304848051 Email:
[email protected]

November 19, 2022





My son attended Cadence in the infants room for 8 months after we moved to the Des Moines area. The school has a very safe environment, and the staff were extraordinary and friendly. I like that it's an educational based facility with a small ratio of children and wonderful teachers, that exposes your child to different aspects of learning through sensory and play. All my questions were kindly answered and when I thought of more questions at a later time, they were happy to answer them too. Such a great school with wonderful teachers. Definitely made the right choice by choosing this place! We were sad to leave it, but plan on coming back for their UPK program when my son is older. I would strongly recommend Cadence to anyone considering enrolling their child.

September 30, 2022





I know that my children are taken good care of when I am away from them. Thank you Amber & Abbey!

May 07, 2022





Our son loves going to daycare everyday and is all smiles when we pick him up! He has been going to cadence academy since he was nine weeks old. The staff truly care about the children in their classrooms. Highly recommend!