Overview
Overview

Programs

Accreditation

Reviews
Previously known as Apple Tree Children's Center, our preschool changed its name to Cadence Academy Preschool, Johnston in May 2018 to reflect a new direction in our preschool's programs. Cadence Academy is known for its Ascend Curriculum, which takes a skill-based approach to early childhood education that's proven to prepare children for kindergarten.
Preschool children are at an age where they need to develop much more than academic skill, so we focus on physical, social, emotional, and creative development as well. Our NAEYC Accredited preschool and daycare center helps children reach important developmental milestones in nine subject areas every month, but we respond to the needs of each student and move at their pace.
Our Programs
Our Preschool's Philosophy

At Cadence Academy Preschool, Johnston, we believe children learn best when they're having fun. Each month, our teachers work on developing new skills within nine different learning domains through fun activities. Our Ascend Curriculum was created with flexibility in mind, so our activities can be modified to accommodate the current skill level and interests of each child. We want your child's first educational experiences to be joyful so they naturally develop a love of learning!
School-To-Home Connection
We have found that children thrive when there is a strong partnership between school and home. Our teachers are always here to provide feedback on your child's day and we have conferences twice annually so that we can provide you updates on your child's developmental progress. We have an open door policy at our preschool center and you are welcome to visit and participate as often as you would like. We also hold events for the whole family throughout the year so that you can connect with other Cadence Academy families and our staff too.
Our School Location
Cadence Academy Preschool, Johnston is located at 5623 NW 86th Street, Suite 100, in Johnston, Iowa, 50131. We're at the corner of 86th Street and Chambery Boulevard behind Mercy Clinic. Our location off the I-35/I-80 interchange allows for convenient access to John Deere, Pioneer, Camp Dodge, and many other area businesses. We proudly serve the communities of Johnston, Urbandale, Grimes, Des Moines, and West Des Moines. Call us today. We can't wait to meet you and show you around our school!
Accreditations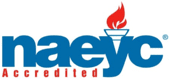 NAEYC Accreditation
Every child deserves access to high-quality early learning experiences. NAEYC (National Association for the Education of Young Children) has set 10 standards for early childhood programs that can help families make the right choice when they are looking for a child care center, preschool, or kindergarten. The standards and criteria are also the foundation of the NAEYC Accreditation system for early childhood programs.
Reviews from Parents
February 22, 2021





Our children love attending Cadence Academy. The staff and teachers are wonderful, kind, caring people who have the children's best interest and safety at the forefront. I love when my children tell me about their day, from the healthy meals and snacks they've had, to learning about sharks and the four seasons. It's a HUGE plus that the UPK kindergarten class is located in the building (I have a friend who has to pay to bus her son to a different location for preK since their day care doesn't offer it).

January 31, 2021





Even though we were only here for short time(moving out of county) our child LOVED it! Her teacher was the best! She learned so much in the little time she was there! We will definitely miss her. All staff was welcoming, caring, and attentive to every need. We highly recommend Cadence Academy!

January 31, 2021





We had an amazing time and experience with all staff and teachers at the Johnston Cadence Academy. Highly recommend! They are very caring, reliable, and attentive to every need!

September 21, 2020





My daughter stared here recently in the newborn room. Her teacher has gone above and beyond to make my wife and i feel great about sending her to daycare even in these uncertain times.

Leave a Review
We want to learn more about your experience with Cadence Education. Please leave us a review below and let us know how we are doing.