Reviews
Overview

Programs

Our Team

Accreditation

Reviews
About Cadence Academy Preschool in Valencia

We're parents too. We understand that choosing the best educational child care for your child is one of the hardest decisions you have to make. By providing an environment for your child where they can grow and thrive, we are confident that Cadence Academy Preschool in Valencia, California is the best preschool you can choose.
At Cadence Academy Preschool we integrate the most important elements in any child care or preschool – giving your child a fun educational experience and care from an amazing team of teachers. Combined, the value our preschool offers is unparalleled. We extend our school's value by including enrichment classes such as Spanish, Sports, and Technology without additional fees.
And, we are proud to have been selected as the Best Childcare Center in Santa Clarita Valley year after year!
Cadence Philosophy
At Cadence Academy Preschool, we believe that each child is a special gift, entrusted to our care by their parents. Each day, opportunities for exploratory learning are built into the preschool program schedule. Enthusiastic and dynamic teachers open a world of learning that children love to explore. We provide a positive, loving, controlled environment where children beg to come back… not an atmosphere of negativity where "don't" and "stop" are prevalent words.
Our childcare center is designed to champion children to grow intellectually, emotionally, socially, and physically, by cultivating a lifetime love of learning. Our philosophy emphasizes honoring God and our country, cultivating the importance of family and the community, instilling core values that make a difference in your child's life.
We maintain no more than 9:1 student/teacher ratios, most schools operate at 12:1.
Communication with Families
Our teachers and staff are passionate about forming a strong partnership with you to ensure the best possible experience for your child. Teachers provide daily communication with families and seek to understand your unique needs. Parental involvement is the key to a successful program, and parental concerns are both respected and supported by the Cadence staff. We are here to help and support the work you are doing with your children at home.
Our Team
Jackie Major
Director
Hi there! My name is Miss Jackie. I am the Preschool Assistant Director here at Sunshine. I have a Bachelor's in Liberal Studies from Cal State Bakersfield. In 2012, I started in Sunshine's After School program and shortly after, became a Preschool Assistant Teacher and made the transition to Preschool Teacher. I taught preschool for 5 years before stepping into the role of Assistant Director. I absolutely love welcoming new families into our Sunshine Family!
Accreditations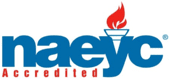 NAEYC Accreditation
Every child deserves access to high-quality early learning experiences. NAEYC (National Association for the Education of Young Children) has set 10 standards for early childhood programs that can help families make the right choice when they are looking for a child care center, preschool, or kindergarten. The standards and criteria are also the foundation of the NAEYC Accreditation system for early childhood programs. To earn NAEYC Accreditation, schools must go through an extensive self-study and quality-improvement process, followed by an on-site visit by NAEYC Assessors to verify and ensure that the program meets each of the ten program standards, and hundreds of corresponding individual criteria. NAEYC-accredited programs are always prepared for unannounced quality-assurance visits during their accreditation term, which lasts for five years. In the 30 years since NAEYC Accreditation was established, it has become a widely recognized sign of high-quality early childhood education. More than 7,000 programs are currently accredited by NAEYC—less than 10 percent of all child care centers, preschools, and kindergartens nationally achieve this recognition.
Reviews from Parents
June 14, 2021





Hands down the best Preschool in the SCV. You know it's a great school when your child asks on the weekends if she can go to Sunshine. Friendly staff, awesome Director and Assistant Directors that are always there to help with anything you or your child needs. I could honestly never thank Sunshine enough for all the hard work their staff puts into their programs. The academics they use to incorporate their curriculum are also outstanding. As a parent, you trust the people who are with your children and I have never had any reason to have any doubts. I can go to work and not worry about my child's well-being. Thank you everyone! We love you all! Sunshine will always be family to us.

June 04, 2021





This past year was our daughter's first year at Sunshine, participating in the pre-K class. Sunshine staff and teachers have been amazing and have been so supportive and caring of our daughter. They go above and beyond to make you feel safe and comfortable and my daughter has had nothing but a positive experience. Today was her last day at pre-K although she will be returning for TK she was sad and crying as she was picked up because she said she was going to miss her school and teachers so very much. This is the type of positive impact the staff at Sunshine have had on our daughter and it shows everyday. Im so thankful and greatful for the experience and look forward to the next year.

May 11, 2021





I say it all the time, but really don't know what we'd do without Sunshine. Our kids have been coming here for over 4 years now, and they love it as much as we do. Not only do they provide before school care, but transportation to and from campus as well. All those random days schools are closed (furlo days I think they're called?), Sunshine is open on every single one. Christmas Eve, NYE, Spring Break, Winter Break, and SO many other holidays, Sunshine is open. Even through the pandemic, they've managed to keep kids safe and having fun even with all the changing regulations that were being thrown at them on a daily basis. I've never felt uninformed - communication is always very strong. Although Summer 2020 was not the norm, their Summer Camps are always the best. You won't find a camp with more field trips and fun events than at Sunshine. Even when my kids are grown, I'll always be thankful for this place!

January 20, 2021





We have been with sunshine North Valencia since 2013. We have 2 kids. 11 and 5 years old. When both parents have to work you normally count with family members to help you with your children in every day life. You need a village! We were not fortune enough to have close family members helping us in this journey so the next step is the scary idea of leaving your kids somewhere else. Sunshine North Valencia is simply OUR village. The place our kids see as fun, family, friends, joyful, Loving, caring....... our home away from home. There has been numerous time when pick up comes and we are begged by our kids to comeback later to pick them up "we are having a great time, please pretty please " and on top of that they are learning!!! We have experienced their day care, preschool, pre-k and summer caps. I can not say enough about this place! Every member of this family are professional, loving, caring, genuine in everything they do for everyone there. We completely understand the fear of leaving kids somewhere other than family members. If you are looking for the best place ..... this is it! The challenge of covid-19 has made it even harder to make decisions . Sunshine North Valencia has taken every precaution possible to make our journey as smooth as it can be. They have implemented every CDC recommendation made for schools, they take very serious every protocol implemented. A real peace of mind for the ones needing to keep working and having a safe place to leave your most valuable treasure..... your kids. Thank you for always bringing sunshine into my sons life. We truly appreciate you North Valencia Sunshine.