Reviews
Overview

Programs

Accreditation

Reviews
About Cadence Academy Preschool in Austin, TX
We're parents, too. We understand that choosing the best educational child care for your child is one of the hardest decisions you have to make. By providing childhood programs where they can grow and thrive, we are confident that Cadence Academy Preschool in Austin, Texas is the best preschool you can choose.
Our child care services and preschool programs are designed for children as young as six weeks old up to pre-kindergarten. We want your child to feel at home in our school, so we have highly qualified education providers and care staff who provide a loving, caring, and safe environment.
At Cadence Academy Preschool, we integrate the most important elements in any preschool or child care experience — giving your child a fun educational environment and home-like care from an amazing team of teachers. Combined, the value our preschool offers is unparalleled. We extend our school's value by including nutritious meals and enrichment classes such as Spanish, Sports, and Technology without additional fees. This quality of education and level of care can be expected from our preschool and daycare in Austin, TX.
If you are looking for a daycare and preschool program that has it all, Cadence Academy Preschool is the right choice! We would love to show you our Austin childcare facility in person, so please schedule a tour today.
Our Preschool Programs
Here are the childcare options at our center in Austin, TX:
Our Approach To Early Education

Our teachers create personalized learning experiences for each child in our care thanks to the flexibility built into our Ascend Curriculum. We have found that the best way to support the development of academic skills is to give children an appropriate level of control over their own learning process. This personalized approach is what helps build a strong foundation for learning.
Cadence Academy Preschool in Austin, TX takes a whole-child approach to early education. Our developmental services and curriculum are designed with this in mind, and we use assessments to ensure that each child is progressing on the path best suited for them. With the Ascend Curriculum, our daycare teachers are able to individualize instruction for each child, providing them with special care and the level of challenge they need to succeed.
What this means for your child at Cadence Academy is that we can help them build a perfect setting for success in school and in life. We believe that every child has unique strengths and talents, and our daycare teachers work to uncover these developmental milestones while helping children grow in other important areas, such as social and emotional skills, communication, and creativity.
We offer our students a variety of experimental and playful activities and encourage them to select the activities they would like to participate in. These fun activities allow us to care for kids while progressively introducing new skills in nine subjects every month. Our children reach important milestones in every program.
Infant and Toddler Daycare
When you bring your child to our infant daycare in Austin, TX, we will give them a loving and nurturing home away from home. Our teachers are experienced in caring for children as young as six weeks old and have undergone extensive training that meets and even goes beyond childcare standards.
Early Learning and Preschool
Our early learning and preschool program is designed for children who are ready to learn academic skills in a fun, nurturing, and healthy environment. Our pre-K school in Austin, TX is perfect for children who are 4 years old, and our preschool program is designed for children who are 3 years old.
Foundation for Kindergarten
We want to make sure your little one is ready for kindergarten when the time comes, and our preschool and pre-kindergarten curriculum is specifically designed to help children do just that. Our individualized learning plans focus on essential skills such as literacy, math, and social development.
School-Age and Summer Program
Our center also offers a school-age program for children who are 5 to 12 years old – offering before and after school care as well as summer camp. Our summer camp programs feature active learning experiences that are perfect for children aged 5 to 12 and include fun activities such as field trips and arts and crafts.
The Cadence Education Promise
At Cadence Academy Preschool, we want to make sure that each and every child who walks through our doors feels valued, loved, and important. Named among the best preschools in Austin, we offer a variety of programs to fit the needs of each and every child. This is also why our daycare and preschool teachers in Austin, TX, and other centers in the Cadence network undergo constant training and advanced skill development to ensure that they are providing the best possible care and education.
Childhood Education With a School-To-Home Connection
We believe that children thrive when there is a strong partnership between preschool and home. We have an open-door policy and we encourage our families to visit their children at any time. We keep our parents involved through day-to-day feedback, regular parent conferences, and events like book fairs, dances, and our annual Trike-A-Thon, which raises funds to support St. Jude's Children's Research Hospital.
We know that choosing the right daycare or preschool can be difficult, so we want to make things a little bit easier for you. That's why we offer a free trial day so you can come and visit us and see for yourself why our Cadence Academy Preschool in Austin, Texas is among the best child care centers in the state. If you are looking for the best preschool in Austin, look no further.
If you would like to tour our preschool in Austin, TX or have any questions, please contact us. We hope to see you at our daycare and preschool center in Austin, TX soon!
Accreditations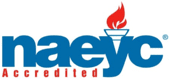 NAEYC Accreditation
Every child deserves access to high-quality early learning experiences. NAEYC (National Association for the Education of Young Children) has set 10 standards for early childhood programs that can help families make the right choice when they are looking for a child care center, preschool, or kindergarten. The standards and criteria are also the foundation of the NAEYC Accreditation system for early childhood programs. To earn NAEYC Accreditation, schools must go through an extensive self-study and quality-improvement process, followed by an on-site visit by NAEYC Assessors to verify and ensure that the program meets each of the ten program standards, and hundreds of corresponding individual criteria. NAEYC-accredited programs are always prepared for unannounced quality-assurance visits during their accreditation term, which lasts for five years. In the 30 years since NAEYC Accreditation was established, it has become a widely recognized sign of high-quality early childhood education. More than 7,000 programs are currently accredited by NAEYC—less than 10 percent of all child care centers, preschools, and kindergartens nationally achieve this recognition.
Reviews from Parents
June 22, 2023





They are amazing. The staff is great with all the kids. They go all out for the Pre-K graduation and make the kids feel so special. I would definitely recommend this location. Great job to all the staff.

April 28, 2023





I have a 4.5 y/o and a 2.5 y/o that attend Cadence. They are always excited to go to school and love their teachers. My 4.5 y/o can be a handful if he's not kept busy and Ms. Bree does a fantastic job keeping him in check and exploiting his strengths. Highly recommend!

December 05, 2022





We love Cadence! Our favorite part of the whole wonderful experience are the caring workers and teachers. Thank you for helping my work day go more smoothly and watching over my babies.

June 14, 2022





My 4 year old and 19 month old are very happy and well cared for here. All the teachers and staff are friendly and my two boys come home smiling every day. Ms. Fatima, in the toddler classroom, speaks 4 languages and has a degree in psychology. Ms. Majel in the older 3s classroom is teaching Spanish, addition, subtraction, days of the week, animal facts, along with lots of creative playtime. Oh, and Ms. Loretta, who runs the kitchen does a great job! My 4 year old always tells me how yummy the food is. Ms Shavannah and Ms Cara, the Director and Asst. Director always respond quickly to any questions or concerns.